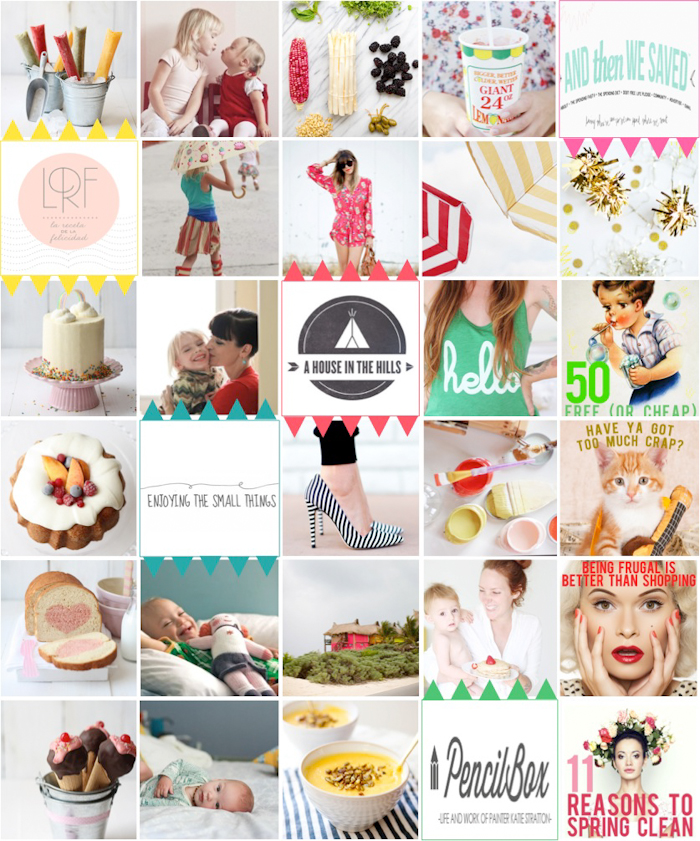 When I find blogs I love I go in stalker mode, as in wont-go-to-bed-until-I-have-read-their-entire-archives kinda mode. Do you do that too? Today, I wanted to share 5 blogs that I a completely obsessed with that aren't yet on my blog love page (check it out too, some more amazing bloggers on there!). The five bloggers that I am about to share constantly blow my mind, they make me laugh and cry and think different and fill my eyes with beauty. I hope you enjoy them just as much as I do.
PS: Talking about eyes filled with beauty, make sure to enter my giveaway with fashion designer Carolina Benoit – today's the last day!

Well hello sweet tooth of mine, you've been served. Every time I go to La Receta de La Felicad (The recipe for happiness, in Spanish), I just want to lick my screen. Pure whimsy in the kitchen! This rainbow cake has got to be one of my favorites. Between the fun recipes (that come in Spanish and English) and the beautiful photography, it's one of my favorite cooking website to visit. Disclaimer: I shall not be held responsible for any weight your put on after visiting this site if you shall decide (and you will) to make any of these recipes


Kelle's blog is hardly a new blog to me, but when I realized it wasn't in my blog love list, I just HAD to let you know about it. Enjoying the small things is actually the first blog I really got into (read here above mentioned crazy-sleepless-nights-stalking-her-blog-until-my-eyes-cant-no-more). I 've been following her and her little family after the birth of her daughter Nella (which you MUST read here), and Kelle feels like an old friend. Well. Except that she has no clue who I am. Tiny little details. ANYHOW,  Kelle is an amazing writer, she has the most beautiful soul and is so down-to-earth and honest. When I have a bad day I always go to her blog, she just has this way of putting things back in perspective and showing you the beauty that's around. I never leave her blog without having laughed or cried with her…usually both. Her stories have rocked my little world, making me look at the world in a whole new different way.

A gal that like rompers has much as I do?! Hello, my romper-soumate. I just can't stay away from Sarah's blog, A House in the Hills. I love her sense of fashion…because, let's be honest here, if we both love rompers, that's pretty much where the comparison stops – she wears hers with so much style! Her blog is the perfect balance of all the things that I love reading about: food, interior design, fashion and travels. Her photography is always so beautiful and inspiring.

So I'll just admit it off the bat, I have a huge girl crush on Katie. She's this gorgeous redhead woman with the most beautiful family, the photography she shares on her blog is nothing short of amazing (oh the colors!) and I just love her sense of style – just check out her daughter's first birthday party, I mean, hello gorgeousness!? Oh, and she's a painter too. When I grow up I want to be Katie.


I met Anna during the ATL conference in Salt Lake City last January, and the minute I checked out her blog I was hooked. Anna is a no B.S. kinda girl with the biggest willpower I've ever seen. I mean, the girl paid off close to $20,000 in debt in ONE year, just because she decided she should and could. On her blog And then we Saved, Anna gives great advice to take your life back in control – financially of course, but also all kinds of advice to live more awesomely with less.
You might also like: