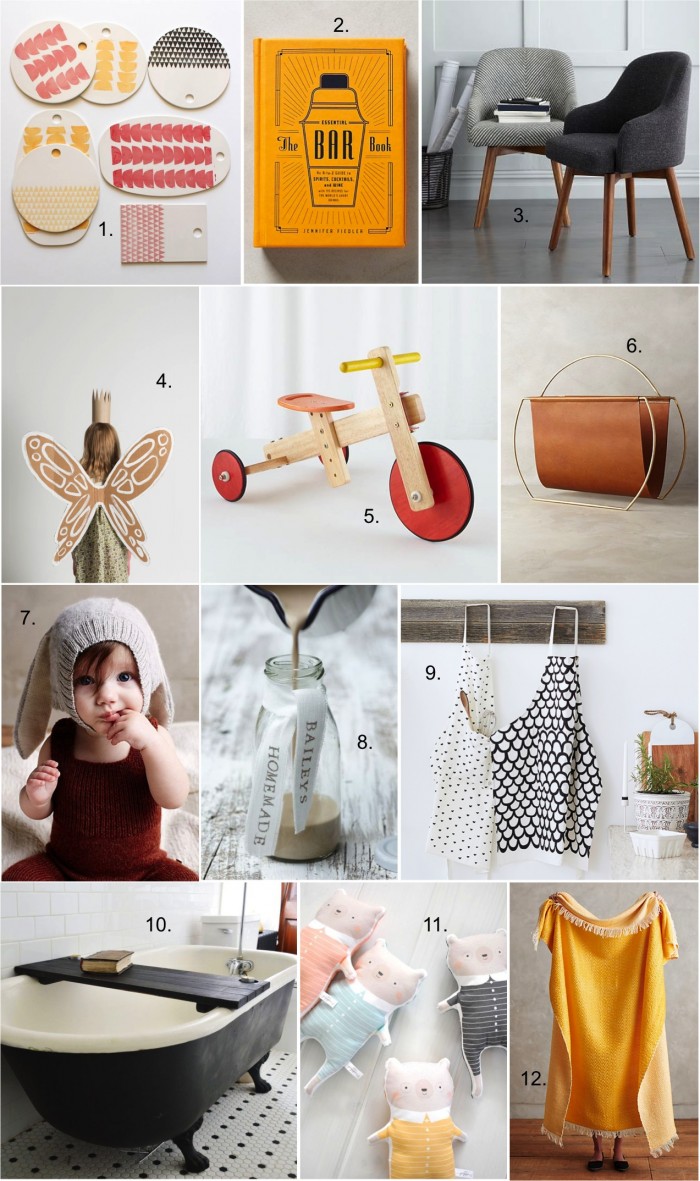 Can you guys believe it's already almost December? My favorite month of the year, but I wonder if I'll have much time to enjoy it this year – we plan on moving to the new house mid-December, I won't have much time to shop for presents…..do you think the girls will notice if I just pack their old toys and just put wrapping paper around it and just move these boxes to the new house. Tadaaaaaaaaaaaa Christmas presents 😀 hehe.
Thought I'd share some of the gift ideas on my radar for this year – not as extensive of a guide as the one I made last year, but hopefully still helpful

Happy shopping to all of you who will be brave enough to tackle shopping this Black Friday! If you're looking for me, I'll probably be somewhere in the Pacific ocean – taking a little family vacation in Hawaii for Thanksgiving (follow along on my Instagram profile if you want).
1.Love these graphic cheese plates from Baba Souk.
2. The essential Bar book, a classic!
3. Hubby has this chair and LOVES it, definitely a wonderful present
4. A sweet gift to DIY for little kids, DIY Crown and wings
5. Pretty little wooden balance trike at Land of Nod
6. Pretty newspaper holder for the office or living room
7. This bunny ears hat is too adorable!
8. Another great gift to DIY: give bottles of homemade Bailey's
9. Great aprons from Lint & Honey
10. Pretty sure I need this wooden bath caddy
11. Love everything that Petit Pippin makes. Her softies are my favorite!
12. I'd cuddle under warm and bright throw any day.
You might also like: