How you guys doing?! I know, more than two weeks since I last blogged….I promised it won't be long until I tell you all about what's been keeping me away from the screen

Maybe even early next week!
Hard to believe that we've been in our new house for almost 6 months already! I am finally getting moving with a lot of the projects we have for our home – we're starting the reno in our basement to convert it into our media/family room this week, and I've also been working on making the girls bedrooms' nice, cosy and fun for them!Kids spaces are one of my favorite rooms of the house to work on – the whimsy, the fun. Here is a little glimpse at what I have planned for them: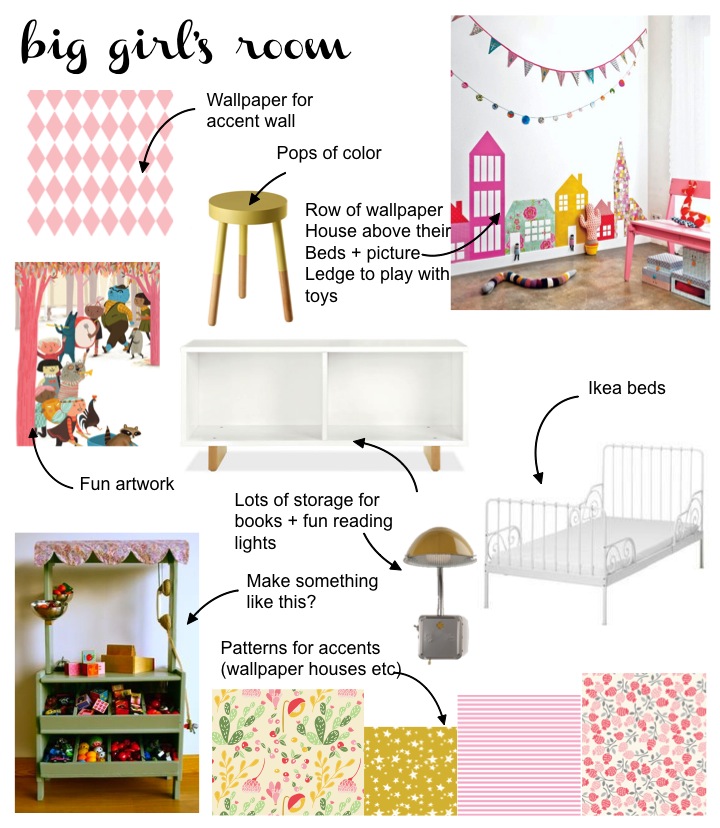 We only have three bedrooms upstairs, so the girls still share – they love it and I love it too, easy bed time + at night they always ask to sleep together. Now, their space is super tiny. We barely managed to make their two toddler beds fits and it's been challenging to find a way to fit everything they want in there without making it feel cluttered. Not that they would really care…they do love a good mess 😉 They used to have IKEA bunk beds in their bedroom in NYC – which we moved to our rental in Berkeley but helas, the beds didn't quite make it out of the rental – "I don't know, hon, the bunk beds weren't quite coming apart when I unscrewed everything and I just pulled a LITTLE bit and the beds just fell apart" Sigh. Patience with furniture isn't quite hubby's thing.
So there you go, lots of pink and yellow + green and red/hot pink accents for the color palette. And loads of patterns. A week ago I set up the accent wall of pink diamonds using this Spoonflower removable wallpaper by Peacoquette Designs and woaah the difference it made! It added a super fun vibe right away

The girls love it, I love it, and even hubby who HATES wallpaper – I know, how could I possibly marry a wallpaper hater 😉– even mentioned that he likes it. Score! Tons of little details to finish up, but things are moving along great so hopefully it won't be too long until I show you their room!
Happy Wednesday, friends

You might also like: