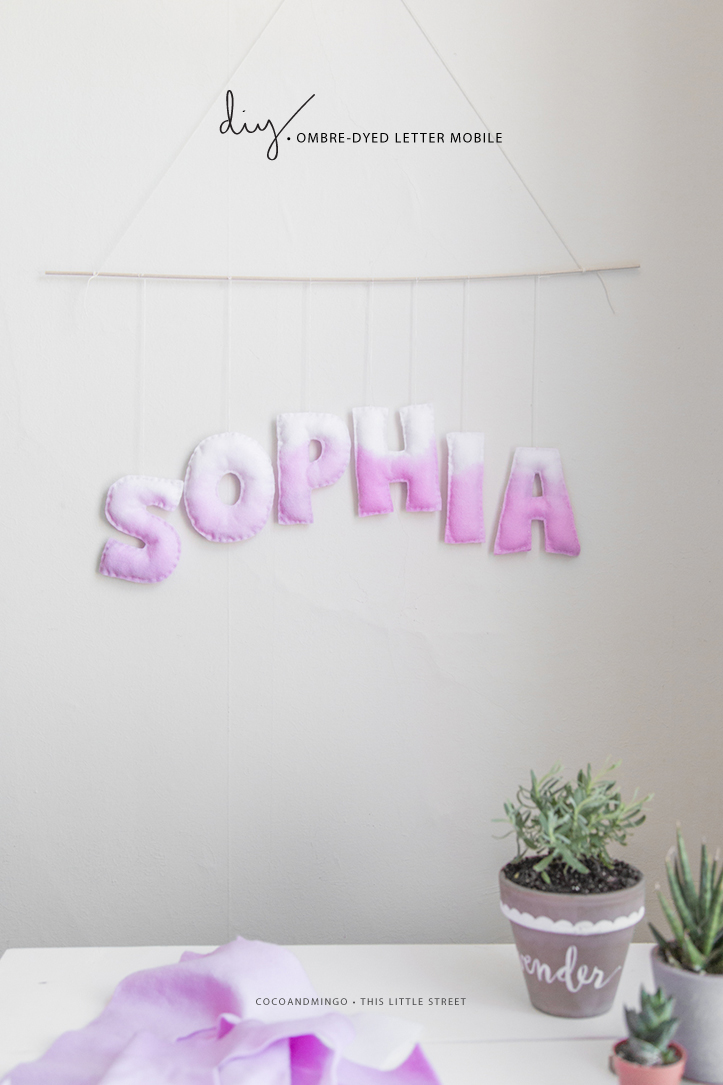 Baby Freia arrived on May 9th, so while I take some time to rest and bond with my little girl, an amazing group of blogger friends is helping "fill in the gaps". Enjoy their lovely posts

Hello This Little Street readers! I'm Jessica, over from Coco & Mingo and I'm so thrilled to be taking over TLS today while our lovely Audrey is taking her maternity leave! I'm so excited to meet + greet the new baby into the TLS + blog family, aren't you?!
Because babies are on our minds (no, not quite ready for me, but so, so happy for my dear friend, Audrey!), I thought it fitting to do a baby post. And if you know me, I'm all about letters + personalization, so I thought, why not have a personalized mobile to hang in the nursery? To make it even cooler: let's make it dip-dyed ombre colored!
Please advise: No, Audrey's new baby girl has not been named "Sophia"!! I just like the name, don't you?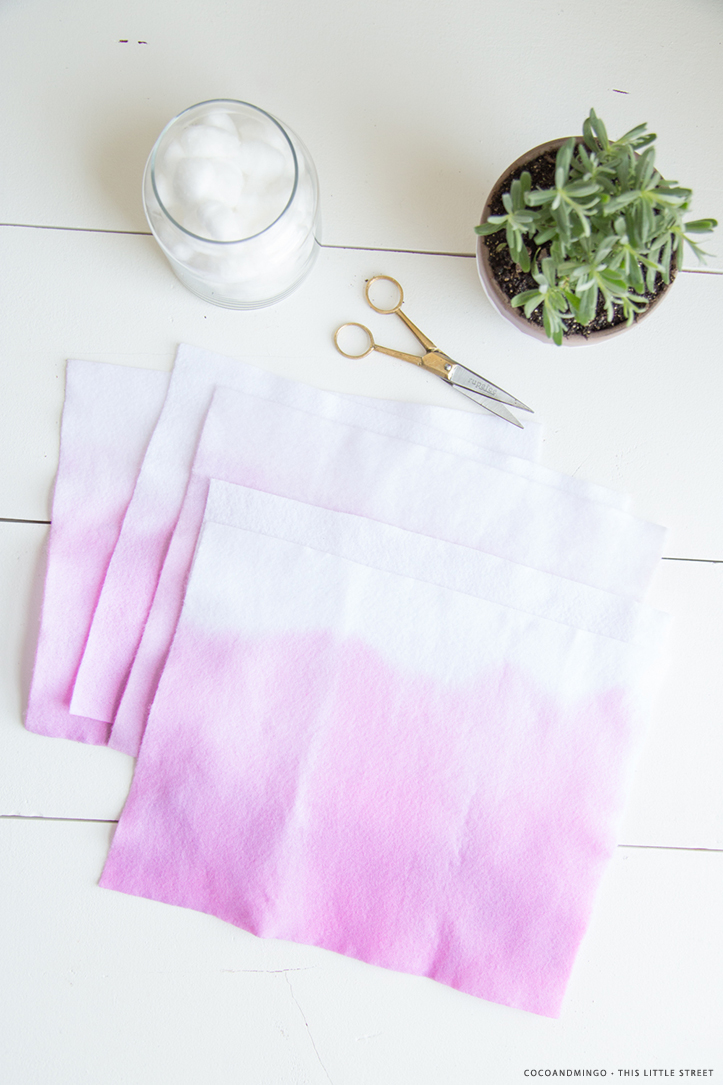 DIY Ombre-Dyed Letter Mobile
What you'll need:
// 3/16″ or 1/4″ (diameter) wood dowel, desired length – available at any arts & crafts store, like this one.
// White felt sheets (approx. 1 8×10″-sized sheet per 1 letter)
// Your choice color dye pack for Poly fabric (I used the iDye Poly dye pack in Pink; if using cotton felt sheets, use dye for natural fabrics)
// Cotton balls
// String
// Needle + thread
First step is to dye the felt sheets. Because each package of the iDye Poly can dye up to 2-3 lbs of fabric, you don't need to use the whole thing (since I only dyed around 10 felt sheets, I used only about 1/3 of the pack. Be sure to follow instructions on dye pack). Dip the felt sheet into the heated dye mixture and let sit in a side pan while it cools (with the un-dipped edges leaning up against the sides of the pan). Rinse and wring out when cooled, and hang to dry. To get more of the "ombre" effect, re-dip just the bottom edges of the sheet again into the dye to get it darker, and let cool, once more.
Once the dip-dyed felt sheets have dried, cut out the block letters you want to create. I made mine about 4-5″ in height. You can spell out anything! Your baby's name, a positive or inspirational word, ABC, 123 – it all works!  Sew the letters together by hand or machine, and stuff with cotton balls before closing it all the way up.
String through the top of each letter and tie to the wooden dowel in place (you may need to cut the wood down to size). Tie string to each end of the wooden dowel and hang!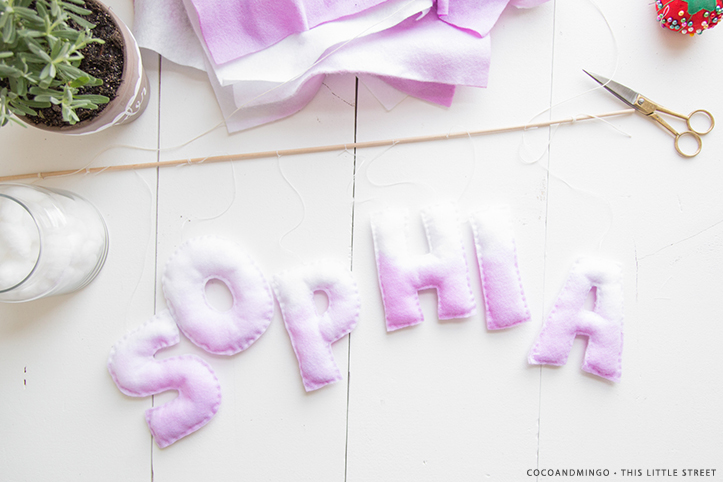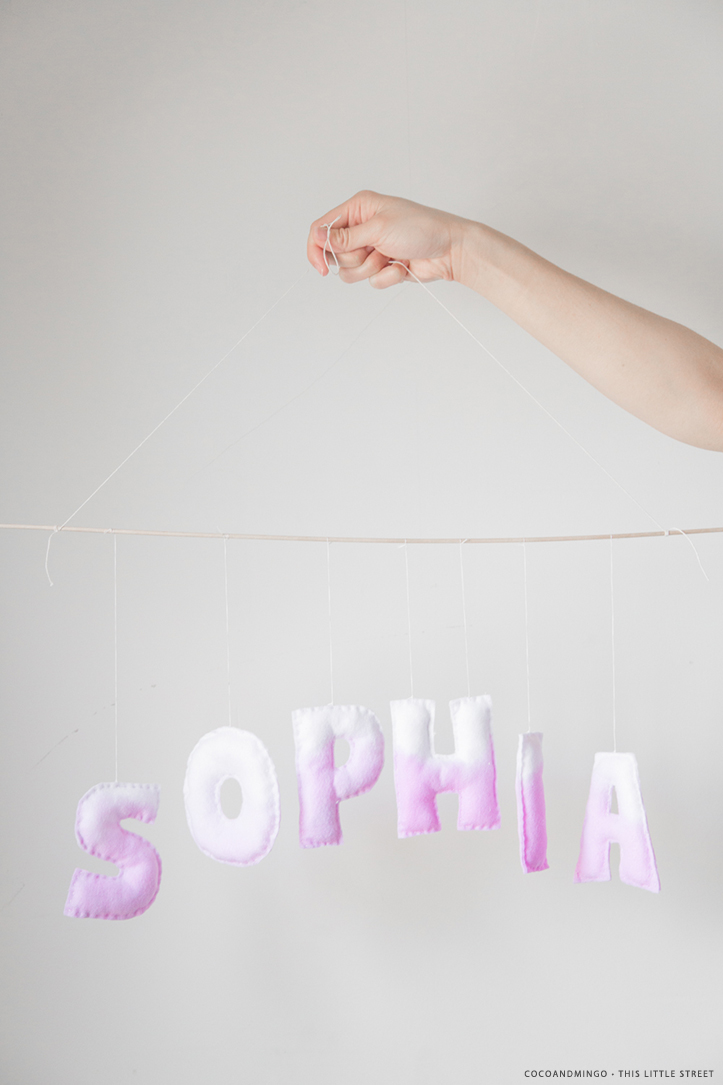 Thanks for having me, Audrey! Wishing you and the new baby the best of love and luck!!

You might also like: