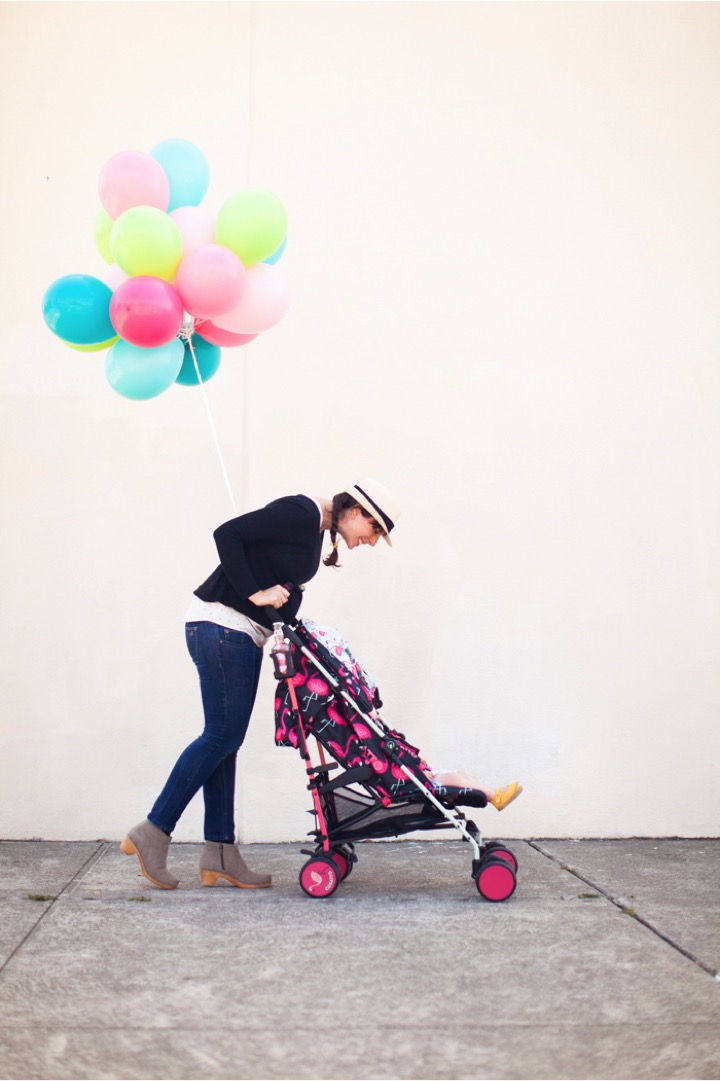 Do you have the flamingo fever real' bad like we do around here?

Well, you are going to love what I have in store for you today and tomorrow – trust me about that! Today Cosatto and I have partnered to give away this super fun Flamingo Fling stroller (value $400). Is it your lucky day or is it your lucky day?!

Instructions on how to enter are at the bottom of this post, but hey, first let me tell you how awesome this stroller is!
Here are the details: We used to own an umbrella stroller in New York but it broke shortly before our move and we never go around to getting a new one in California. I love that the Cosatto Supa is light and small to pack up in the car but still has many great features of the larger strollers. Freia sits comfortably in it and it's big enough to even stroll around bigger sister in it -so great size from baby to young kid.I've read on some reviews that some users find the frame a bit wobbly – but not my case, it really feels great to drive. The sun hood easily extends with a zipper closure – it essentially doubles the canopy! The seat reclines to a full flat position for naps, and the fabric of the stroller is of great quality, it protects UPF50+ and is shower proof. This stroller was designed in the UK so you know, they know their rain alright 😉 And in case you get stuck in more than a quick shower, the Supa comes with a rain cover also as well as a cozy toes with kangaroo pouch and reversible zip-off fleece liner to keep the littles warm during the winter – can't wait to try it this winter!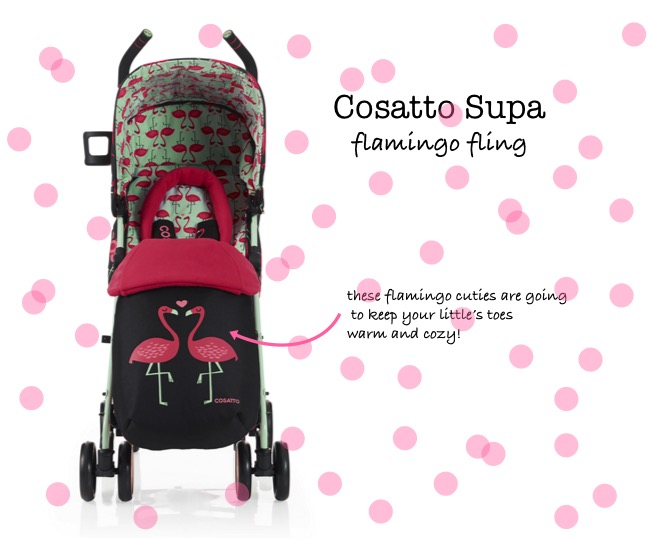 Cosatto included a cup holder too that you can place on the right or left side if you're a leftie….helloooooooo morning coffee! Not that the super bright and fun pattern of the stroller isn't a mood booster already – I love the happy colors and so do the girls. The super fun pattern is probably my very favorite thing about this stroller. I've been getting so many compliments since cruising around with this stroller!  Want to know about another great feature? Cosatto included an ipad window (+speaker!) inside the hood of the stroller so that you child can watch the ipad in those busy life moments where you'd give anything to keep your little one happily sitting in his/her stroller. I haven't used this feature yet, but I am thinking it's going to come in super handy one of these summers when we travel to Europe and get stuck through airports

Now you, my readers are extra lucky because this Flamingo Fling Supa stroller is only available for pre-order here for now- so you'll be one before anyone else in the US! How about that for being special?! All you have to do is enter in the Rafflecopter below between today and next Wednesday. Do as few or as many  of the options as you want – but obviously the more you do the better your chances of winning. US residents only, sorry! And please pretty please, no cheating – we'll be checking that the winner actually did their part when entering

 Good luck y'all!
Enter the giveaway here
* Giveaway sponsored by Cosatto USA. It is limited to U.S. readers only, age 18+. $400 USD total value. Winner will be contacted by email once giveaway closes and announced in the rafflecopter widget above. Pictures by Jacqueline Knapp for This Little Street and by Audrey Smit.
You might also like: