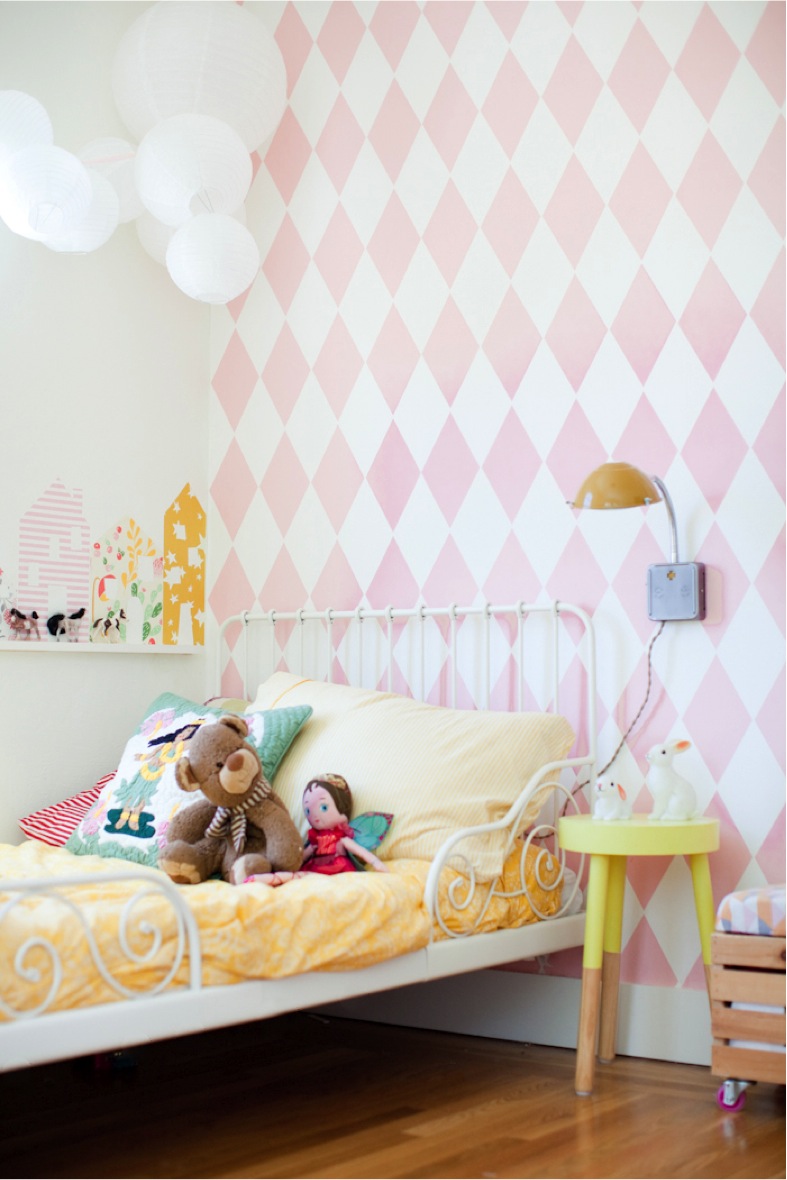 Alright friends, I wanted to make a big reveal for my little "big" girls' bedroom, but I can never seem to find time to tackle the last details. Since we're pretty close anyway I figured I might as well show you the room now and let's be real here, I probably won't get to finish these details with baby arriving in a couple months. Especially given that I haven't even started to work Freia and baby's rooms…such is the life of a fourth child, right? 😉
If you remember from my inspiration post for the girls' room, I wanted to make a big statement wall with a pink diamond wallpaper, something girly (because my girls are ALWAYS begging for more pink!) but also something they could grow into – and I was so happy to find removable wallpaper on Spoonflower with the design I wanted! I took my own advice and used a liner first since our walls aren't that smooth – it helped so much! I absolutely love the results – the pattern is not too busy but give the room this fun and cheerful vibe. Even hubby likes it (and ask him – he is usually NOT a fan of wallpaper!) soooooo let's call this a big win, shall we?

The IKEA beds I wanted for the girls ended up working just like I wanted. Actually, better than I had even planned! Before we bought them I thought that we'd have a couple inches left between the girls bed…..turns out, not even!I love the old vintage feel – and can't beat the price! The beds are extendable and have 3 different length –  right now we set  them up at the intermediate length and it's the perfect size for the girls, and when they grow up the beds will grow with them…I have the feeling that's going to happen super fast at the rate Olivia's going! We'll just have to rearrange the room, but in the meantime these beds allow a bit more play space in their room…which they really need because it's a tiny room.
Above their beds I made a pattern play of little house with different pieces of removable wallpaper  (from Spoonflower again) and a little ledge underneath so they can play with their little princess and horses – you can find the full tutorial here! The mix and match of patterns adds another really fun touch to the room, and it was so easy (and cheap!) to set up. Other than that on the walls I jut added a couple of my favorite prints that they already had in their room in NYC, and swapped the cheap Ikea frames for some of my favorite, awesome looking frames by Framed and Matted.
My girls are bookworms so we needed loads of storage for books! I do hate though how kids have to pull books off bookshelfs 1 gazillion times a day – I get it, they want to see the cover to know what the book it, so I made them a little book bin that I lined with removable wallpaper inside for extra cuteness. Turned out so great and totally solved the problem of books ending up on the floor all the time – the bin is their height and they can browse through them as they please without taking them out! I am working on a little tutorial for the book bin and will share with you all soon, I promise 😉
We still had more books though so I hack this IKEA sideboard to make it fit under the window. I took off the second level, painted it and lined the back with removable wallpaper. And I used our toy crates on casters (tutorial here) for toy storage – you only see one in the pictures, but I but extra crates at the bottom of their closet and they can pull them out as they please – the casters make it fun for them and it makes their room less cluttered.
Also book related, the girls had been BEGGING to get reading lights – and I'd been trying to avoid it for a while because I could imagine the lights being turned on in the middle of the night to read their favorite books. But I finally gave in and so happy – the girls were over the moon when I set up the plug-in wall sconce (for Olivia) and the gold table lamp (for Madeline). And they have been really good with them – well, I may or may not have threatened them to take the lights away if they don't 😉 I love the look of both lamps, especially the vintage feel of the wall sconce! I love adding a bit of vintage in every room, it instantly gives a room more character. I found a vintage dollhouse at the Alemeda vintage fair (that place is SO good!) and lined the inside with some nice paper + modpodge to give it a more modern look. Patterns patterns patterns, you know it

The girls love their room and so do I! I often find myself just laying on their bed when they are not there

As I mentioned at the beginning of my post, still working on some details – I need to change the ceiling light that I cropped out of the picture, and need to add shutters so we can block the light as needed and give them a bit more privacy. I also go back and fourth about adding a rug. Their room is SO tiny that I feel like a rug back make it look more crowded, but maybe if I find something simple enough?
I tried to get ideas from the girls and ask them for their opinion along the way, but now I can't wait to see how they make this space truly theirs along the years. I am pretty such that will mean that pretty wallpaper covered with their art and princess stickers all over their beds haha. Oh well, I'll try to teach them but in the end, such is life with kids 😉
Sources: Wallpaper by Peacoquette Design via Spoonflower | Ikea beds | Yellow stool via Dot & Bo | Book bin handmade | Sideboard from IKEA, hacked | Toy box on casters handmade – tutorial here | Plug-in sconce via Schoolhouse Electric | Gold scoop table lamp via West Elm | Rabbit night light via My Sweet Muffin |Bear print by Caroline Gomez | Ballerina print by Apanona | Artwork framed by Framed & Matted | Row of wallpaper house using removable wallpaper from Spoonflower – find DIY + sources for each pattern here in the supplies section | Cloud pillow handmade | Doolhouse vintage|  Mooshka fairies from Target | Crochet garland by my friend Victoria | Unicorn superhero cape via Love Lane
You might also like: