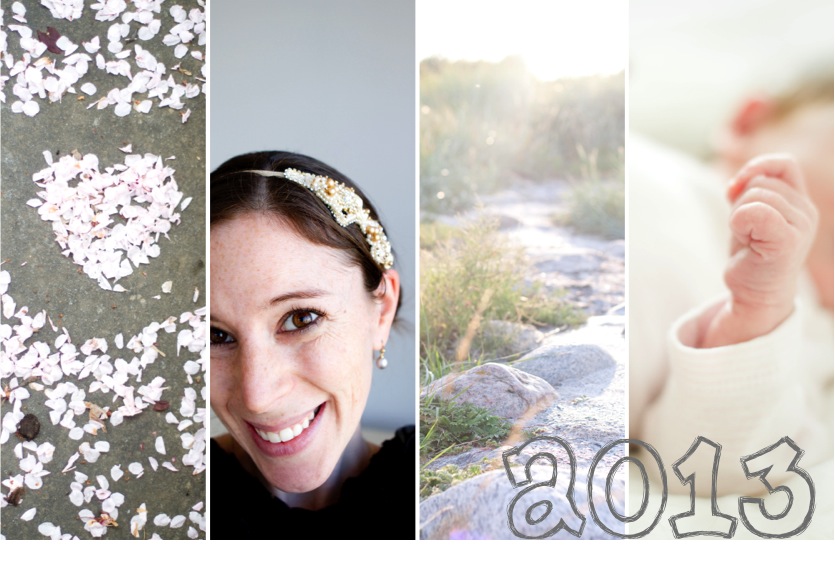 Happy Monday friends! Did you miss me? Come on, come on, you know you did

Sorry I missed the post on Friday, I just had a bit of the blues last week, and Friday I wanted nothing but to stay hidden under the covers all day and send telepathic orders to the rest of the world so that things would get done while I whined. I don't really know why, I started the New Year with a  real high, but I think that reading everybody's resolutions these past couple of weeks, I panicked a bit. Seemed like everybody was moving forward, to infinity and beyond with all of their awesome plans and ideas, and I felt a bit "stuck" where I was.
So today, I'm taking this matter into my own hands, and sharing my own goals for 2013 with you. They are not really resolutions (I don't really like this word anyway), but things I'd love to do this year. Guidelines for the year to come, if you want, rather than another to-do list I HAVE to follow. So here are my 13 for 2013!
1. Be a heck-of-a-confident woman. It might not seem like it to the people who know me, but I often doubt myself.  The internet is so full of clever people with genius ideas, and it sometimes make me feel like I'll never be able to beat "them" – whomever "them" is. It's silly, really, and totally unfounded. Because I have so many ideas, and projects I'd like to carry out, and there's absolutely no reason why I couldn't make them all happen. Damn it.

2. Travel to a country I have never been to. Since I am from France, and hubby is from Denmark, we do a quite fair amount of traveling so that we can see our families. But in the end we always see the same things, the same people, the same places – and we need a real vacation, in  a place were we can totally disconnect. So it's one of my goals this year to get us somewhere we've never been. Suggestions?!
3. Remember where it all started. Because, really, when you have kids, it's so easy to turn all of your attention to them and completely forget to nurture the one very, very important thing that brought your children to this world: your relationship with your spouse. So this year, I want to make sure I put this up on a pedestal.
4. Add a little one to our family. Yes

No I am not pregnant yet, but we're really, really hoping – if we're lucky enough- to have another child this year. Hubby and I have discussed that we want a big (at least, bigger) family, and we're ready for more!
5. Keep dreaming big. Last year I took a small entrepreneurship workshop, and after everybody introduced their ideas to the other participants, the first exercise they had us do was to dream big and write down where we saw ourselves in 5 years, and where others saw us in 5 years. Sometimes we're a bit shy at imagining all of the possibilities, but it's important to keep dreaming big – it's the very first step to get there.
6. Move to a home where our girls can run around. I won't lie, we're not exactly big fans of living in the city with two little girls. Oh, we love NYC, it's got a lot to offer and it's such a vibrant place! But with the girls, we're dreaming of a house with a garden, and more space  for all of us.
7. Learn the skills that will empower me to live my dreams. I've been wanting to learn more about graphic design for a long while now, and this year HAS to be the year.
8. Stop buying and start saving. We've been dreaming about buying a house, and let me tell you, NYC is a heck-of-a-hard place to save up – there's always a new restaurant to try out, a new cool shop. Not counting the insane rent + child care. But we mean business, we really need to put together a good down payment for a house if we want our dream to happen before we're 70….so cling cling, here comes the money in my piggy bank!
9. Listen to more music. I don't know why I don't do it more, really. I'm a lot more chill when I listen to good music while working. I think it's a habit I just never acquired, I don't think about turning it on.
10. Do something with all the pictures I've been taking since the girls were born. Because, really, my hard drive's got them all to himself and can't thank me enough.
11. Create more. I am so INCREDIBLY happy when I create, it's my happy place – I'm in my own little world and it feels so good. Thing is, I don't have enough time (or don't TAKE enough time?), so I want to do that a lot more in 2013.
12. Draw every day. I always have ideas in my mind, but because I don't have a sketch book with me, I put it off and usually just end up forgetting about these ideas before I have time to sketch. So I need to start sketching every day before I go to bed.
13. Be kind to myself. And others. Most days I have a LOT of energy. So I expect a lot from myself. And others to, to be honest. Because I can do so, much, I feel others should to. Except for they want to chill a little. And then the days where I feel a little low, I beat myself up for not doing all the things I had on my to-do list. I really have to stop beating myself up like this. And I've got to be more understanding with others. They are not me.
You might also like: