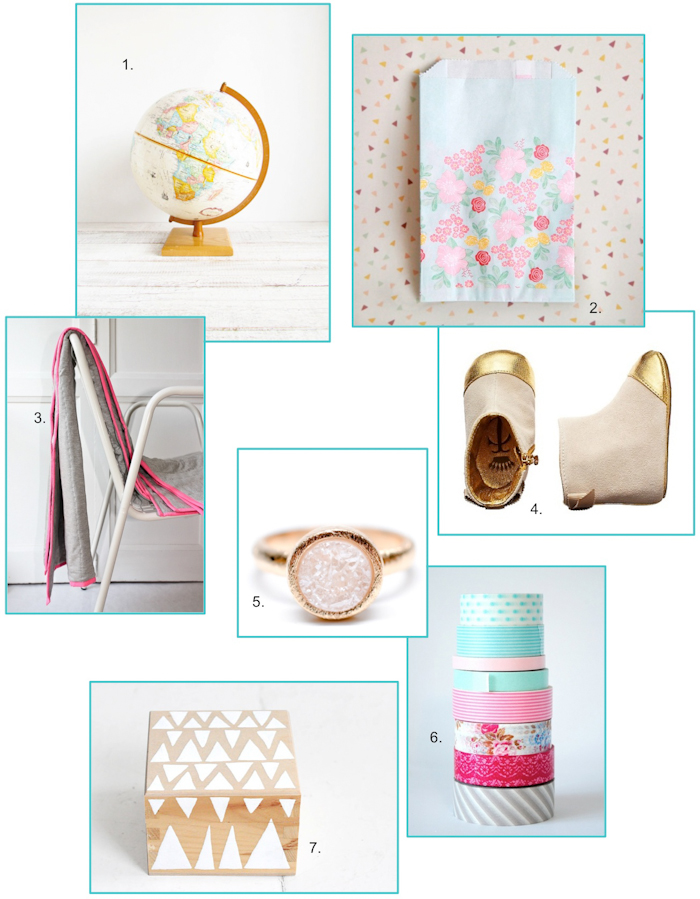 Happy Wednesday, friends! Having a good week? It's a pretty big one for us, and hopefully I'll be able to tell you more about what's going on soon! Spring is still nowhere in sight here in NYC – we've got to run from one place to the other with the stroller because it's so cold and windy here in Battery Park city. But my mind is already in place where the flowers are budding and everything looks bright in the Spring sun. Here are some of the things on my wish list these days, in a warm spring palette of pastels, bright pink and gold. Hope you like it!
1. I've always wanted a globe in my home to show our daughters about all the place we talk about. Love this vintage globe at Ia's Vintage.
2. These little paper bags are too adorable, perfect for little party favors! By love Mae.
3. Love the pop of neon against the simplicity of the grey fabric of this quilt by Paper Plane Home.
4. I wish they made these my size!  Metallic suede bootie by Juicy Couture.
5. How pretty is this ring? Love the roughness of the metal. Geo drusy ring in blush at Leif Shop.
6. I can NEVER have enough washi tape. Great combination of colors and patterns by Torie Jayne, who seems just as addicted as me


7. Pretty hand-painted little treasure box by Anamarko.
You might also like: