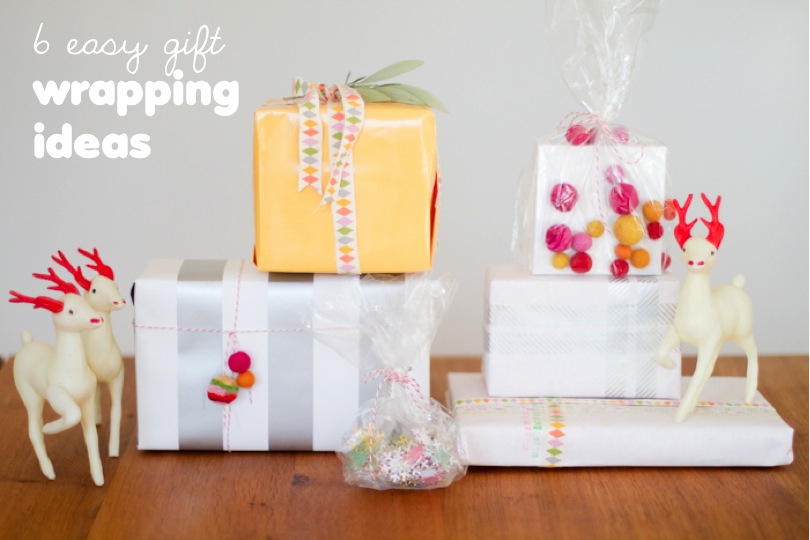 Today we're talking about something fun – gift wrapping! You're probably think "geez, I barely have time to buy my presents…let alone wrap them pretty!". But really, it doesn't have to take much time to wrap it up pretty, and the person you're giving the gift to will feel extra special because of it.
So keep on reading and I'll share 6 easy and fun ideas to pack your gifts this holiday season!
One trick I like to use when wrapping my presents is using paper that's color neutral (white, silver, craft) because that way I can add any color I want and go any direction I want. I can add red + green for a more traditional Christmas feel, or blue if I am gifting to someone celebrating Hanukah, or use a palette of bright colors like I did for this post.


This is great when offering very small gifts like jewelry – and also for people who can't wrap with paper

You can buy your confettis or make them, and stuff them in a clear treat bag. I made my like snowflakes using a paper cutter & some leftover scrapbooking paper I used for Olivia's birthday party. I filled the bag and hid a pretty necklace in there – it's fun for the people receiving the gift to search through the confetti!

This is by far the easiest of tricks, because all you need to do is walk to your garden and cut a pretty little branch to attach with a nice ribbon. In just a few seconds you'll add such a personal touch to your gift!

I like to contrast the paper I buy with a little decoration that will add a nice pop – like these bright felts ball against this stripped silver wrapping paper. I used a needle to thread the balls in et voila!


Stamping your own paper is so much fun! Of course you can use a fancy little stamp that you bought – but look around your office, how about stamping the date on your paper?! Even better if you have some ink in fun colors lying around!

This idea comes straight up from my favorite movie – do you remember when Mr Bean wraps up the necklace in Love Actually?! He just throws a lot of things in a clear bag – rose petals, a cinnamon stick etc. Well, that's exactly the idea here! Find a clear bag, and put your present inside and add something fun – I added some more felt balls because I think they are so much fun, but you could add something from your garden, or something else that's special to the person that receives the gift.
I am so in love with washi tape. Probably the best invention since the invention of the wheel. No kidding. Anyway, you can easily add a little vavavoom to your gift by layering stripes of washi tape. I used the same washi tape for all my stripes, but you can easily mix and match. What? You don't have any washi tape? Well, you'd better enter this 24 Merry Days giveaway for a chance to win a whole set of rolls!
PS: 24 Merry Days giveaway – day 11! Today go over to Little White whale for a chance to win two awesome prizes!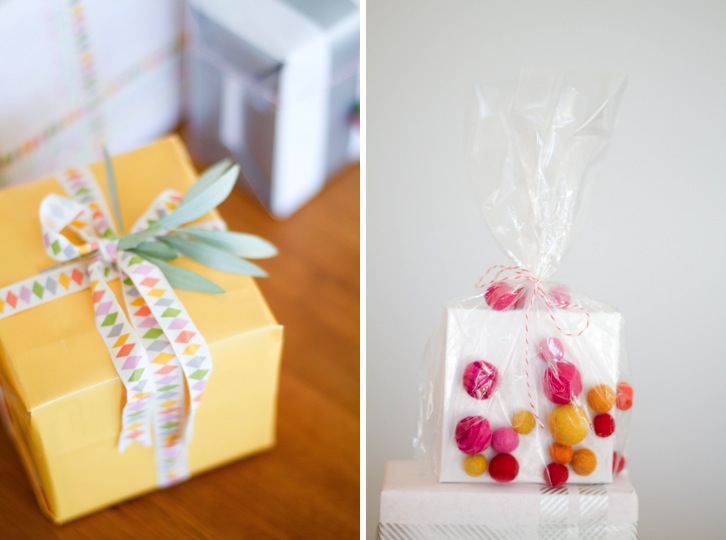 You might also like: