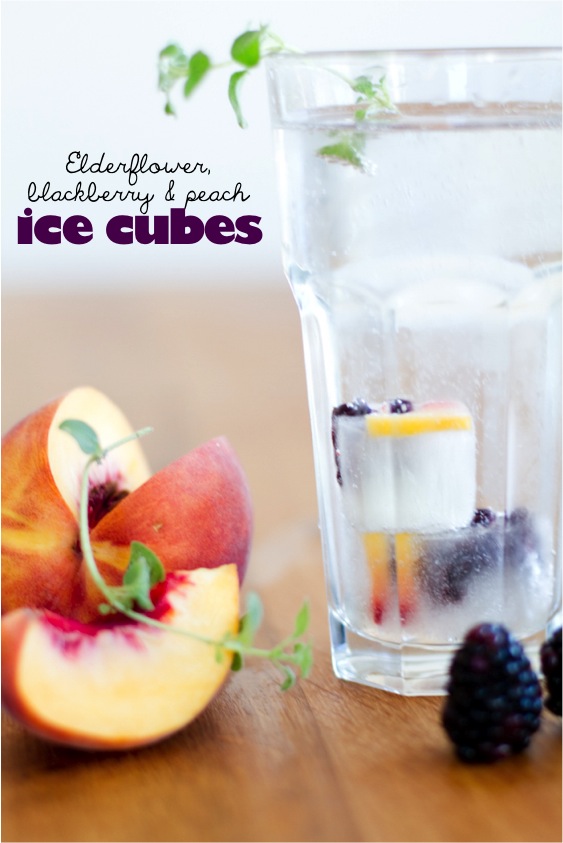 It's been my late Summer little addiction: a tall glass of sparkling water with these delicious  and refreshing elderflower, blackberry and peach ice cubes. But before I tell you more about them, I need to backtrack to the inspiration behind them.
A couple of weeks ago we were on our way to Boston for a little vacation with friends. The four-hour car drive to get there was loooong. And when I say long…the girls were not having it in the back of the car. At all. So midway through the trip, hubby unexpectedly took an exit, turned to me and said "Let's go have a little fun". Big smile on my face.
He drove us to this little orchard in the middle of nowhere (turns out he had seen a sign for it on the freeway), and it felt like we had arrived to paradise after hours on the never-ending freeway. Maybe , just maybe,  I know I am a bit of a tree-hugger  deep down

The kids were so excited they were jumping around and giggling. We picked up a few boxes for the berries and headed out to the fields. My little Madeline didn't think twice – she went straight for peaches, and held on tight to the one she picked. This girl LIVES for peaches.
My little Olivia kept picking the blackberries that weren't ripe enough….hence her face on the picture. That day she learned what sour means. My silly silly lovely little girl

I came back all inspired back from our little orchard adventure, and wanted to make something fun with what we picked. Now, I'm a big fan of anything with elderflower ever since living in Scandinavia, so I thought I'd combined that with the blackberries and peaches , and made these pretty ice cubes that I can just drop in a tall glass of sparkling water every time I feel like treating myself. Which turns out to be every couple hours of so. Ok. I'm addicted.
What you need: Diced peaches, blackberries, elderflower syrup (buy at IKEA or online), and water.
What you do: Put one piece of diced peach and one blackberry in each cube of your ice tray. Add some elderflower syrup until the cubes are a little less than 1/2 way filled. Add water to fill up the cubes. Freeze. Et voila!
These pretty ice cubes only take a few minutes to make, and they are so delicious and look so pretty in the glass – the would be perfect for a late summer get together with friends like Labor day! Hope you like them – let me know what you think

You might also like: