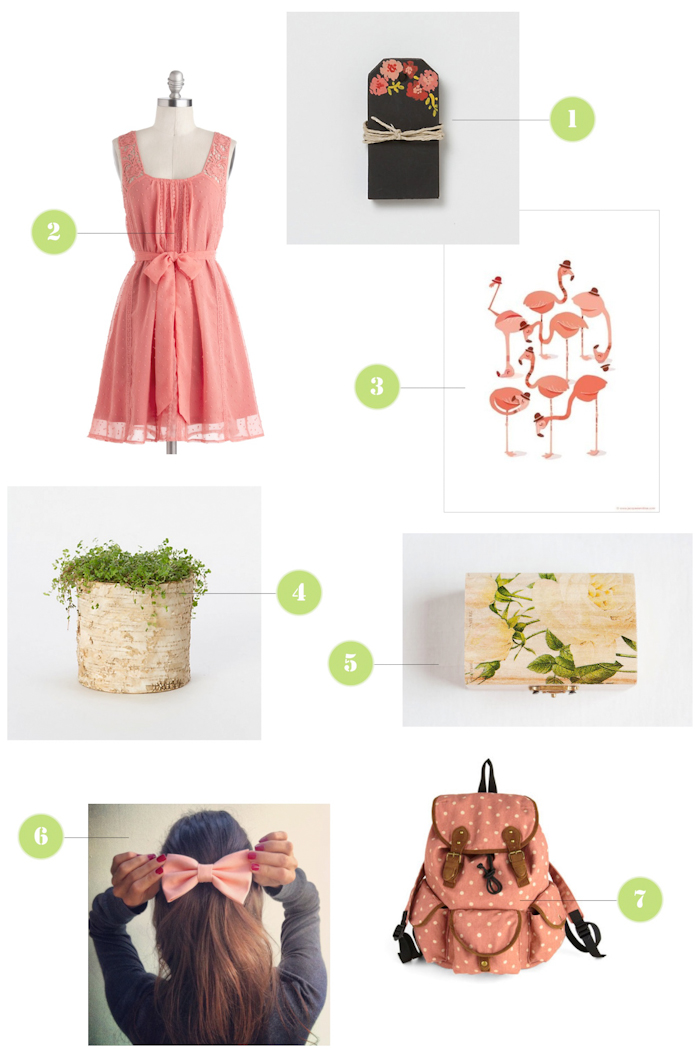 March is finally here, got to admit I couldn't be happier about it. It's already this much warmer in New York, oh not a lot, but it's funny how people's moods are already shifting – you can even catch glimpses of smiles on New Yorkers these days, if you're lucky enough 😉 It's something in the air, like a promise. A promise that soon we'll be able to take long walk, have picnics in the park & eat ice cream everyday. Yesterday I was walking Olivia back from school and I showed her the budding trees. I told her the trees were preparing baby leaves that would soon come out. She jumped up and down with happiness, big smile on her face. Totally how I feel inside. So with that, I give a little list of things I am coveting right now – not surprisingly it all feels very springy, but I can't quite get enough of these colors. Happy Wednesday, friends!
1. How pretty are these floral chalkboard tags? Perfection!
2. This dress at Modcloth is so sweet!
3. I am redoing the girls bedroom and have been looking at prints a lot – totally love these little flamingos


4. A pot that doesn't look like one? Yes, please. At Terrain.
5. I have a thing for pretty little keepsake boxes these days. Love these roses boxes by Miss Vintage wedding.
6. Nothing says spring like a big bow in your hair, right? Peach bow by Color Drop.
7. Girly backpacks are my new best friends, and I'd definitely carry this polka dot backpack everywhere if it was mine!
You might also like: