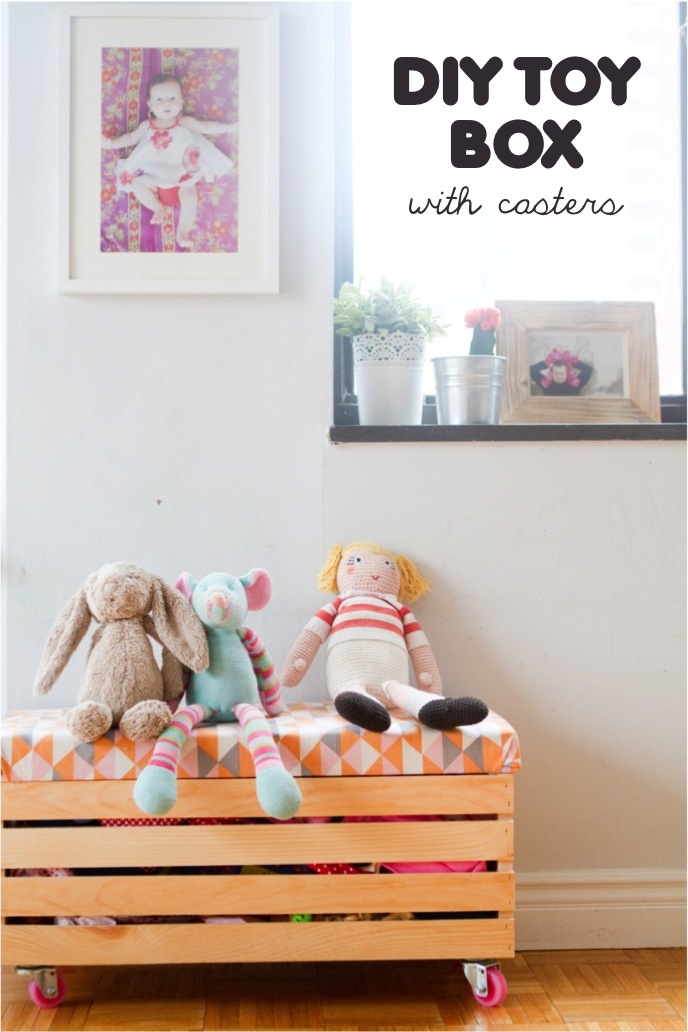 As mentioned before, I've been redecorating the girls bedroom and having tons of fun with it. I'll share pictures soon, but in the meantime I want to share one of the projects I worked on for their room – these little toy boxes with casters. Some very simple wooden crates with fun pink casters – an easy and inexpensive trick! I love them because the girls can easily roll their toys around themselves now – and it also makes it easier for me to clean up the mess. Did someone say mess???? No, not here, never!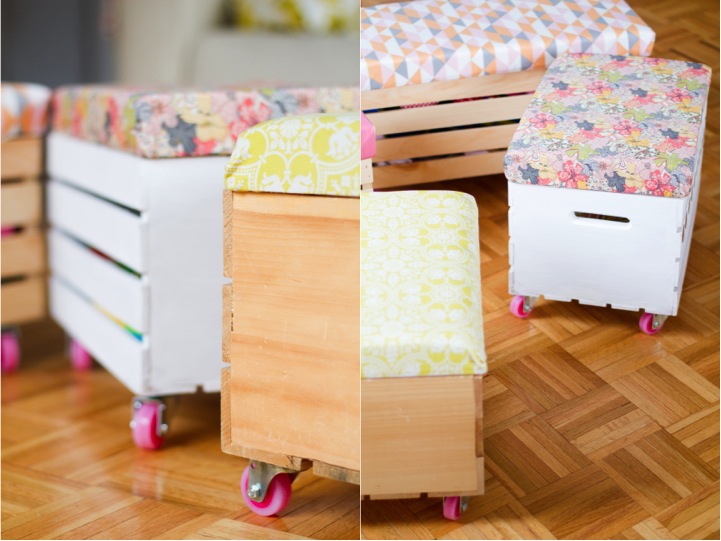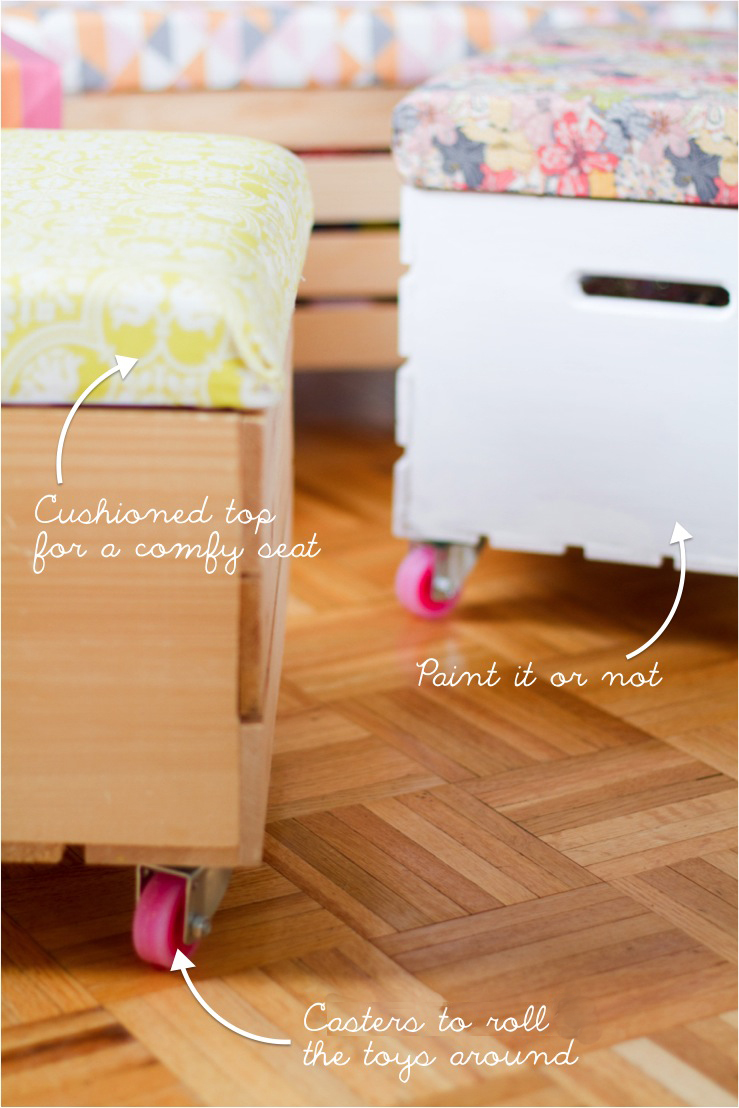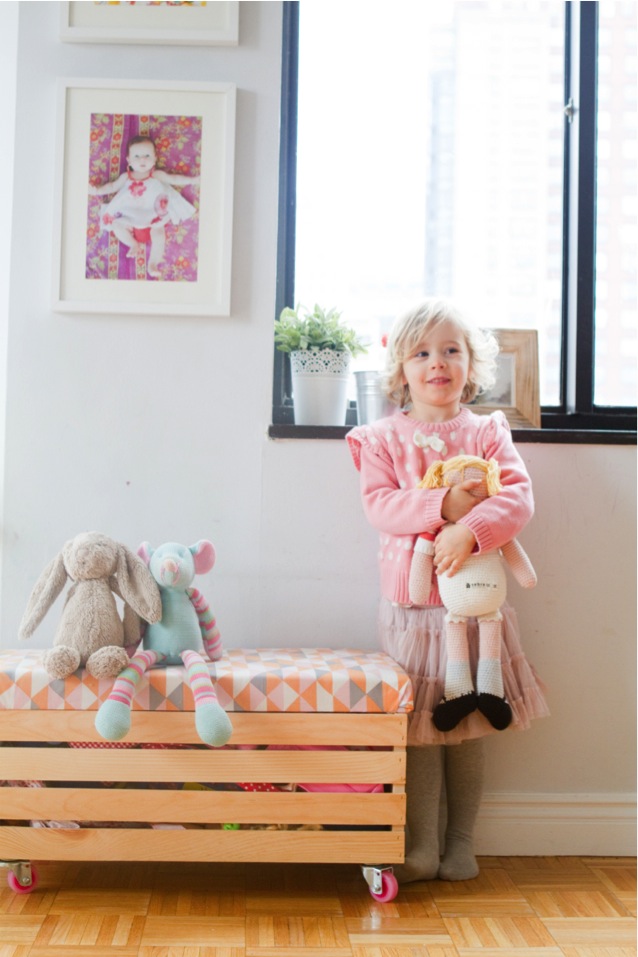 I SWEAR I didn't dress my daughter so she would match her toy boxes! Guess I just love these colors 😉
Since space is very limited in our apartment and I try to make everything multifunctional, I added a cushion to the top of the crates so we can sit on them whenever we need more seats – you know, for those tea parties with all of the teddy bears and princesses of the kingdom…we can't have everybody standing, wouldn't be proper. Plus, picking pretty fabric for the cushions was also a nice way to personalize these simple boxes.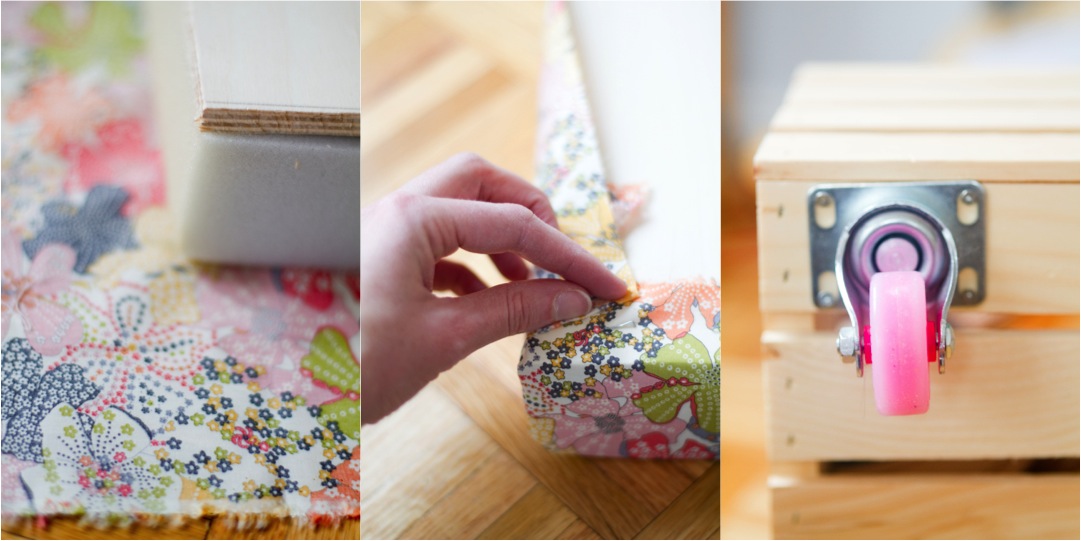 WHAT YOU NEED:
– wooden crates
– fun casters in citrus pink
– plywood (bought this and cut it in lids big enough for my crates)
– foam sheet
– fabric (bought a lot of mine a Purl Bee)
– fabric stapler
– screws
– paint (if you want to paint your crates)
WHAT YOU DO FOR CRATES:
1) If you want your crates in a different color, paint them with a couple of coats of paint.
2) Place one caster at each corner & attach with screws.
3) You're done!

WHAT YOU DO FOR THE LIDS:
1) Cut your plywood if you got a big sheet to the size of your crate
2) Cut foam the same size
3) Cut pieces of fabric big enough to cover the entire seat cover with an extra inch to staple.
4) Place fabric down on the floor, and put the foam + plywood on top of it. Fold the fabric over – this video can help you deal with the tricky corners.
5) Staple the fabric to the plywood.
6) Et voila!
PS: This project is more cost efficient if you plan on making a few crates, as you will most likely have to buy a long sheet of foam.
You might also like: