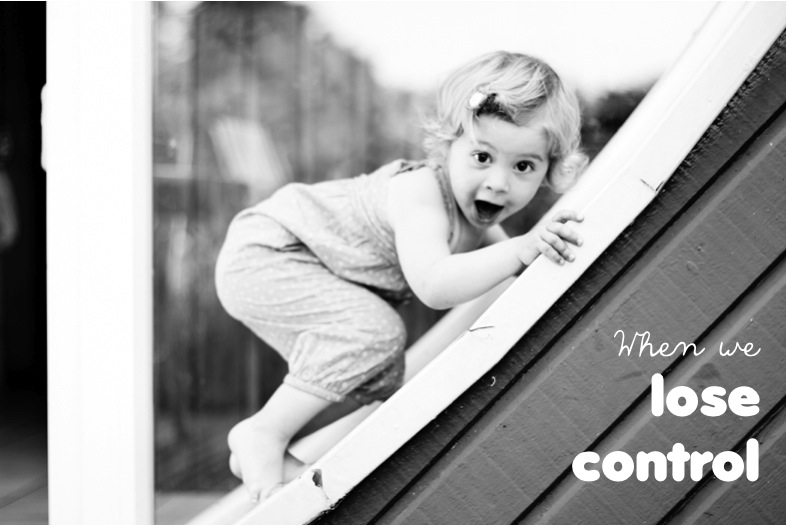 As much as I like this blog to be my happy place, my little corner of perfect world, sometimes things happen in life and I think it would be cheating to not talk about them here too. This is not easy for me to write, but I feel like I have to do it so I can fully move on.
A few weeks ago I mentioned to you guys that I was having a rough week. The truth is, it was a very rough week, because I was expecting a baby and that Wednesday I lost it. I had never experienced that before, I had always been lucky and only had easy, uneventful pregnancies with the girls. Losing the baby was very painful, physically and even more emotionally. I was sad for that little baby we lost, and for our dreams gone, but mostly I was very scared because I felt like my life was completely out of my control.
And although I am starting to feel better now, I still feel a bit out of control, a bit out off balance. I took this picture of Olivia last summer while she was climbing a wall at my parents' house, right before she lost control and slid all the way back down – that's a bit how I'm feeling right now, like I just slid down. And I am sure you've felt the same before – maybe you never lost a pregnancy, but maybe you lost your job, or maybe it was a relationship that ended that you didn't want to see end.
What do we do when we lose control? What can we do? Well, as far as I am concerned, I started taking control over all of the areas in my life that had fallen behind over time: I redecorated the girls room, I finally put all our pictures in family albums, I scheduled doctor and dentist appointments that were long overdue….listen, I even created an EXCEL spreadsheet to plan our finances for heaven's sake – uh uh, you heard me right, me in Excel! Whatever it was that I could find I could control, I did. And it helped make me feel better, mostly because it took my mind off the things that I could not control. It kept me busy. And I know I'll climb that wall again – and hopefully, soon enough, we'll try again and everything will be ok this time.
So tell me, what do you do when you feel you're losing control? All answers welcome, including hiding under the covers and stuffing your face with ice cream

PS: Happy Spring – I promise I'll be back with more cheerful posts tomorrow!
You might also like: