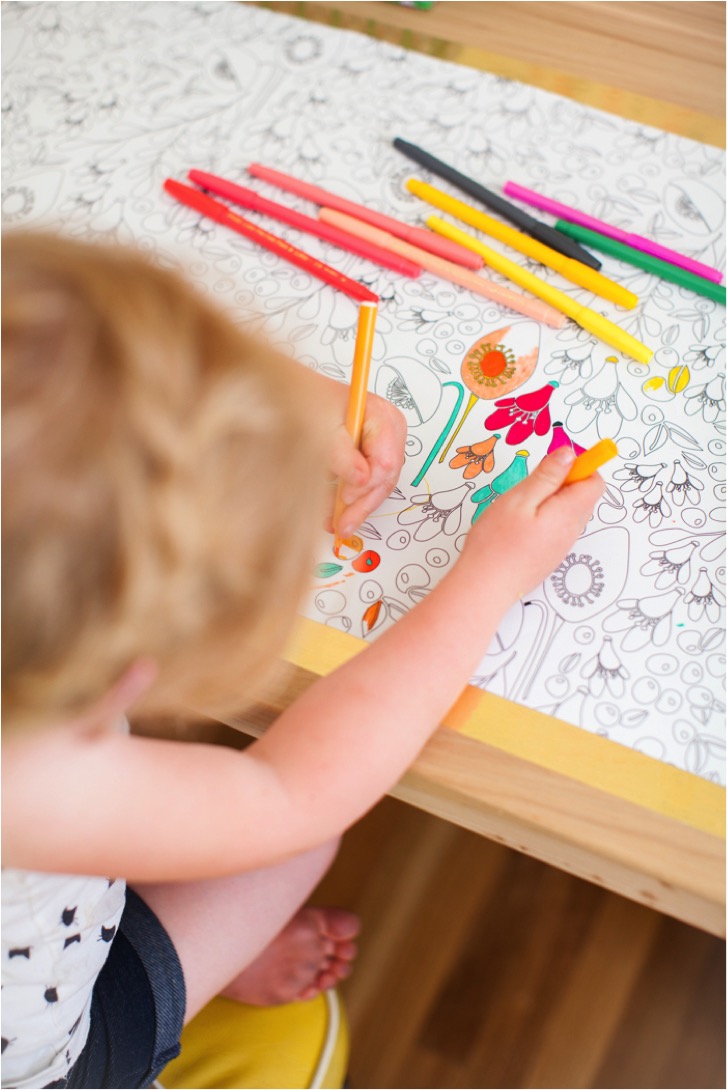 My girls are coloring monsters. As in, they DEVOUR coloring books, coloring sheets…and believe me it took years of training to teach them not to color our walls and furniture. But isn't that every little kids dream, to just let their little hands go free with markers on whatever they want? Well well, Spoonflower to the rescue here because one of the super fun projects in the brand new Spoonflower Handbook
 let's your little ones do just that – a tutorial on how to create coloring wallpaper that can also be used as desk wrap! Joy to the world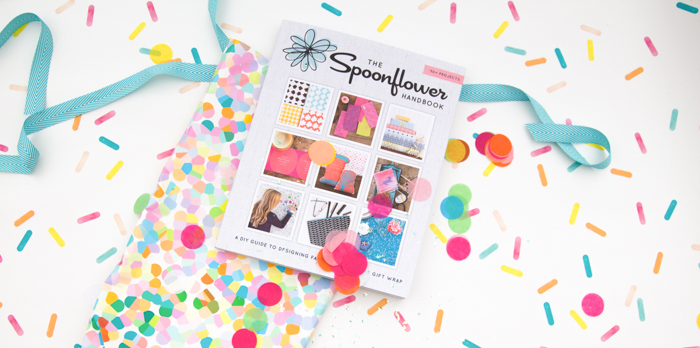 It's no secret by now that I am a big fan of Spoonflower, and when they let me preview the book before its release I stopped dead on this project – I just knew I had to make some for the girls! Using the tutorial in the book, a created a pattern that goes along with my brand new fabric & wallpaper collection, California Dreaming – which you can check out here, and available for purchase here. This wallpaper is very similar to the Blooms pattern in my collection, but in black and white so that the little ones can add their own rainbow of of fun to it…and I may or may not join them on this coloring fun, because coloring is really all my poor mama-of-a-newborn brain can handle right now;)
Coloring on the walls….every kid's dream, no?!

We've mostly been using the wallpaper in our office as a mat for the big girls, and as a full on wrap around the desk for Freia – it's been perfect for a toddler, because she can color as she pleases with her unsteady hand and never put marker on the desk…and I am not going crazy

 This wallpaper is filled with little details and the girls have been "working" on their wallpaper for days now….and still have a long way to go and don't seem to tire of it! Eventually when it's all filled up I'll cut another piece of paper and they can start over.
This project has inspired me to create more coloring wallpapers with even more fun details for kids – maybe the next one will have a little town on it, with shops and people and bicycles? Or unicorns and mermaids and pirates searching for treasures? Endless possibilities when you are creating your own!
If you also want to make your own coloring wallpaper, go pick up the  Spoonflower Handbook and it will show you exactly how to do it – along with thirty other fun projects! Here you will find a sneak peak of what's inside. And don't think for a minute that you can't do this project because you don't know how to use illustrator and other digital drawing tool – you can totally make a repeating pattern using paper and a pencil, and just upload that in Spoonflower!
For those of you who are interested, I am also making this wallpaper available for purchase in my Spoonflower shop here along with other my patterns so that you little ones can enjoy it too – make sure to check it out

Also, you can also purchase this design as gift wrap and let your little ones colors the present themselves !

_______________________________________
The Spoonflower Handbook Blog Tour Schedule:
9/12   Sammy K featuring
the Recipe Tea Towel project – samarrakhaja.com
9/15   Sherri Lynn Wood of Dainty Time featuring
the Doppelgänger Dog Pillow project – daintytime.net
9/17   Well, me

  featuring
the Coloring Desk Wrap project – thislittlestreet. com/blog
9/22    Kate of See Kate Sew featuring the
the Photo Panel Wall Art project – seekatesew.com
10/16  Emma Jeffery of Hello Beautiful featuring
the Geometric Soiree Kitchen Chairs project – hellobeautifulblog.blogspot.com
You might also like: