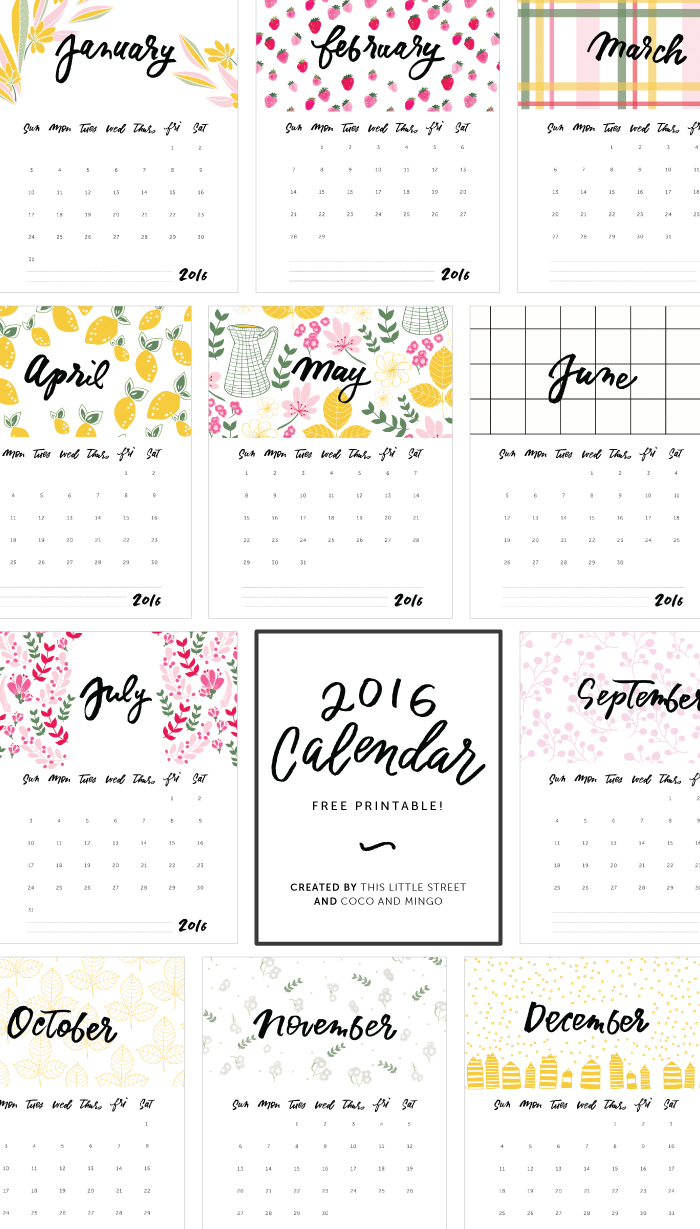 Alright alright try to not squeal, friends

I know quite a few of you have been waiting for this post, by the look of my inbox. You guys have been emailing both the lovely Jessica (Coco and Mingo) and me left and right to see if/when we'd be sharing a new calendar for 2016 since you all liked last year's calendar so much…and so, there it is!
This year has been such a big year for me with so many transitions – starting my pattern design business, launching my first collection, lining up first licensing deals (shhh!)….oh, and well, adding a 4th little girl to our family. You know. The little details  😉 I really wanted to design a calendar that reflects all that: a new season and the happiness I am feeling right now. My hope is that you smile BIG when you look at this calendar on your desk. 2016 is going to be oh so good, friends!
As much as I loved our calendar last year, I think I might love this one even more. Once again <ahref="http://cocoandmingo.com/" target="_blank">Jessica did an amazing job with the hand-lettering and the layout (she's simply the best!) and I had so much fun designing the patterns/illustrations. My favorite pages must be April and May, but then again I am slightly biased 😉  Would love to hear your thoughts/favorites! I'll be adding some of the patterns from this calendar to my Spoonflower shop soon for those of you who might want to have them as fabric, wallpaper or gift wrap.
We love seeing you guys show off your calendars on Instagram last year, so make sure to tag @jessicakeala and @thislittlestreet again when you post of picture on IG so that we can see your lovely pics

Click below to download and print the full printable 2016 calendar.

Each month is printable on 8.5 x 11″ (letter) paper. Print in high resolution on white, thick card stock for best results. A couple notes: I cut the white edges for a cleaner look, but the calendar is just as lovely with the white edges left after printing too. Also, the colors might show more saturated than they really are if you are looking at the pdf file on your phone but don't be scared – we optimized the file so that the colors will print best. Enjoy, friends!
Calendar and wallpaper created and copyrighted by Audrey of This Little Street (artwork) and Jessica of Coco and Mingo (calligraphy/layout). For personal and non-commercial use only. You are not allowed to sell this calendar in digital or print form, nor to distribute it in its original or in an altered form. Please link back to original post if you want to share this calendar – do not link directly to the file. Thank you!
You might also like: