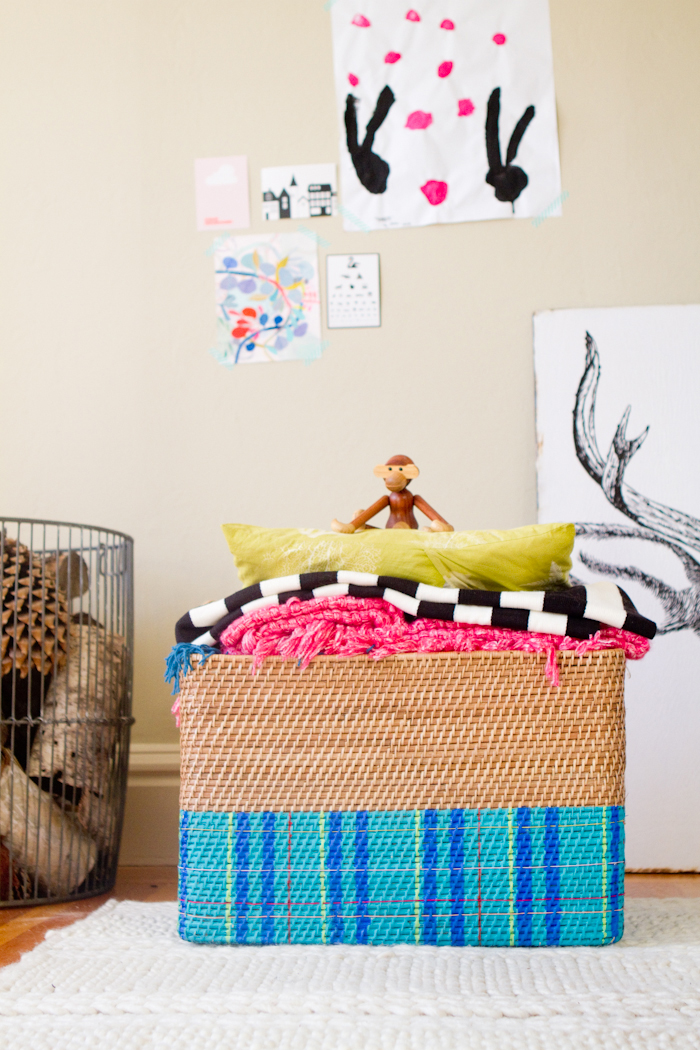 You know one thing about moving to California that surprised me, friends? The nights can get so chilly! I've always been the "girl that's cold", I blame it on poor blood circulation but I'm always more dressed than anyone else…so when we moved I geared up for the chilly evenings and bought a gazillions blankets. And when I saw these super pretty modern-weave oversized storage bins  at West Elm, I knew that they would be the perfect thing to store the blankets during the day and carry them from indoors to outdoors for our dinners al fresco.
But hey, I could not possible just leave this pretty bin without a little touch of color, you know?

 You can take the girl out of the color, but you can't take the color out of the girl. I thought of updating the bin with a modern tartan pattern because to me there is nothing that screams blankets more than tartan – but I didn't want it to look to traditional. After putting together my little rolling herb garden, I knew I wanted more mint in the home, so I used that as the base color and paired it up with more fun colors – pink, green, coral and blue.
PS: West Elm is having a blanket sale until Monday. My favorite are the ombre throws, so pretty!
WHAT YOU NEED:
- modern-weave oversized storage bin from West Elm.
- Acrylic paint
- Embroidery thread
- Super thin steel wire – I used 28 gauge wire- to make a makershift needle that you can bend enough to go through the weaving,
- pliers
- brushes
- masking tape, two sizes for the stripes. I used 3/4 of an inch and 1.5 inches wide.
- water based polycrylic in satin or gloss to protect the paint.
WHAT YOU DO:
1. Apply masking tape about 6.5 inches from the bottom of the bin.
2. Paint your base colors with a brush – I thought of doing spray painting here, but was afraid it would mess up the weaving when I needed to thread it later on. Give it too coats if needed, but make sure to spread the paint as well as possible so there aren't any big lump of paint stuck anywhere.
3. Think about what pattern you want to do on your bin. Start with your first colors – apply masking tape, paint, and once it is dry, remove the tape. Repeat for the process for each color. Note: Painting stripes on weaves can be tricky, and you won't get something completely straight, but here are a couple tricks to make it easier: A) Make sure to apply the paper very well to follow the movement of the weaves, and B) never put too much paint on your brush, this way there are less chances that extra paint will "escape" to the sides.
4. Take off the masking tape. Note: Some of the paint might chip off when you take off the masking tape, make sure you save a little extra paint to patch these up.
5. Apply a coat of protectant on the basket so the paint won't chip to easily.
6. Make a makeshift needles with the steel wire – something string enough to pull the thread through but that can bend to go through the weaving. Cut a 1 and 1/2 inches long, tie a not at the end and thread it. Pull on the knot some more to make the end as small as possible – that's when the pliers might come in handy.
7. Cut pieces of embroidery threads about 7 feet long – long enough to go all around your bin.
8. Thread your basket horizontally all around the bin and repeat for as many lines as you want to create. Tie a knot when done and cut loose ends. Note: If some of  the whole are plugged with paint (it happened to me quite a bit), just use a nail/thick needle to make a whole through.
9. Et voila! You're done. Fill up your basket with all your blankets!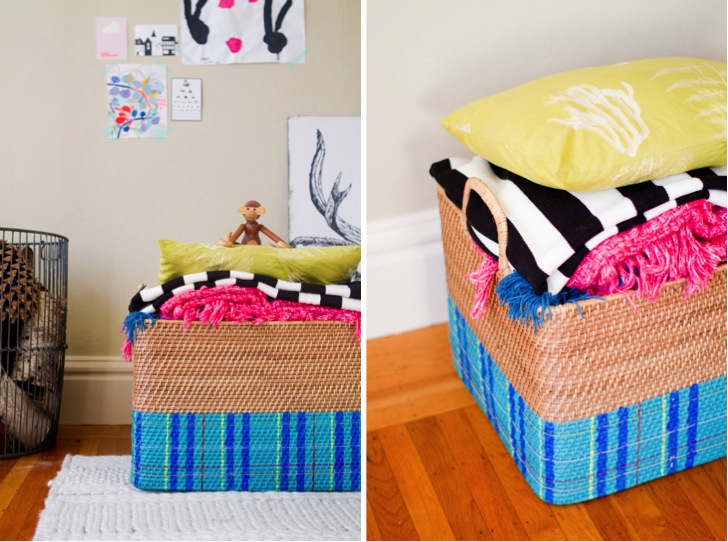 Disclaimer: This post was put together in collaboration with West Elm. They provided the modern-weave oversized storage bin to me. All ideas, words and photography for the post are my own. 
You might also like: