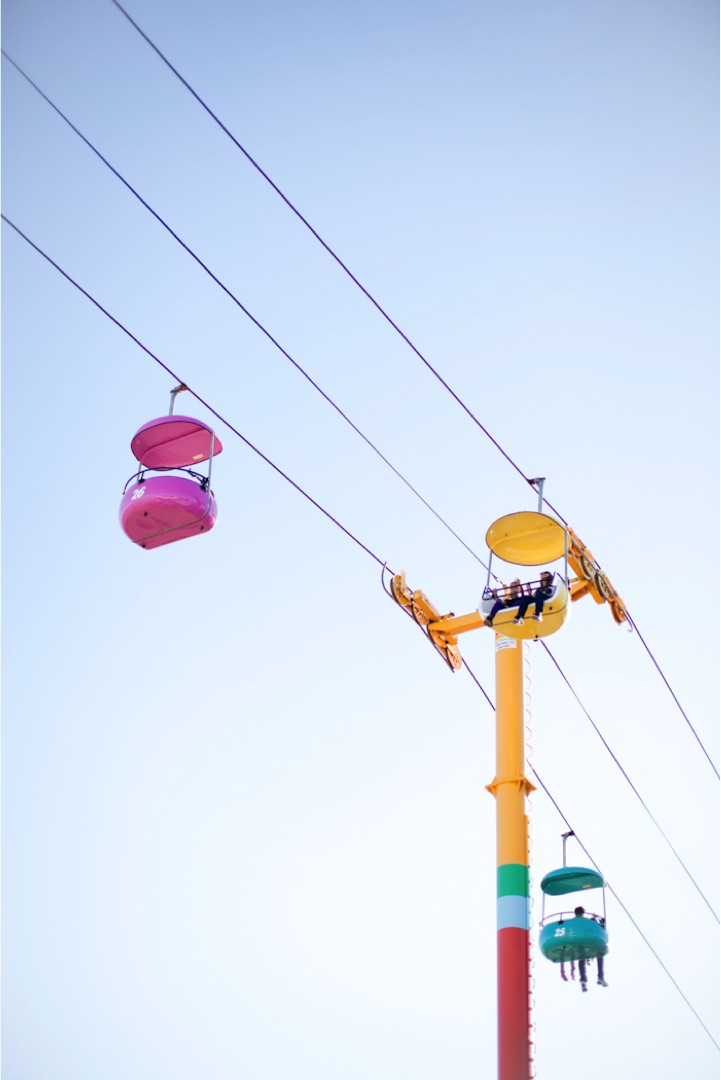 It's Friday, friends, want to do the happy dance with me?

Any fun plans for you? So happy it's the weekend, even though we'll spend most of it cleaning up around the house before my in-laws arrive from Denmark on Sunday. Whatever, I don't really mind because I am still on a high from our lovely birthday celebration/babymoon/last family of 4 gateway weekend to Santa Cruz.
Have any of you guys ever been to Santa Cruz? We'd been wanting to go ever since we moved to California, and had such a great time! We went in without much of a plan, ate way too much bad food, enjoyed the sun and these little girls of ours. We went to the famous Santa Cruz  boardwalk (I'm sure you must have seen pics of it on Pinterest) and had a blast. I mean, hello funky colorful rides straight out of the 80s  😉
We also did a lot of chilling by the pool because, well, there ain't any baby stopping us right now! It will be a different story in a few weeks 😉 I read my favorite magazines and ordered one (virgin) drink after another and totally forgot about the busyness of the world. I hardly saw the girls because they spent the entire time swimming around with their dad. Little Fish they are

I don't think that Madeline removed her sunglasses for a minute the entire weekend, even to go in the water. Child, you are so funny.
On Sunday we cruised along the coast and stopped at one of my favorite places on Earth, Swanton strawberry farm – we went there for the first time last fall after our camping trip and we couldn't drive by and not stop. That place is so good for the soul. You make your won change. You hang out and play game. You find dollar bills that say "Not to be used for bribing politicians". Oh, and you eat yummy strawberry everything- fresh strawberries, strawberry shortcake, strawberry lemonade.
Every time we step out of the Bay area (which is beautiful itself), we have to keep pinching ourselves that we actually live here, in this gorgeous region. Instant vacation feeling wherever we drive. We can't wait to explore California some more.
Thank you Santa Cruz – you were so good to us!
Credit: All photography by Audrey | This Little Street. Picture of me by This Little Hubby 😉 Pregnancy swimsuit and sunhat from Target. 
You might also like: