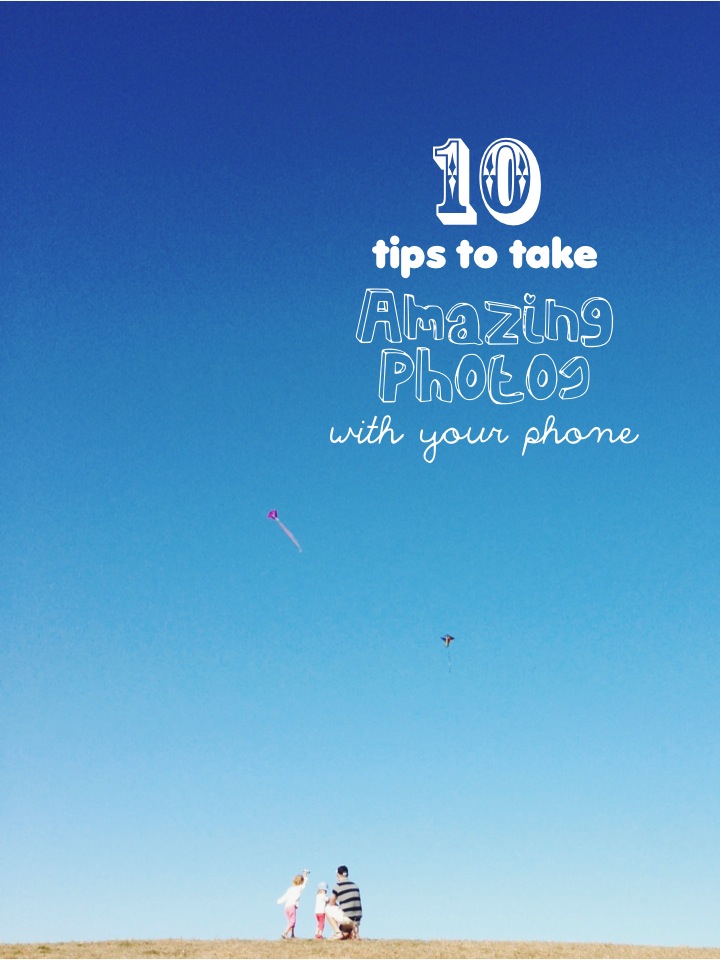 To be honest with you, I used not care much for the phone on my camera because the pictures I could take with my DSLR were so much better. Until recently, when my big DSLR started acting up on me, and I just had to use my phone as I had nothing else to capture family memories. And the more I did it, the more I realized how easy and fun it was – and that really, you can take great pictures with a little phone if you know a few things:
1. Grab your phone. The worst picture if the one you didn't take – and same goes with videos. In the end, the technical and compositional details don't really matter – the most important thing is that you take a picture and capture the momemts, the emotions, the details of it all. And take more than one picture while you are at it, we're in the digital age after all! Just make sure to delete all of the ones that aren't worth it, except for your 1 or 2 favorite ones. Taking loads of photos will also increase your chances of taking some that are good.
2. Turn off your flash. Unless it's pitch black outside, you probably don't need your flash. The problem with the straight-on flash most phones is that it blinds people, gives them red-eyes and can make people look like ghosts. When inside, try to look for natural light – a window (like I used my my selfie below), a slider, or an open door. And if your picture gets too noisy or grainy, just convert it to black & white – an old trick of the trade

3. Zoom with your feet. The zoom you have on your camera does nothing more than blow up the existing image, resulting in pretty bad quality photos. You're much better off moving closer – plus, think about it, if you take a lot of pics and move a lot to take them, you won't have to go to the gym anymore

By moving with your feet you'll also learn to better compose your pictures since you'll have to think about what you want to include as you're taking them.
4. Learn about the rules of composition. Most of these rules evolve around the the rule of thirds – which is more or less this:iImagine that your image is divided into 9 equal segments by 2 vertical and 2 horizontal lines. According to the rule of thirds, you should position the most important elements in your scene along these lines, or at the points where they intersect. Most smart phones, including the iPhone, have an option to turn on a 9-box grid when you look at your camera settings. Starting looking at leading lines, ways to frame your photos, symmetry and simplicity….the better you know the rules of composition, the better you can break them.
5. Take note of the light. Try to avoid extreme low and extreme high light conditions. Photography is all about lighting. Whether you use a camera phone or a DSLR, you'll get better photos when you're shooting in better light. Better light doesn't mean brighter; the best natural light you'll get is right after dawn, and again just prior to dusk. Cloudy days are also great, as the light that's outside is very soft and diffused. Believe it or not, the light on a cloudy day is much better than at midday under a bright blue sky which can create harsh shadow or "burn" parts of your subject. And low light situation, try to stand very still (lean against something if you have to) as to avoid camera blur.
6. Think about your background.  Don't let the background steal too much attention. When taking pictures of the girls at home, I have favorite spots where I know the clutter won't show too much – because, really, didn't anybody think that house was mess free?! Objects popping out from behind someone's head distracts from the image you were trying to capture. If you have no plain background on hand and there is clutter everywhere, simply fill the image with your subject. But this rule is totally breakable, and should also look for "interesting" background that will add interest or texture to your pictures. 
8. Curate and edit your favorite pictures. I rarely take pictures and share them right away. I take a lot of pictures, and it's important for me to only select my favorite ones. I can then do a tiny bit of work on them so they look as nice as they should. There are many apps available to crop, adjust brightness or contrast, and overall enhance your photos…and they are so easy to use! My favorite app for photo editing is vscocam (I am addicted!), but Camera+, Snapseed and Afterlight are also great ones. And if I can add my two cents – hey it's my blog: ditch the filters, they're entirely overused. Instead of relying on funky colors and borders, let them stand out for their own beauty.
9. Experiment! Don't always go for the obvious shot. Dare to look for different perspectives – shoot at waist level or from above, for example. If you are taking a picture of a child, get down to their level. And always think about how you can compose your picture differently. You don't always have to "get it all in."By choosing what goes into your picture you can draw a lot more interest to some details – like the tiny feet of the little ones watching the puppet show. Go outside your comfort zone, try something different and have fun with it!
10. Capture real life. Look around you. And I mean, REALLY look. What are the things that you'll want to remember ten years from now? A moment, an emotion, a detail –  that cup of tea that you just shared with your best friend when you asked her to be your bridesmaid, or the cherries that you just picked with your kids at their grandparents. People don't always have to be looking or smiling when you take a picture, try to capture life as it comes – your pictures will get that much better if they feel like "real life". Downplay the situation and shoot even when people aren't prepared. Smiling pictures are way overrated, and everybody can do that. Try to look at life the way it is.
And don't forget a little photo etiquette: all that being said, please try to remember your photo etiquette. Camera phones make it so easy to discretely take pictures where we go that we forget that sometimes people would like to be asked permission first. Also, mind the people that are with you. While taking pictures to collect memories is great, don't spend all of your time on your phone taking pics, editing and sharing them on Instragram while with your friends. Take some pics and put your phone down, the rest can wait. Enjoy the moment. Your photos will be that much more valuable to you if you're not head down into your phone the entire time!
All pictures by This Little Street. Taking with Iphone 5 and edited with vscocam. 
You might also like: