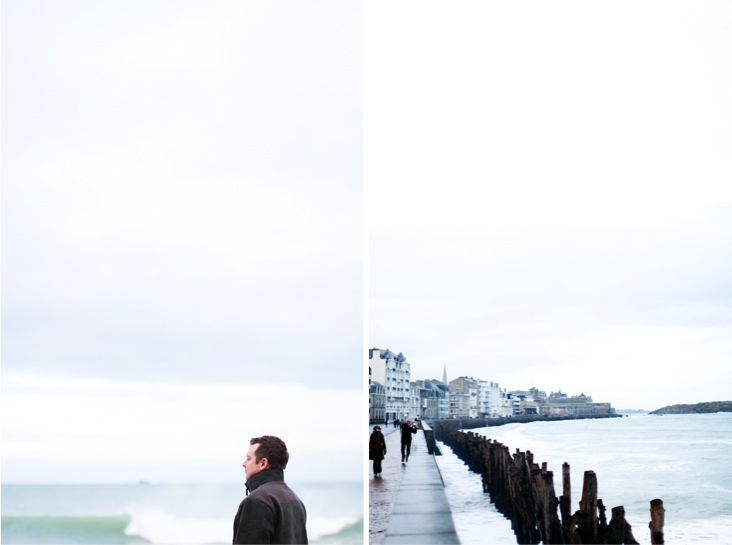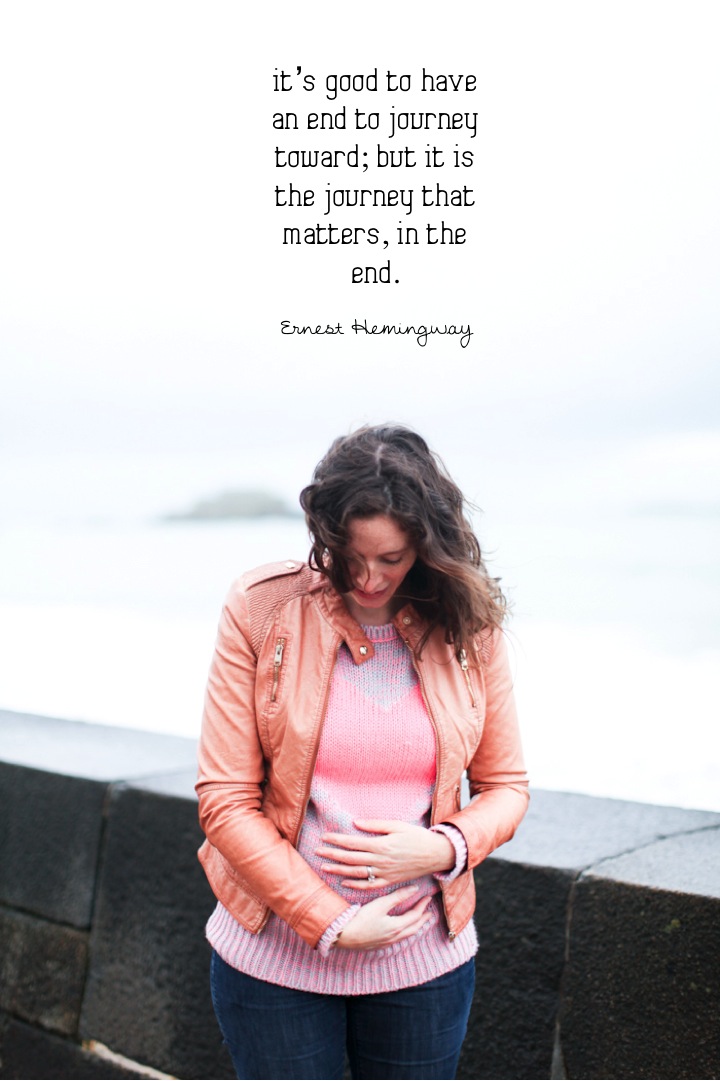 Our time in France is nearing the end. Last weekend hubby and I left the girls with my parents and went on a weekend escape to the coast of Brittany. A cold but oh-so-perfect seaside escape. If you have kids and leave far from your close family, you know how rare of a treat that is

You might already have seen some pics on my instagram feed, but I wanted to share a few pictures of this simple, yet magical weekend here with you all.
We need nothing extravagant really. We went for walks by the water and stayed cosy at the hotel drinking tea and reading books for the most part. And we talked. A lot. It's crazy how much you can talk with your partner when you're not constantly interrupted by life and kids

We talked about the past year, and the one to come and beyond. And we also talked about our resolutions for the year. We're so hard core we even started an excel spreadsheets for them – I kid you not….we're such geeks

Baby number 3 is going to be here before we know it (I am already 21 weeks pregnant!) and life is just about to get a bit crazier, but there is still so much more I want to do for my family, for this blog and for myself. I love setting up goals, it makes me feel I'm getting this much closer to reaching my dreams. Last year I shared my 13 goals for 2013, and while that was amazing guidance for the year -and I actually managed to keep up with almost all of them!-, I want to cut down a bit this year – but more focused on each of them.
1. People, people, people: because really, isn't it the one thing that really matters in life? I want to feel more connected to those around me. We all pretend that we're too busy, that we don't have time to go on that walk, grab that coffee or even just give our loved ones a call. It should be that way. We should always make the time. I want to cut down on screen time and social media, and spend more time actually being with family and friends – old ones and new ones- in the moment. I am dreaming about sharing a passion with a friends, and spontaneous adventures, and dinners parties and long conversations about life. I also want to make sure I get to know you all better. You might not know it because I don't say this often, but you are such in important part of my life – you make it possible for me to come back here everyday and blog.
2. Take better care of my body: When you have kids, that's usually the first thing that goes out of the window. You have less time and you cut down where it will "hurt" the less. You skip a shower. Or two. Or….mmm, I don't smell that bad, riiight?! You stop combing your hair or hydrating your skin like you used to. Gym what?! And before you know it, you're that woman-thats-too-busy-to-care-about-her-appearance that when you were in college you swore you'd never become. This year I want to find a new exercise routine, eating well and listen to my body a bit more. A pretty ambitious plan but I am determined to make it a priority!
3. Prioritize creativity and original work: I want this place to make unique, I want to explore new avenues, explore my creativity, and push my limits. I want to train my eyes to look at the life around me in my own, particular way, and encourage curiosity. And I'd love to pass some of this along to my own children – Olivia is already showing so much talent and love for painting, and I need to encourage her in that path. I can feel that there is so much more in me, and I have the tendency to let other things put that side of me in the background. Like Justin said, let's bring sexy creativity back

4. Strengthen my marriage: because it is where this family all started. And I can't really imagine life without my partner in crime. I don't want to take my husband (and our relationship) for granted. This year will be spent on finding the right balance between family time, us time and letting each other have some alone time. Since we moved to Berkeley, we've barely gone on any dates since we didn't really have any good babysitters. And that needs to be fixed – anybody out there that wants to babysit our adorable-and-not-at-all-mischievous little girls?

I also want to step it up in the "small gestures" category, so that he's reminded every day of how much I love him.
5. Stress less: life with young kids and babies can be very busy and feel so stressful, but in the end, I just need to step back and make sure to remember that life IS very good. I don't want stress to get in the way of my appreciating all that's good in my life.I want to remember the past but not dwell too much on my mistakes. I want to feel prepared for the future but not have that take over this moment right here, right now. I tend to live through to-do list, and while they are awesome at helping me stay on top of things, sometimes I just feel like I am becoming the slave of these lists. This year I'll be better at knowing when to quit and not letting the perfectionist side of the take over too much.
I know these my seem very general  and vague, but don't let the list fool you – as I mentioned I've got a whole excel sheet and a plan for each of these items. They say it takes 66 days to change a habit…..so let's get to work!

It will be hard to find the balance while adding to our family, but I know we can do it.
What about you all? Did you make a list this year? Anything that's really dear to your heart on there? I'd love to hear about them!
You might also like: