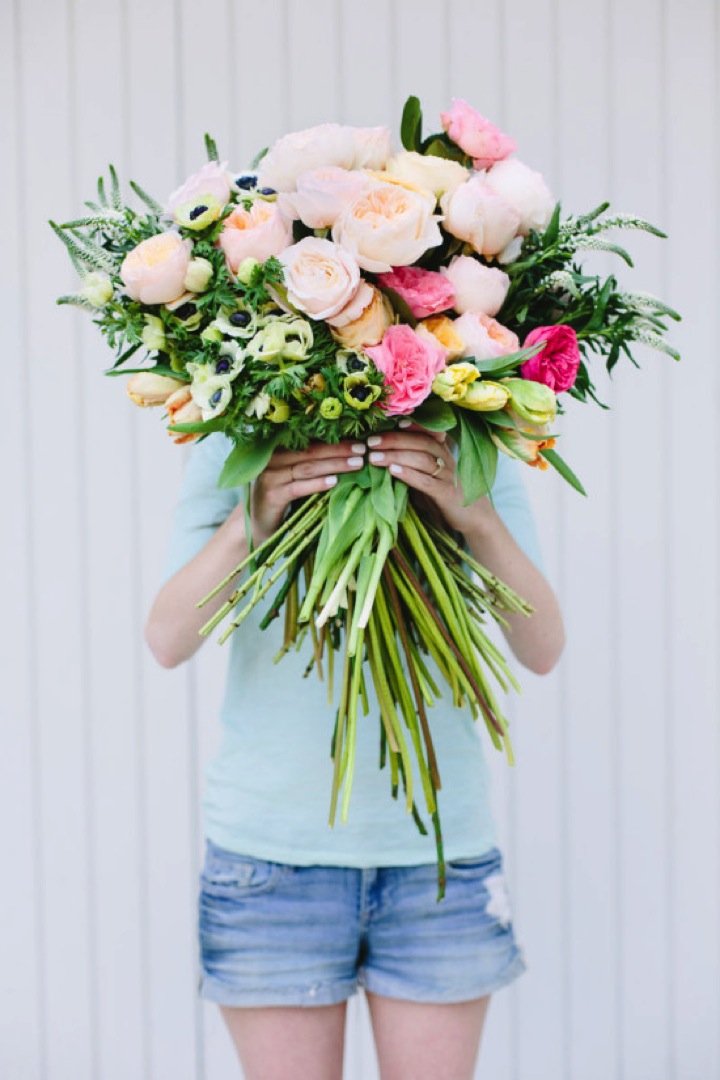 Ginormous flower bouquet by Paper & Stitch.
That's right, today it's my birthday, it's my birthday, I'm gonna party like it's my birthday. Well, I am gonna party like a pregnant lady really – that means putting my feet way up,  stuffing my face with loads of cake and reading my favorite magazine. I party hard core. Later today we'll head down to Santa Cruz for a little family adventure. Anyway, since today is my day, I thought I'd share 20 things you (probably) don't know about me. Why 20? Well, duh, don't I look not a day older than when I turned 20?! 😉
1. Hubby and I got married only 9 months after we met. And 7 of those months we had been dating long distance between Ireland and New York. Talk about crazy young kids

That was 6 years and (almost) 3 kids ago. And I still love him more and more every days that passes.
2. I dream of traveling to Iceland and Cuba. These two islands  have been on my mind for years now, but between all of our moves and babies, we just haven't found the right time. But someday these trips will happen and they will be epic

Have you ever been to any of these places?
3. I've tried to learn 7 languages in my life….and not sure I am speak of them well 😉 French (of course), English, German in junior high and high school, Spanish (actually have a minor in Spanish but I can barely order my tacos right at the local taqueria. The shame of it), Danish after meeting my hubby, and I also took some Japanese and Russian classes when I was in college, you know, for the heck of it.
4. I am probably the most non-French French girl you'll ever meet. I don't smoke. I don't drink coffee. I don't go on strike – the glass is always half full to me. And I do shave my armpits 😉 Haha but no kidding. It's kinda strange to be raised in a country, know that it's forever a part of you, that it fundamentally shaped who you are, but at the same time to feel like an outsider.
5. My birthday is 4/4, my older sister's birthday is 7/7 so my parents were a bit disappointed when my younger brother was born 6/20. Come on, how cool would it have been to have three kids with birthdays of the same digits.
6. I don't read too many novels because I get way too involved in the story and characters once I start reading a book I like. It's like their life becomes part of mine, they become people I "know" and think about them all the time. It's obsessive really, way to intense and consuming –  and I can't get anything else done because all I want is finding it out what happens to them.
7. I've got a tattoo. A sun of the right side of my lower back. Hubby calls it the tramp stamp

I got it when I was only 18 and probably wouldn't get the same thing anymore. but at least since its' in my back and I never see it, I just forget it's there.
8. I am not a phone person. At all. I'll email all day and night and don't feel a bit shy to contact people I don't know via email, but phone calls, forget it – super uncomfortable for me unless I am talking to my very best friends. And so I don't check my phone regularly. And I'll often run out of battery. And that drives my husband crazy!
9. I always want to be more. I have an amazing husband. Adorable little girls. A flexible (but super busy) schedule that always me to stay creative and still spend time with my kids. But a lot of times I feel I'm not doing enough, that there is more that I can do/be than what I'm doing right now. I am so happy with my life, but my brain can't help it but keep looking up and above. Does that make sense?
10. If I could have a career redo, I'd want to study design and become a designer or interior decorator….they say it's never too late?
11. I am just starting to come to terms with my freckles. You can't tell on most of my pictures, but I have a LOT of them. Use to hate them – I guess mostly because as a kids I felt so different than anyone else. I love them on other people, just having a harder time liking them on myself 😉
12. I love skiing. Been a skier since I was a little girl and would give anything to be able to ski again. But I've already had 2 knee surgeries (due to a skiing accident), and it looks like I'll have to have a third one in the future – so no slopes for me anymore!
13. I drink Earl Grey tea at home and Chai lattes at coffee shops. That's it. Boring maybe, but oh do they hit the spot every time.
14. Somehow, part of me always knew, even as a child and when I hadn't set a foot outside of France, that my children would grow up to speak more than one language.
15. I used to teach salsa dancing (Rueda de casino actually) when I was in college. Learning to dance salsa was probably one of the most fun things I ever did in my life – the music, the steps, the amazing people I met…sadly I haven't danced in years now! Something's gonna have to be done about that.
16. I'm one of the clumsiest person you'll ever meet. I frequently run into glass doors, trip on steps and hit the corners of the furniture in our house. Among other things. I also forget things everywhere I do  – good thing my hubby and friends know me and always have my back 😉
17. I've lived 4 different countries (France, USA, Ireland and Denmark) and 4 different states (AZ, WA, NY and CA). I've moved about every year or two in the past 8 years. Mostly, that means I got really good at packing and unpacking, people

18. I live for dinner parties. I love having people over (or being invited!) and eat yummy food around our big table, while sipping on wine and having great conversations with friends late into the night. It's something that French people do A LOT, and it sticked with me. When we lived in New York, our apartment was super duper tiny, but I had to have a table that could sit 8 people.
19. Gin and tonic kinda girl. Enough said.
20. I get real creative highs – who needs drugs when you've got hot glue guns?! 😉 seriously though, I feel happiest, most relaxed and inspired when I'm creating things – and I can get completely lost in the creative process.
Now, what I would love from you, my dear readers, on my birthday – is a little comment. Tell me something fascinating about yourself. Tell me – what you are passionate about?! Where do you dream of going on vacation? It would make my day to read a little bit about you

PS: oh – and don't forget to enter the giveaway here!
You might also like: