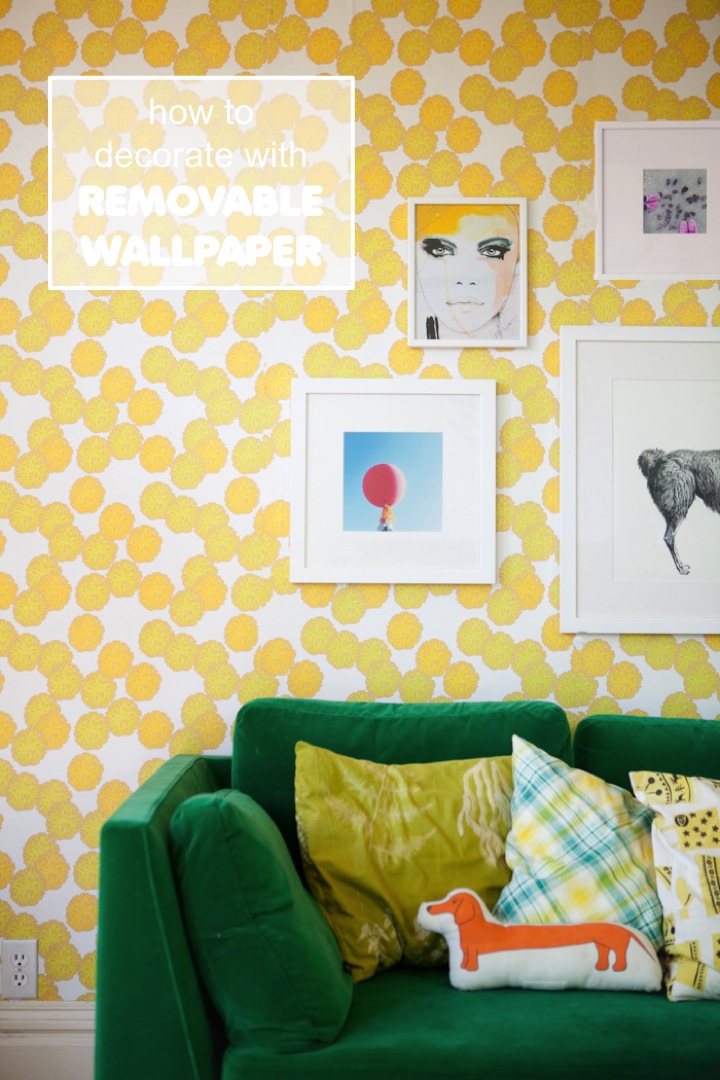 Have you guys ever tried using removable wallpaper? I put removable wallpaper on a couple of walls in our home, and I'm addicted now, so I thought I'd share a bit about my experience and a few tips – but before I do that, don't forget to enter the giveaway, today's the last day!
When we moved in, our landlord told us that we could paint the walls if we wanted to, but that we'd have to paint them back when we leave. It didn't take me long to decide agains painting – one paint job I can handle, but two? Especially since our walls have loads of wood trims and little corners. So instead I decided to give removable wallpaper a try. I created one accent wall in our living room with this gorgeous yellow wallpaper by Holly Zollinger, and I also wanted to make a bold statement in our entrance and used this gorgeous "farmer's market" wallpaper by Chrissie Van Hoever.
Obviously, I went bold and colorful with my choices of wallpaper – but you could also go more subtle. There are so many options out there now . You can find wallpaper here, here and also here  among other places, depending on what kind you want. But my very favorite place to shop for removable wallpaper is by far Spoonflower – so many options, and they have an easy calculator that helps you customize how many rolls you need for your needs, score! Of course, all these options can be a little intimidating at first, but you can easily search by color and trends, so you should be able to narrow things down. Here are some of my favorite Spoonflower wallpapers right now: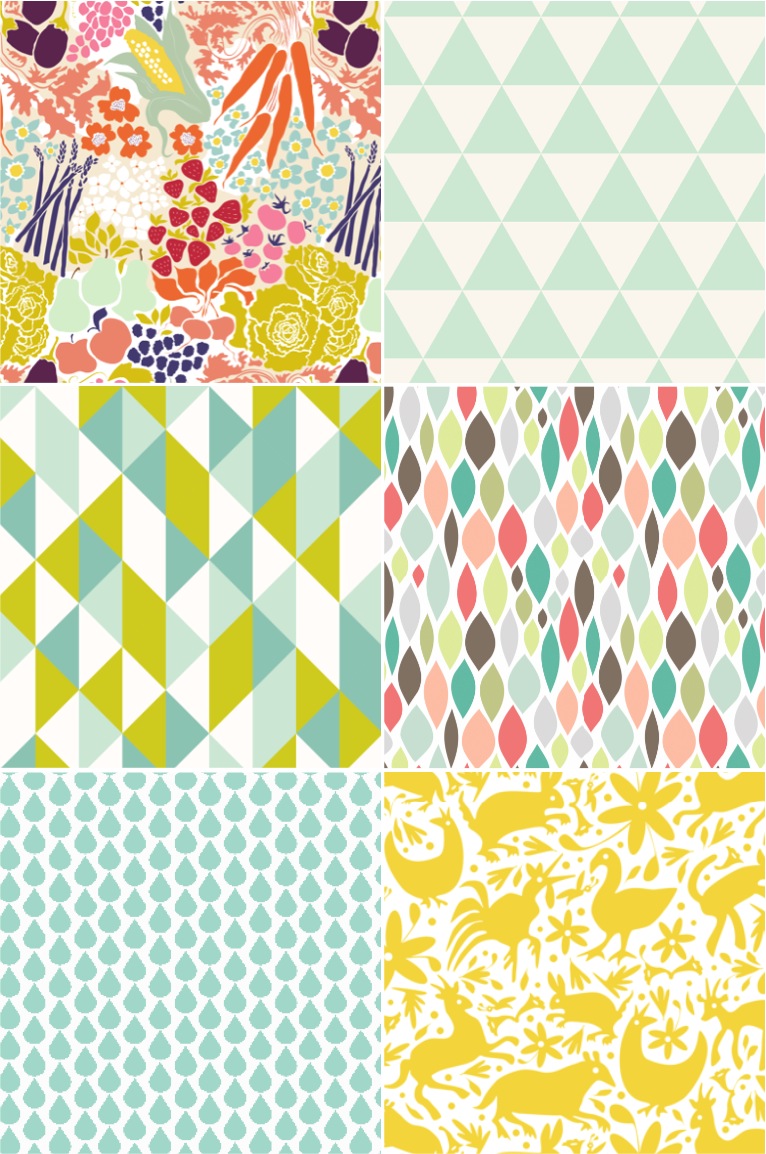 L to R, top to bottom: 1.|2.|3.|4.|5.|6.
Take a look around and I dare you not to find something you like. Which wallpaper would you go for?
Now, this was my very first time putting up wallpaper in my home, and let's just say that I went "free style" a bit more than I should have. Things turned out fine in the end, and I love the result, but thought I'd my 5 tips for decorating with removable wallpapers:
1. Dare! The best part of removable wallpaper is that, well, it's removable.  Perfect for people with commitment issues like me! You don't like it? You can easily take it down! So allow yourself to go bold, and try something fun and a bit unexpected!
2. Find the right pattern:To find the best pattern for what you want to do, you'll need to consider style (do you like floral prints, or do you prefer geometric?), colors and scale. Now I could write an entire post on that, but here is the most important: before you select your wallpaper, you need to have a clear idea where the wallpaper is going to go in your home. Large patterns generally don't look good in a small room because they tend to overpower the space and make it seem smaller. Color-wise, dark colors with make your room seem smaller, but wallpaper with a light background will have the opposite effect.
3. Don't have even walls? That's ok! The walls in our rental home have loads of pumps, the plastering is really irregular – but I used this strippable lining under the wallpaper and then applied the wallpaper – worked like a charm! You can't see any of the bumps at all now

4. Do a little research: If you're trying yourself at wallpaper for the first time, do a little reading first 😉 Removable wallpaper might be easy to take down, but it takes as much work to put up as regular wallpaper. Not that hard, but you will want to make sure that you learn the tricks of the trade before diving into it. You can start your reading here.
5. Think outside the "wall": if you don't dare to do an entire room or big wall, you could also cover a smaller  accent wall, the steps up a staircase or a door.
So, did I convince any of you to give it a try? What do you think, would you go for it? Really, there are tons of ways you can use removable wallpaper to give your home some personality, and I'll try to show you guys some more ideas in the weeks to come! Happy Wednesday, friends

Credits: Photography by This Little Street. Removable wallpapers via Spoonflower. Green couch from Ikea. Lamp from CB2. Frames by Framed and Matted. Lion jacket by Little Goodall. Slippers by Collegien. Dachshund pillow by Kate Durkin.
You might also like: