Can you smell the cinnamon, see all that colorful wrapping and taste all that yummi food?! That's right, the holidays are coming – and I couldn't be more excited! I LIVE for that time if the year. This year we'll be celebrating Christmas in Denmark with my hubby's family, and then we'll be off to France for the New Year. Not exactly restful, but I ain't gonna complain here. I feel so lucky that we're able to see family at all and be with them to gather around the Christmas tree.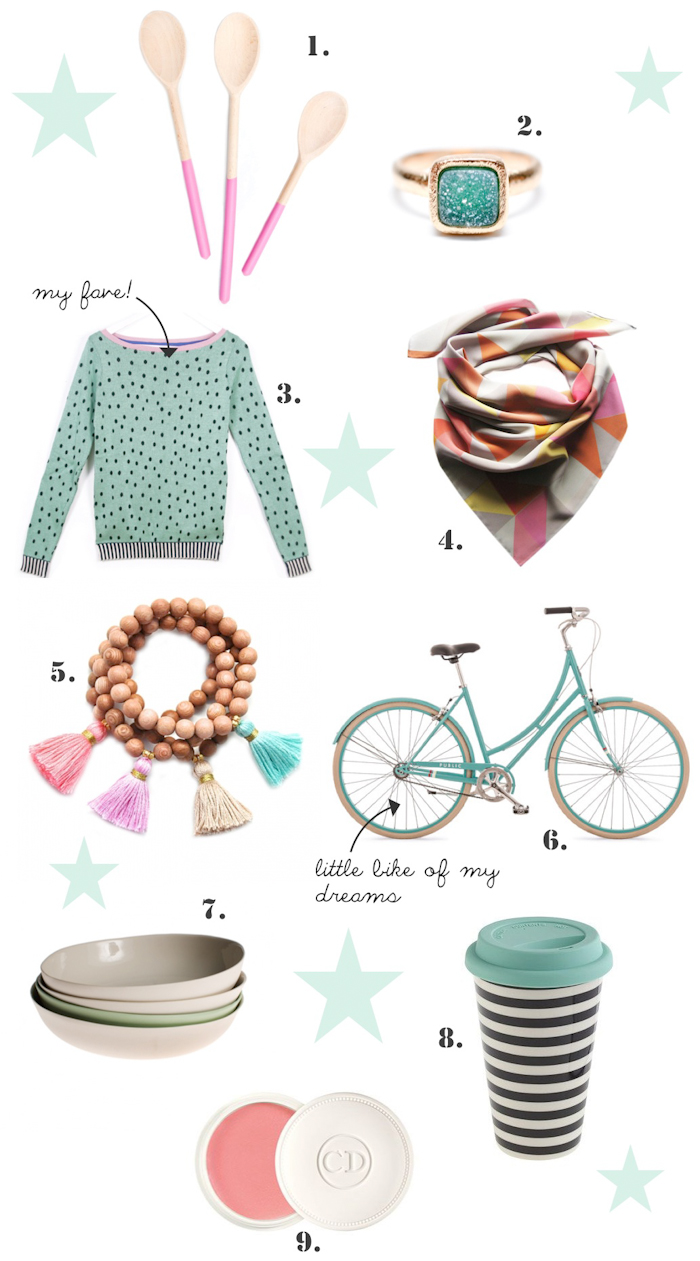 On a less cheerful note: holiday shopping! Well, it's not that I don't love buying pretty things for my loved one, but it can be so stressful to find the perfect gift – especially for men! I used to be so last minute about it all (you're looking at the girl who would buy it all on the 24th), but I'd end up hating the process so this year I am starting early. I thought I'd share some of my finds with you, hopefully it will help make your holiday shopping easier

Today, some ideas in colors and neutrals for the ladies.
P.S: Check the asterisks for Black friday and Cyber Monday discounts and deals!
P.P.S: My gift guides this week MAY or MAY not include some of the amazing things that's we'll be giving away during 24 Merry Days this year

We're still in the process of revamping the website, but  in the meantime I just created our Facebook page – like it to get updates about all the fab giveaways this December

TOP – for the ladies that love colors: 1. Dipped wooden spoons make cooking more fun. |2. You can't go wrong with pretty bling. |3. Pretty sweater for a pretty lady. |4. Such a pretty silk scarf.*|5. Love these cute little rosewood bracelets. **|6. Bike in mint for a happy commute. ***|7. The most amazing plates, hands down. ****|8. Coffee shall travel in style. |9. Sumptious lip balm.
BOTTOM – for the ladies that love neutrals: 1. Warning: your lady might squeal if she gets these shoes. |2. Simple and gorgeous, this geometric ring. |3. Love the prints on this cushion. *|4. The perfect chair. |5. Gold cutlery, so decadent. ****|6. Smiles guaranteed with this fox mug. |7. Pretty little headband.
* Get 30% off the entire Artsy Modern site from 11/28-12/1 and free shipping the entire week for any purchases made from 12/2-12/7.
** Get 40% off the entire Gold & Gray site for 24 hours with code CYBER40 on Cyber Monday (12/2).
*** Public Bikes C1 Bike: Special Introductory Price $299.00 instead of $449.
**** Get 15% off entire Horne site with code MONDAY15 on Cyber Monday (12/2). The sale excludes: Wastberg, Ferm Living, Demeyere, AKMD, Emeco.
You might also like: