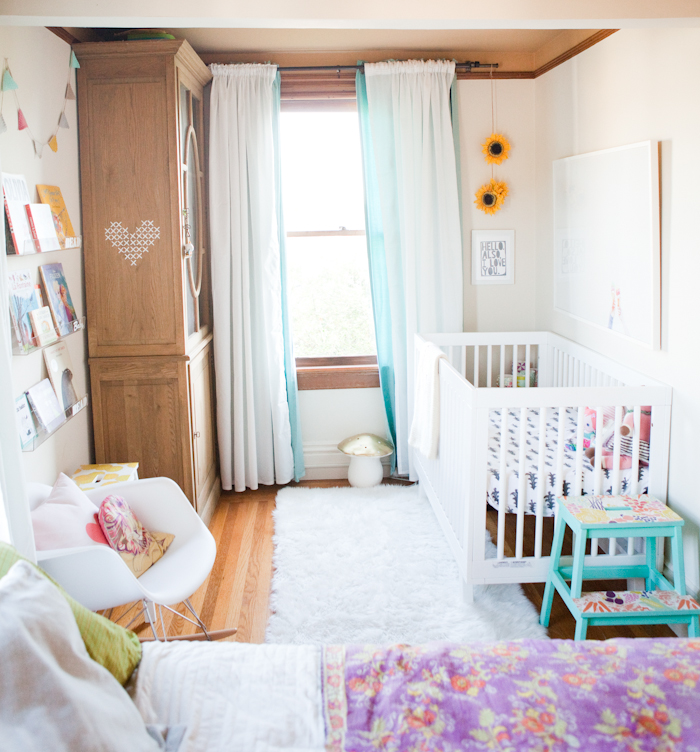 I am so excited to finally show you Freia's nursery nook – get ready for a gazillion pictures

The little lady and I are doing great, she's now 12 days old – and really we spent the best of the last 12 days cuddling and resting in this very room I am showing you today. As I explained to you all before in my inspiration post and moodboard post, the nursery is just a corner of our master bedroom. We didn't want the nursery to feel to baby-ish, but still fun for her, and above all things we wanted to the room to feel relaxing, cosy and happy…you know, guessing it would help us get through those evil witching hours of the evening 😉
I drew all the inspiration for the nursery from childhood memories of happy summers. Think ice cream cones, sunflowers, pink clouds and walks in the forest. Shake well and you get this room.
The room didn't have a lot of space for me to work with but we made it work for our need – and budget! We ditched the changing table altogether (We change her either in  the bathroom next door or on a pad on the bed). I never liked the look of changing tables anyway. We added this simple white crib, a very small rocker right by the little library I made for the girls with clear shelves (tutorial here).
Once the basics were in place, I had fun adding touches of colors here and there – oh the details, that's where all the fun is ! Some fun prints and photographs  like Max Wanger's Ice cream photograph- all prints framed by my lovely friends at Framed and Matted-, big yellow wall hooks that look like shining suns ($10 for all 3 from CB2!), and a gold mushroom lamp –because, duh, every babe needs one of these ;), a few little "doudous" in her bed. p.S:If you are a fan of Max Wanger like I am, Framed & Matted is offering this already framed print in partnership with Max until the end of May, hurry!
Amazing friends and readers surprised me the most adorable things for the nursery and helped make this room even more personal – like the bunting above the library by A Moka A Day or the "Little girls with dreams because women with vision print" by Coco + Mingo. They are my favorite things about this room

Some of my recent projects for the blog also ended up in the room, like the nesting bird hanging planters and a couple of the wallpapered stools.
Right now we also have a little bassinet right by the bed – it won't stay there long term, but it's helping me survive the first few weeks by not having to go all the way to the bed every night. It's all about the little things that make like with a newborn easier, right now

The big wooden dresser was already in the nook as our landlord asked us to keep it there, so I added a fake cross-stitch heart that I made out of contact paper (my best friend!) and attached some of the leftover wallpapers that I had from this project and that project to give it a bit more personality- it gives me the perfect storage space for Freia's clothes! I keep clothes of extra sizes, acessories etc in little boxes and suitcase – it makes the closet less cluttered and I love the extra pops of color they add!
We love this space as it is now, so far it's been working really well for us! Let me know what you think, friends

I hope you like it just as much as we do!
Everything in the nursery:
B
abyletto crib in white , crib sheets from Olive and Andrew, mid-century rocker,  Ice cream photograph by Max Wanger

, 

Painted Pebbles 1 print by Garima Dhawan, Hand-written "Little girls" print by Jessica at Coco+Mingo,  "Hello. Also, I love you" print by The Big Harumph, all prints framed by Framed and Matted, Egmont mushroom lamp, Ferm living laundry basket, bunting above the library by A Moka A Day, dot wall hooks from CB2 that I painted yellow, wallpapered IKEA stools, clear bookshelves, Blabla Kids Fox doll, cloud pillow by me, heart blanket by me, nesting bird hanging planters.
Credits: All photos by This Little Street.
You might also like: