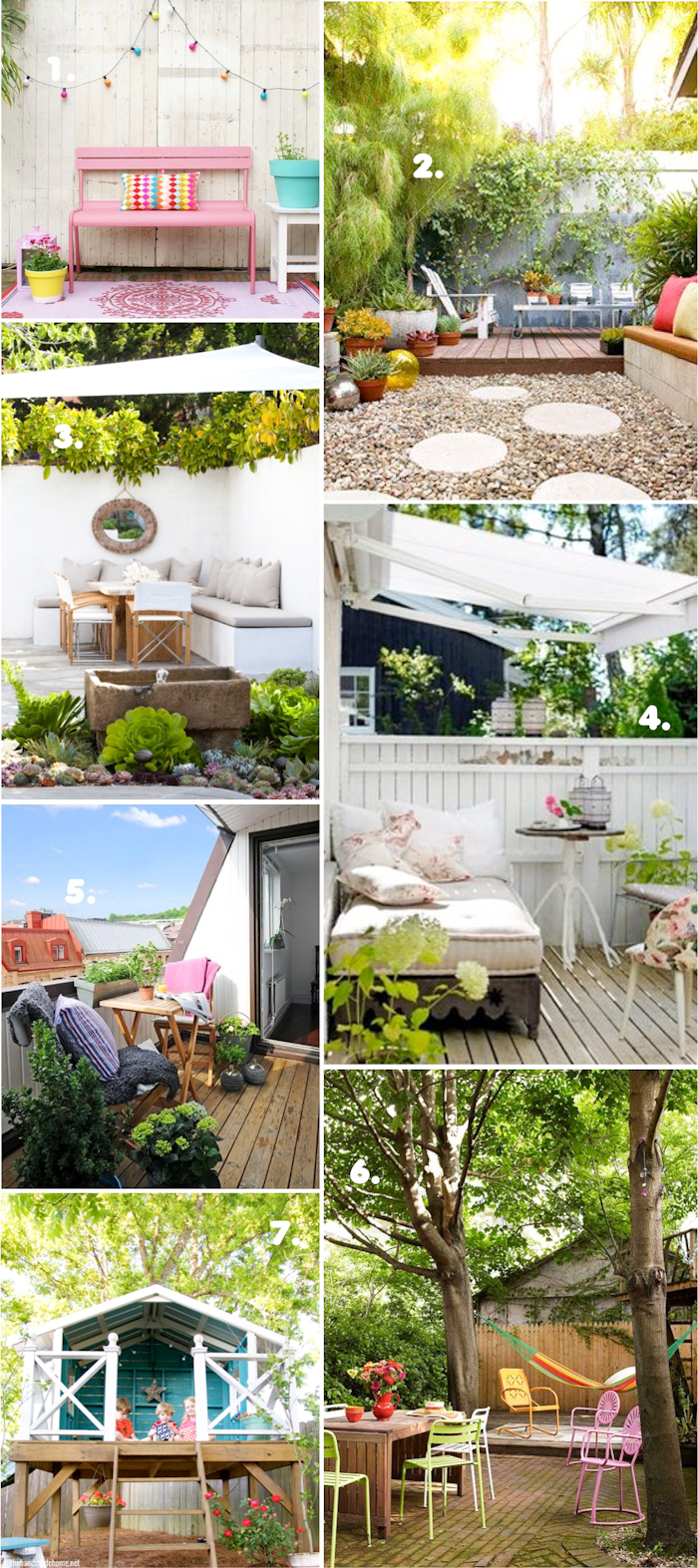 Sorry I missed a post or two guys, between Madeline's birthday and the too many margaritas I had yesterday for Cinco de Mayo (ha – I wish)…no actually, I've had a lot of contractions these past few days, my midwife thinks little girl is going to show up soon so I am trying to rest up as much as I can before the birth – and so that means staying off the screen. Hope you'll forgive me

We've had some really gorgeous weather here in the Bay area, and it make me want to go all out with all of outdoor space – not something I could do when we live in NYC! While the garden is already all planted and cared for by our landlord, we have a little terrace upstairs that I am trying to turn into a little oasis – and as I am working on that I thought I'd share a few tips with you too so you can pimp your outdoor space too!
1. Create nooks and corners to fit your lifestyle: Do you like to entertain? Or just lounge around? Or maybe both depending on your mood? Think about how you want to use your garden, how you want to live in it, and figure out how to divide your outdoor space so that it fits your needs (as in images 2,3,5). Creating these different will help give your garden structure. Also, if you have kids, figure out ways that you can create a space for them to hang out – hello dream tree house?

(image 7)
2. Bring shade: When I was little, we had the biggest beech tree in our yard and it was by far our favorite spot to hag out – we had a picnic table and I have so many memories of my family and I hanging in the shade, eating and drinking like French people know how far from the heat:) Of course having a huge tree in your backyard isn't always possible, but there are tons of way to can add shade: with an umbrella, a canopy, a pergola, etc (images 3,4)…not only will it offer you protecting from the sun, but it will also help you give your backyard more dimension. If you build something like a pergola, you'll be able to grow plants, and hang lights and decorations from it  for parties- so nice!
3. Hang up lights! DO IT! And I mean, don't wait for the next party. Hanging light (like in image 1) is the easiest way to give your outdoor space a magical feel – and it doesn't cost much either! When we lived in NYC, we had a tiny balcony, we could only fit two chairs and a side table on it, but I added some string lights and instantly we started hanging out there more – the light brought such a cosy feeling to the space.
4. Bring the indoors outdoors: Don't be afraid to decorate outside the way you would inside. Use outdoor pillows and rugs. If you're up for it and live in the right climate, you can even create a outdoor fireplace or an entire outdoor kitchen – so perfect to entertain friends!
5. More is more. Yes, when it comes to plants, more is more! One plant is good, ten are way better –  you'll create this great "hide-out in the forest" kinda feel. Mix up trees with different leaves and height, keeping care and the way they will grow into mind so it remains fairly easy for you to take care of.
6. Insta-garden. If you are renting your place, or if you want to bring green to a terrace, you won't be able to plant a tree, but you use potted plants and trees to create an insta garden (image 5). Upstairs we have a little terrace, I bought a few plants at Ikea and our local nursery, and it's crazy the difference these potted trees make in creating a cosy feel in that space (I'll share some pictures soon!)
7. Use colors and patterns to set the mood. Think about what mood you want to set and choose the colors you bring outside accordingly. For example, if you want your outdoor space to feel calm and relaxing, you'll want to stay with neutral colors and blue hues. On the other hand, if your space is used for entertaining and partying a lot, consider warmer/brighter colors….you already know which way I lean

Be bold and add a dash of color here and a splash of color there to take your outdoor space from dull to dazzling (images 1 and 6)! Some ways to add color: pots, garden chairs, outdoor cushions and rugs, umbrellas,
8. Create pathways in your backyard. Backyard paths work well to divide the space in a yard to create different functional spaces. If you build a winding pathway and plant accordingly around it, you will with time grow a backyard with an very organic, natural feel. The curves pull the eyes to different areas of the lawn, making it seem shorter and more intimate – the kind of space that says "Come visit me, I've got so many treasures for you to discover!". On the other hand, straight pathway designs create sharp angles and lines for a clean look while making the lawn seem longer.
 PS: Oh, and today is the last day to enter the giveaway – hurry hurry you don't want to miss it! Click here. 
Image sources: 1. |2. |3. |4. |5. |6. |7.
You might also like: