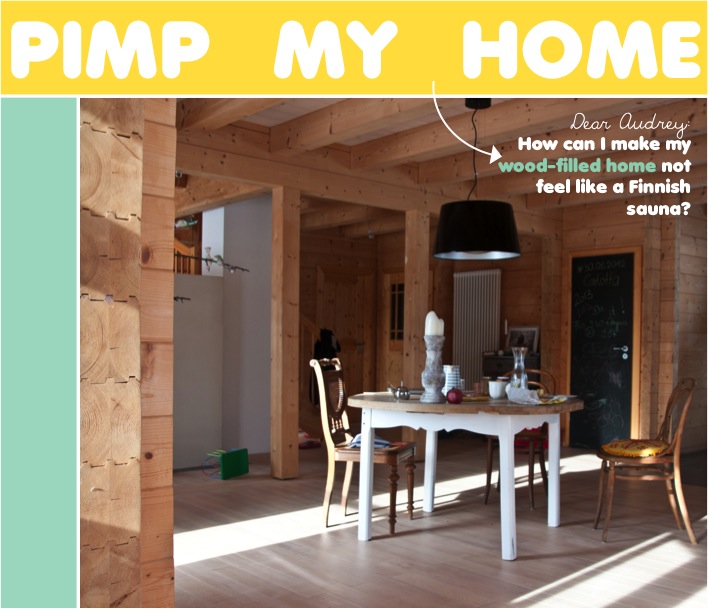 A couple of weeks ago one of my sweet readers from Germany sent me an email asking for her help to find some ideas for the home that her and her husband recently purchased:
"It is a house made of wood. It is situated in the nature close to the mountains. We love it here. The only thing is I have so much difficulties to decorate it, because of the wood, as all of the walls are made of wood. Now we want to build a new kitchen and I have no idea."
Now, I am no interior designer, just a French girl with a love for design that spends waaaaaay too much time surfing the internet (ask my husband), but I was really honored that she asked me for advice. Really, how unique is her home? True, the wood is over-taking a bit but with some changes here and there she can turn her home into a real gem – no doubt about it. Loads of potential! I sent my reader two inspiration boards and some pieces of advice, and today I thought I'd share all of this with you.
For this lovely home I created two options to show my reader two different paths she could take to decorate her home – a vibrant one associating wood with bright colors (above), and the other one a bit more organic, using wood and neutral colors only (at the bottom of this post). My sweet reader mentioned that she wanted to create a cosy feel in her home, and often people will stick with neutrals for that, which is great, but I think that with the right personal touches one can create a very cosy home using bright colors as well.In the end, the 3 most important pieces of advice that I gave my reader were:
Create some rhythm:

 too much of a good thing can make a place feel a bit overwhelming, but breaking it up a bit can help make a big difference. Use colors or neutrals to break through all that wood. While you don't want to cover it all up, think about painting a wall or the ceiling or floor. It will help draw some attention on the rest of the wood present in the house.

Add texture:

Wood brings a lot of texture, but a lot of the same one. So you want to bring in different fabrics, as well as material like concrete or metal in the kitchen can help create a new balance.

Think bold:

 When you have a unique home like this, you have to do it justice, and not be afraid of doing things that are a bit bolder. Dare to break down a wall to bring more a natural light, paint a door bright pink or hang up very large pieces of art that you love.
DO YOU HAVE ANY MORE ADVICE FOR MY READER? WHICH ONE OF THESE TWO OPTIONS IS YOUR FAVORITE? WOULD YOU LIVE IN A HOUSE THAT'S ALL WOOD?
Oh, and don't mind me thinking out loud here, but maybe it could be fun to make this a regular column on This Little Street. Maybe you too would like some help with your home?  If you love your home and think it has potential but isn't quite there yet, just shoot me an email with some pictures and your questions, and you might just very well get featured on This Little Street!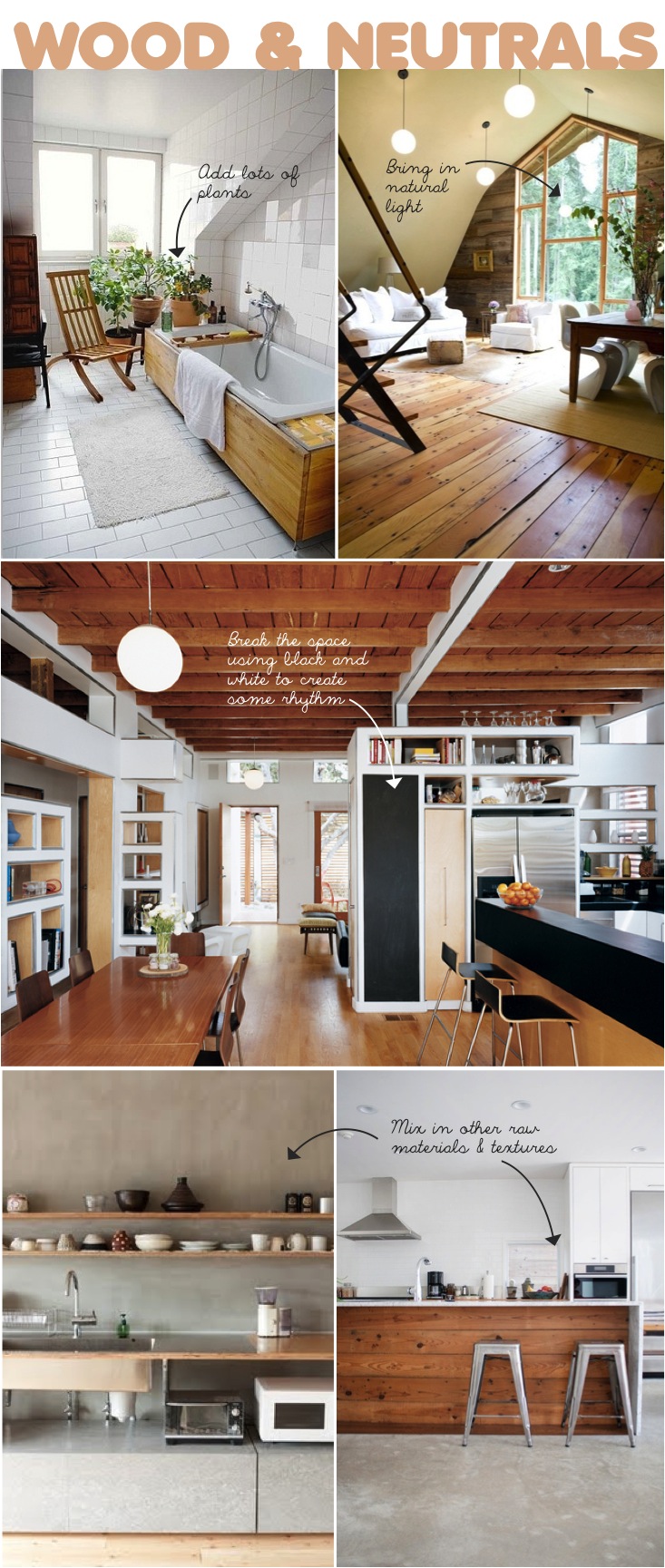 Sources forWood and Colors board images – top to bottom, left to right: 1.|2.|3.|4.|5.|6.
Sources for Wood and Neutrals board images – top to bottom, left to right: 1.|2.|3.|4.|5.
You might also like: