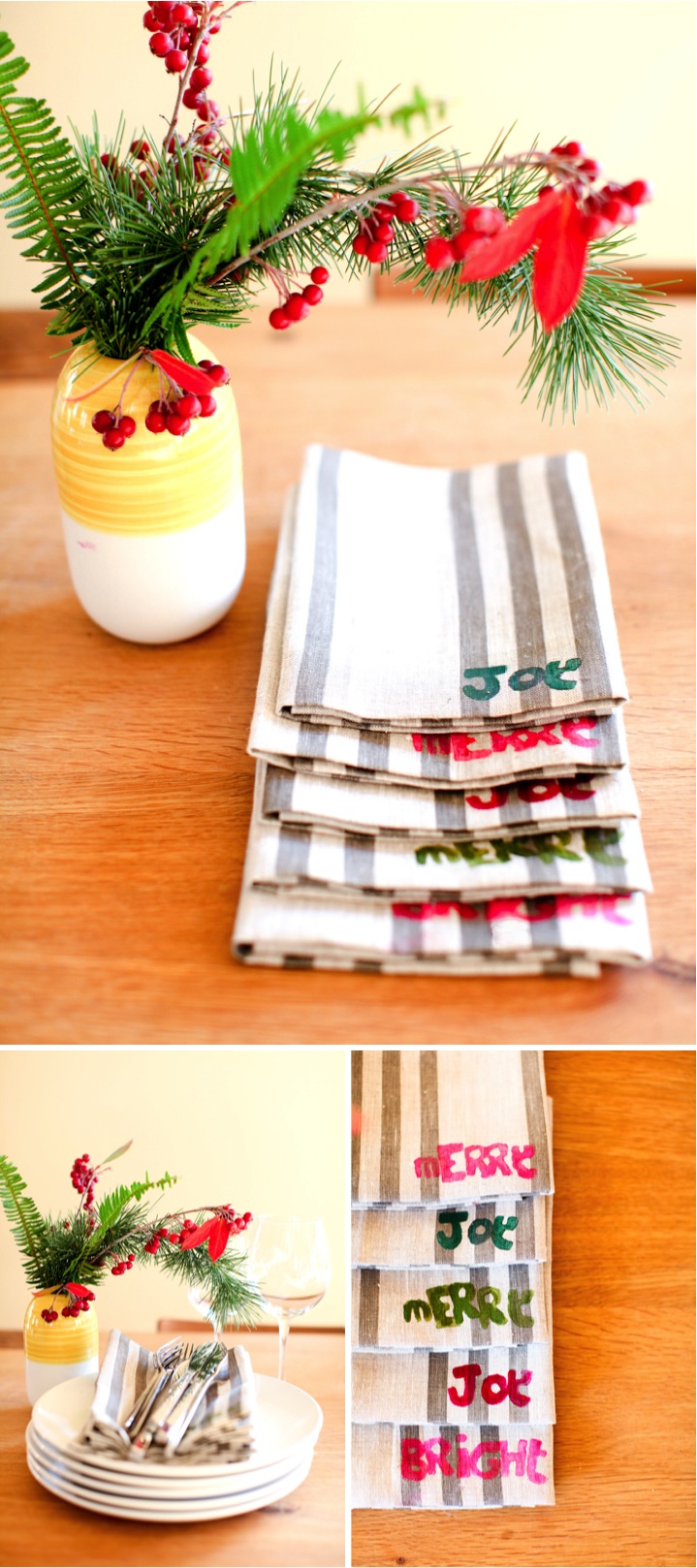 A few weeks ago, fabric designer Celina Mancurti sent me a bundle of one of her gorgeous hand-printed fabrics so I could check it out – and when I got it I knew right away I wanted to do more than just check it out. I had to make a little something with it! Enter these fun little no sew holiday cloth napkins. I call them my "perfectly imperfect" napkins, just like Celina's hand-printed fabric. Because they are no sew napkins, the back of the napkins ain't perfect really, but who's to notice? They are SO easy to make and with any fabric you can easily personalize your holiday table with these napkins.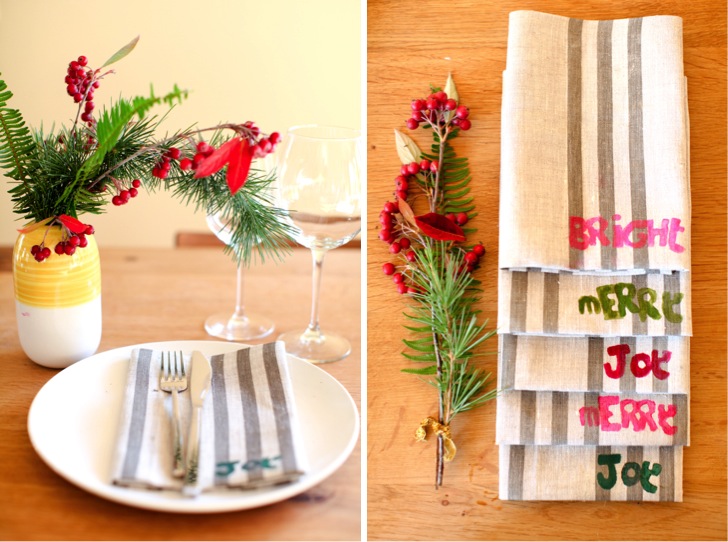 Once my napkins where done I wanted to add a fun little details to the napkins, so I potato-stamped them in holiday colors – with a neon pink edge

The potato stamping adds to the perfectly imperfect feel of the napkins since the paint doesn't get spread out perfectly. Also, I may or may not have made a mistake carving out some of the letter – noticed any letter that's no quite right?

Instead of the words I chose, you could also stamp the names of the people that will be at your table, or or you don't want to carve a lot of potatoes, you could also do a star and stamp that all over the napkins.
Keep reading for the how-to – and for your chance to win a bundle of hand-printed fabrics by Celina Mancurti.
What you need
- Fabric (a yard or more, depending on how many napkins you want to make)
- Iron-on seam tape, like this.
- Tape measurer
- Fabric scissors pr rotary cutter
- Iron
- Potatoes
- Fabric paint
What you do
1. Measure up your fabric to make squares that are about 13 inches, and cut them out.
2. Put iron-on seam tape on one of the side, about 1/2 inch from the border of the square, gently fold the fabric over and iron on to make your first seam. Next, to the opposite side to the one you just did – and then two the other two. This way all of your corners will look neat and similar.
3. Cut your potatoes in 1/2, and then cut your letters/shapes in each side.
4. If you are stamping out words like me, fold your napkin the way you want, and put a piece of tape where you'd like to stamp the word. When you unfold your napkin, you'll be able to find the spot again easily.
5. Apply some paint on your stamps with a brush, remove the piece of tape and get stamping! Tip: make sure you have something that can absorb excess paint right under your fabric.
6. Let the paint dry – et voila! you're done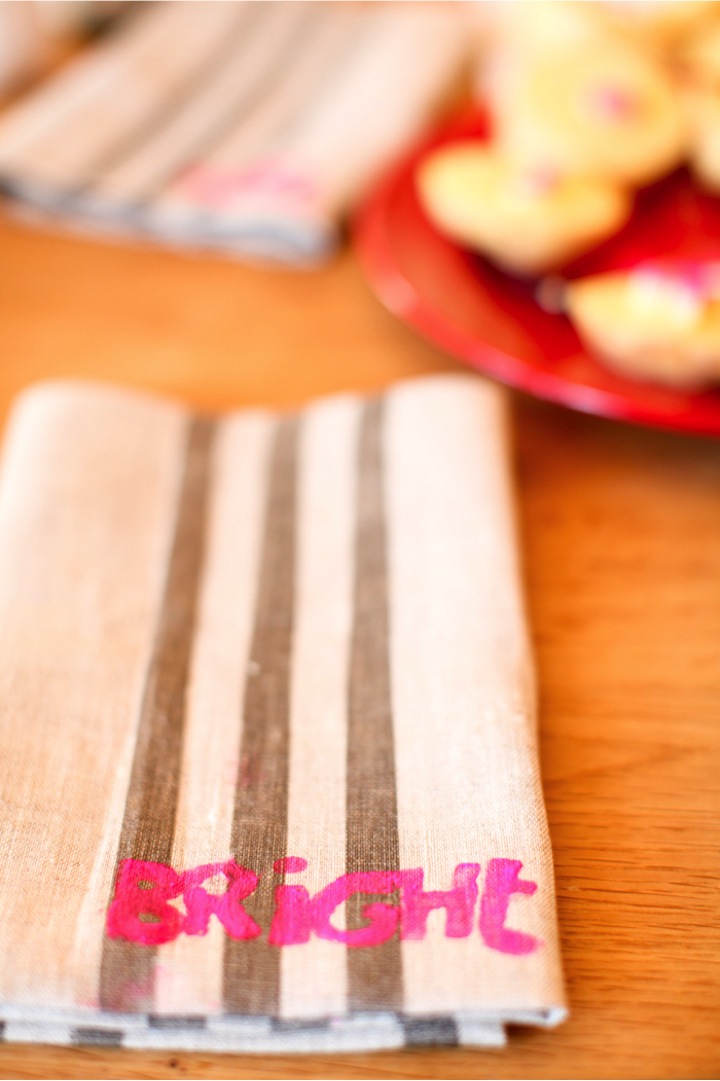 Now, here is your chance to win a fun and pretty little bundle of handprinted fabric by Celina Mancurti. It's easy, just enter in the Rafflecopter below!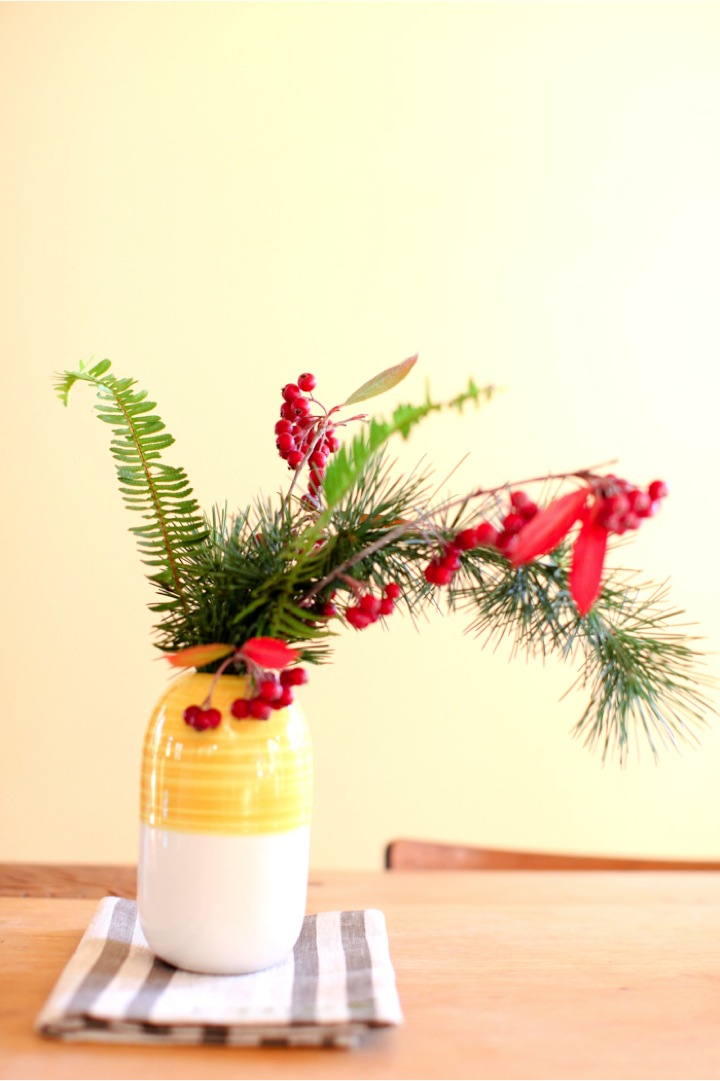 Giveaway sponored by Celina Mancurti. Celina sent me a yard of fabric for review, but all ideas, thoughts and opinions in this post are mine.
You might also like: