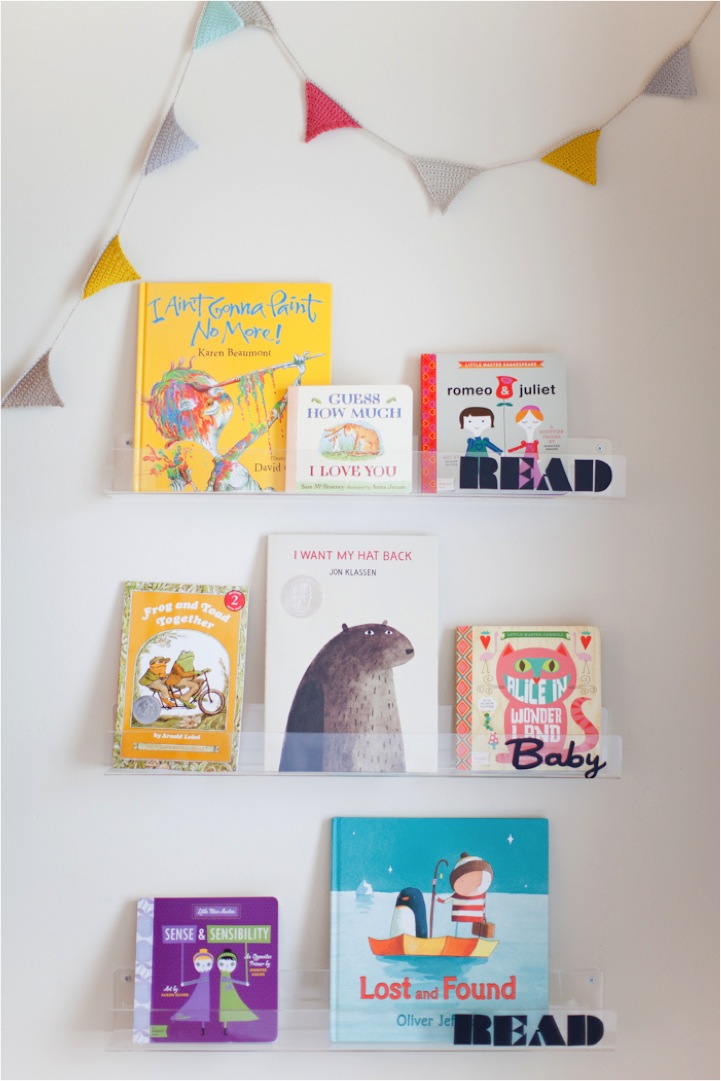 Don't get too excited, I am not quite ready to reveal baby's nursery yet (soon though!), but today I did want to share a little something that I made for the nursery – these "read baby read" clear bookshelves in the reading corner. We've been trying to think about many ways we can include the girls and have them around the baby once she's here, and reading books together is definitely high on our list. Our list: some shelves, a rocking chair and a little stool for the girls to grab book whenever they want.
As I mentioned before, the nursery is in our bedroom and it's pretty tight- so I needed something that didn't take took much space physically (or  even visually). I found these clear acrylic book shelves on Pinterest and loved them right away, but turns out they were expensive and only available in Australia. Instead I found mine here for $8.75 each – what a steal! Add a little contact paper to personalize the whole thing and done -in a matter of minute you've got yourself rad shelves for less than $30!
I  had fun adding the"Read Baby Read" message, but you could do anything really, like write a sweet message with your baby's name -we might do that later ;)-, or even do a little pattern with contact paper – how cute would dots or tiny hearts look? I used black contact paper as it offered the best contrast with the books, but you could do it in any color really. The best thing is that you can change it up any time you feel like it – the contact paper will come right off without leaving any mark on your shelves! Read on to learn how to set these up.
PS: by the way, the pretty crochet bunting you see here was sent to me by my sweet sweet reader/blogger Victoria from A Moka a Day and I love it so much. Isn't it adorable?!
What you need
What you do
1. Print out the read baby read print
2. On your transfer paper, trace the outline of the letters. PS: You only need to trace READ once, you should be able to use the transfer paper twice.
3. Turn the transfer paper over (outline you just traced facing down so the word is spelled out right to left) and color over with your pencil to transfer the outlines onto the back of the contact paper. If the outlines is too faint when done, go over it with your pencil so you can see where to cut
4. With scissors or sharp knife, cut out the letters carefully.
5. Peel and stick on the shelves. Et voila, you're done! Easy, right?!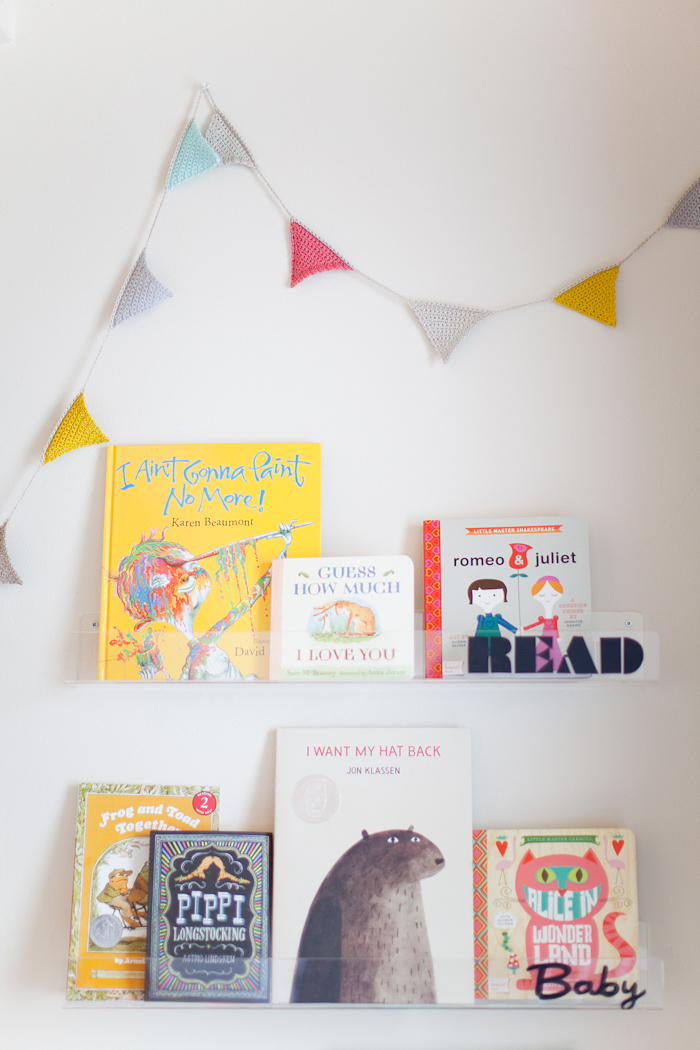 You might also like: