While we were in France at my parents last month, I made this little tree swing for the girls. Originally I wasn't planning on showing it to you guys, but my dad complimented me on it - and if you know my dad, you know that compliments don't come around that often. So I thought, maybe a few of you might like to see it to?
Madeline wants to go on swing non-stop, but my parents got rid of the swing set we had when we were little a long time ago.  So I rounded up some wood, rope and paint and surprised her. You should have seen the look on her face – she squealed and ran to it when she saw it under the walnut tree!
I made it wider than usual swings cause I wanted to be able to pile up a few of the cousins together on it for some fun. And that's exactly what we did

How cute are these guys sitting together, really?! Sorry I didn't take a picture of the supplies that I used, but I'll try to give you a list and describe the steps as well as possible.
What you need
Piece of wood (a bit less than foot long, 3.5 inches wide and 1.5 inches thick)

Sisal rope (10 feet or so, depending on how high your branch is)

Drill and drill bit slightly larger than your rope

Sanding paper

Laquer paint
What you do
1. Drill two holes on each end of the piece of wood. Sand the wood afterwards to remove chips and prepare the wood for painting.
2. Paint the wood with the color/pattern you fancy. Make sure it dries well before setting up the swing (I'd give it 24 hours)
3. Cut the rope into two pieces.
4. Prepare an area where you can hang and paint the ropes (above a tree etc). Dip then end of each rope in your first colors of paint – about 1 foot for each piece. When it stops dripping paint, add the second color along the 1 foot about that, so you have about 1.5 foot to 2 feet of paint on your rope.
5. Gradually blend the two colors together until you get the amount of ombre you'd like.Hang the ropes to dry.
6. When the wood and ropes have dried up, tie up the rope to the piece of wood using a hangmans knot – here is the good video to learn how to if you don't know. Cut any extra rope.
7. Attach the swing to your branch using more hangmans knots – or even better, set up some hooks in the branch to attach the rope.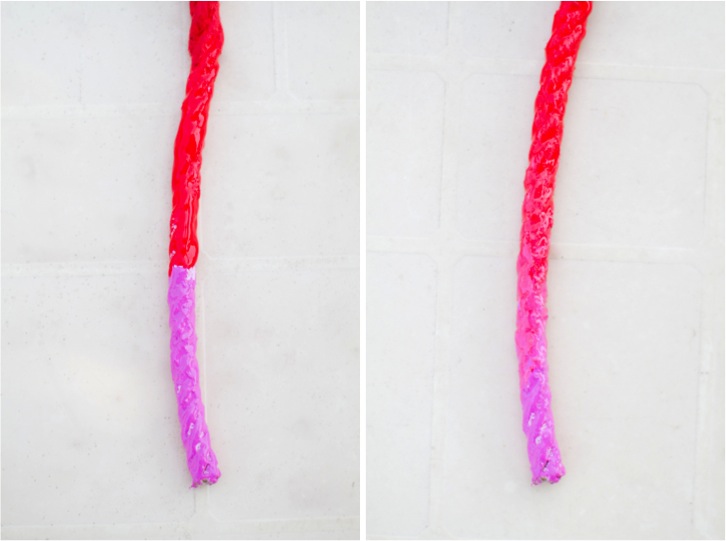 You might also like: