It's not because we're in the middle of winter and that your driveway is 10 billion feet under snow that we should forget about all things green, don't you think? I love plants indoors, they are an amazing (and relatively cheap) way to decorate and add so much life to a home. Plus, they make it easier for your to breath and purify the air for you as well – seriously, what's not to like? Here are 10 little tips that will help you add green to your home:
1. Display a collection of them: nothing like getting a lot of different plants together to create a big effect! For best results, you'll want to select plants of different size and with different leaves. You can simply put them in a corner of your home or cleverly display your little collection on a ladder/shelves (image 2). The more the merrier, right?

2. Mix plants with your daily life: add an unexpected touch of green by mixing up plants with little things of your daily life. A couple of cactus on your bathroom shelves next to your brushes and bottles (image 11), or herb plants on kitchen shelves next to your plates and cups.
3. Find unusual containers: Of course you can always buy pots, but for optimal effect consider DIY your pot (image 1) or even using objets that weren't meant to hold a plant, like the big canvas bags in image 6 or the tin box in image 9. Found a container you love but don't dare using it before there is no whole at the bottom for the water to escape? Watch this tutorial and you'll learn to turn anything into a pot.
4. Hang them up high: this is  a great way to add plants to your home, especially if you have young kids that will just dig out everything like mini-tornadoes. Little hands won't be able to grab these

Use cute pot hangers (image 3, 4 and  8), or add display boxes on the walls (image 10)
5. Go big!  Some trees love being indoors, like fiddle-leaf fig trees (image 7) or citrus trees, and you'll love having them too! They go higher they can help you make a big statement and give a room more volume. Here is a little list I found of the best trees for indoor use. For easy cleaning and to protect them from too much sun, put them on an oversize plant mobile with casters and you'll be able to roll that tree around wherever you want.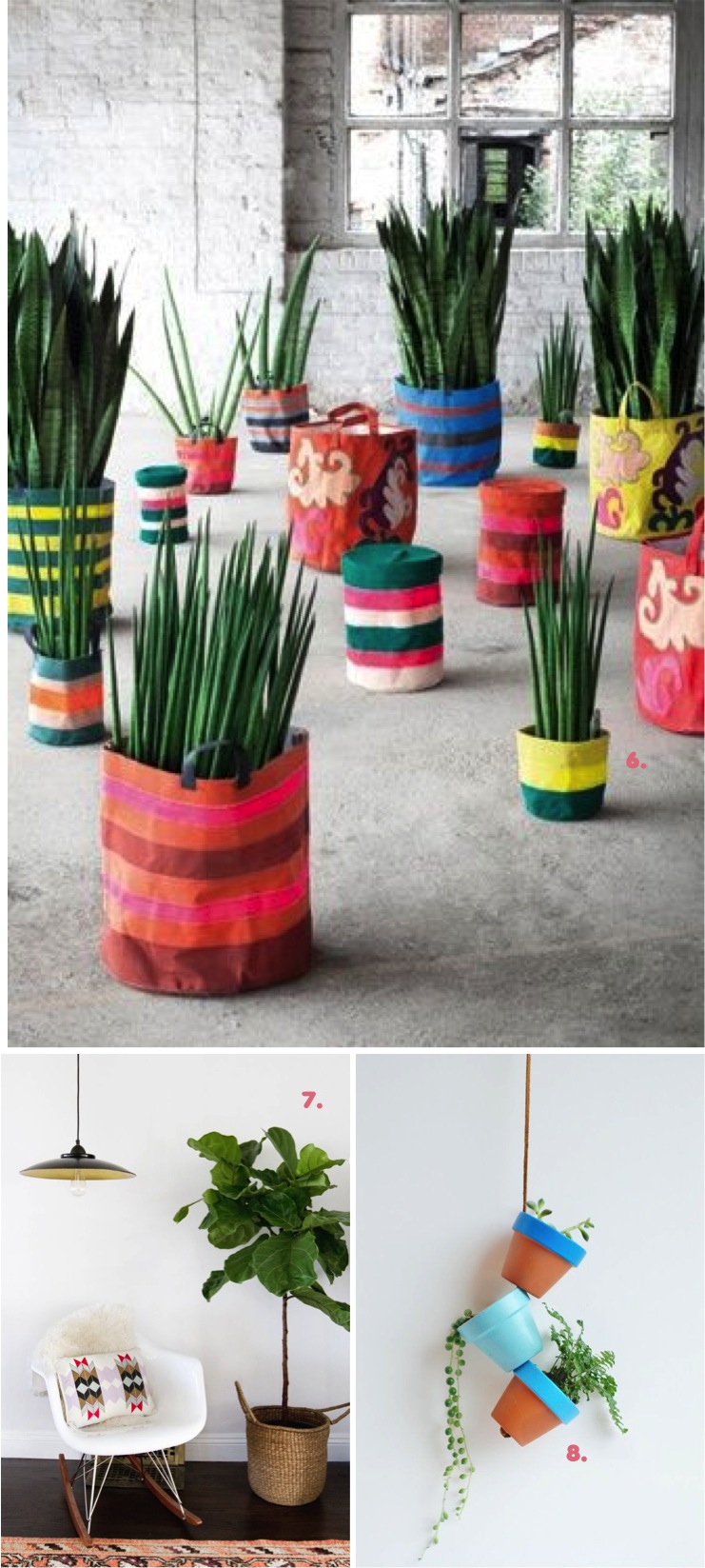 6. Think about colors: When choosing a pot/container, you can choose you stay in the neutrals and natural tones of course, or break off colors and go bold. It is important to think about the mood your want to create and select a color palette accordingly. If you want to go bright, some colors that always go well with plants include coral (images 1, 2, 4) , pink, mint and yellow.
7. No room is off limits: don't limit yourself to the living room! The kitchen (remember my rolling herb garden?), the bathroom or your bedroom are also great places to add plants. Ok, so your guests might not enjoy them as much, but I swear that you will.  They will be like a breath of fresh air! And remember what I said: plants help purify the air, so I bet you'll sleep better if you had a couple ferns by your bed

8. The right plant for the right room: Temperature, sunlight, humidity  are all of factors that will impact how your plant thrives. Go to local nursery and talk to a specialist, let them know what you want to do and they will be able to help you find the perfect plant. Also, think about scale, and how much space the plant(s) you want to add will take up.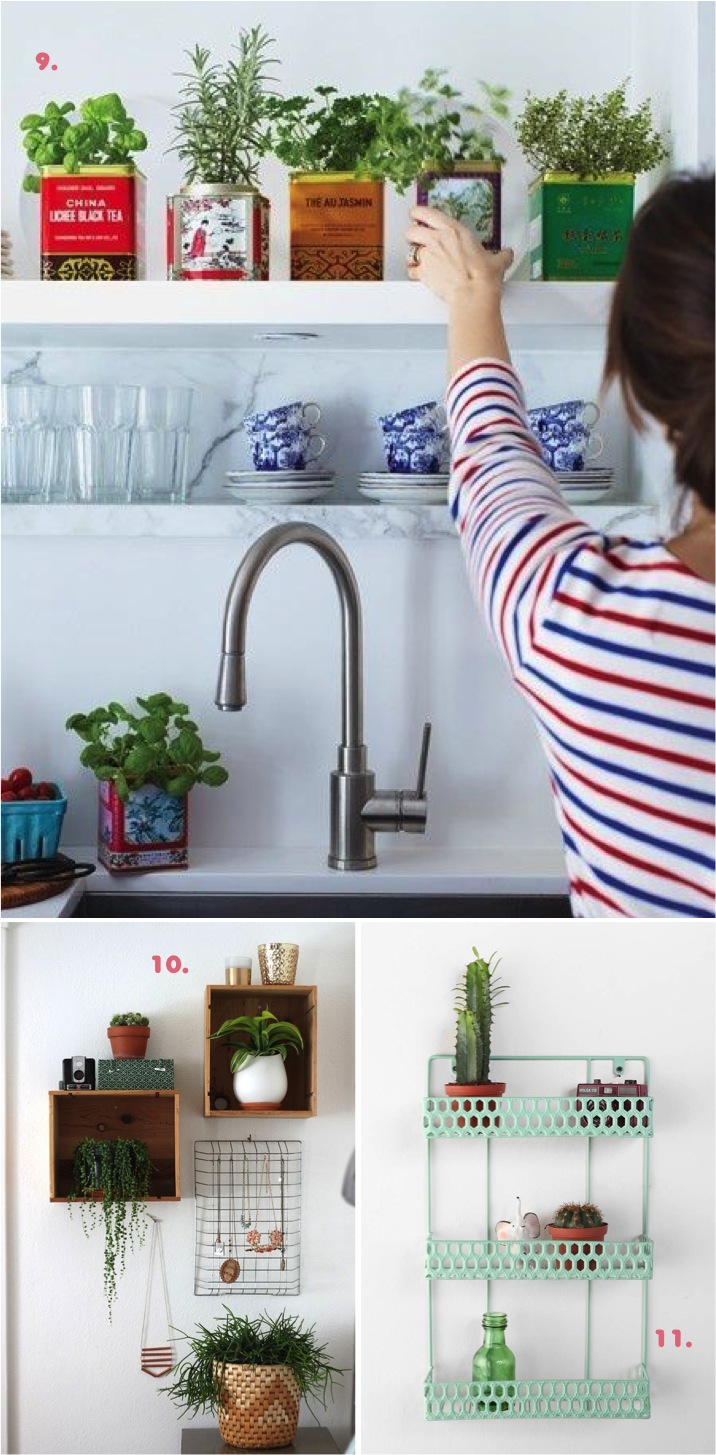 9. How much care? Mmmmm so let's say that you have a bit of a black thumb? Don't worry, I am right there with you

Succulents and cactus (images 4, 11)  are great if you only want to water every now and then. And worst comes worst, you could even fake – IKEA for example has quite a lot of fake plants that would fool you. But hey, do you really want all that plastic in your home?

10. Use branches:  For ever-changing green in a home, think about displaying branches in a vase. Big branches for a big statement or smaller ones to add a sublte note of green to any room (image 5). Use fallen evergreen branches or a straggly branch from your trees – snip it and put it to work inside a vase!
Images: 1. |2. |3. |4. |5. |6. |7. |8. |9. |10.| 11.
You might also like: