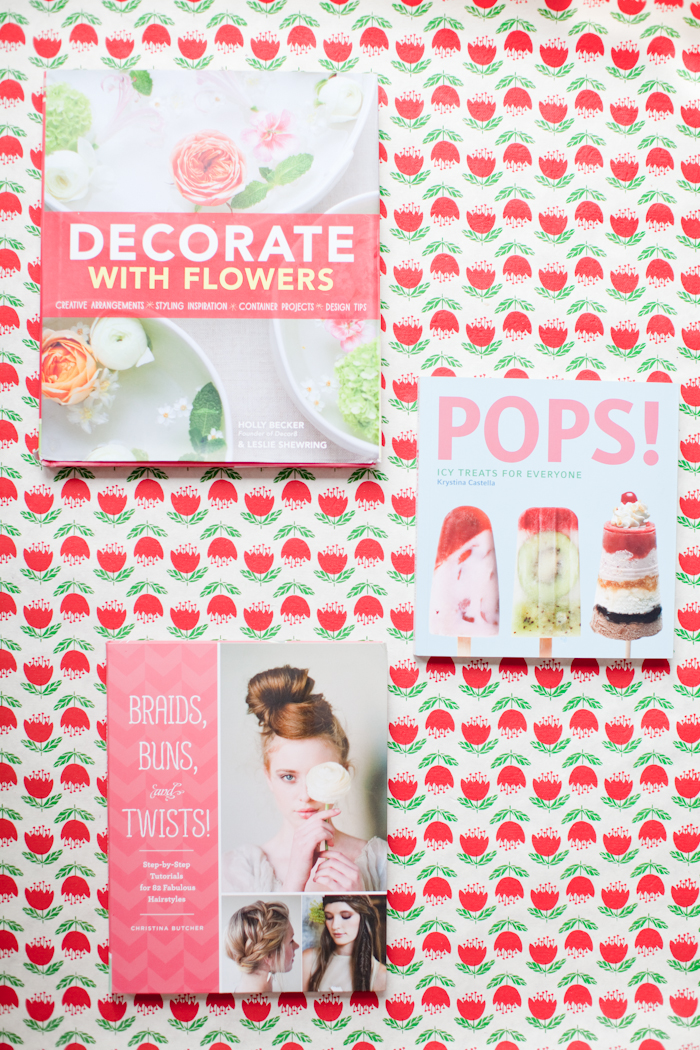 Hi friends! We made it to France alive. Alive being the key word here. Ha. I was afraid of the flight with 3 girls, but it was actually a breeze. I was going to scream victory….until I realized that the hardest part of this trip is actually to deal with 3 jet-lagged little girls on top of my own tiredness. We're getting there, but man…..fun times!
Today I wanted to share a round 2 of books I've been enjoying lately – see round 1 here.  No novel this time because as you can imagine, I haven't quite had the time for any Tolstoy lately 😉 But here are some great books for a little sumer fun!
Decorate with flowers: there is nothing that puts a smile on my face like fresh cut flowers in my home (PS: where do you stand in the great flower debate?), but I don't always know how to make the most of the pretty blooms I pick up at Trader Joe's. I've always been a big fan of Leslie Shewering's work with colors and flowers, so when I heard she was working on a book  with Holly from Decor8 on the topic I knew I'd have it in my library. The book is really inspiring – it is filed with great tips, gorgeous photography  & typography, the prettiest moodboards and some fun DIYs to make your own pretty vases to display flowers in your home. And the best thing is you don't have to be an expert in flowers to start applying all of the tips in this book around your home with what you already have!
POPS!: The lovely woman running Madeline's day care (hi Bari if you read this!) does something pretty genius: at the end of each day, she sits all of the kids around her little table for story time and gives them popsicles (usually made with yogurt or juice)  to eat. Such a simple and brilliant idea – I mean, don't you wish your work did the same thing, a popsicle before you wrap up your day? Pretty sure it would make some happy employees everywhere! Anyway, the point here, pops have become a thing in our home, and when I saw this book a few weeks ago at Paper Source I had to get it. It has some super fun options for kids and adults!  Do I see a popsicle birthday party in the near future? 😉  These are not your classic type of pops  but if you like exploring with difference flavors then it is for you! You'll also learn how to make popsicles in various shapes  and using different kinds of molds etc.
Braids, buns and twists:  I always save tons of hair tutorials in my board on Pinterest, but I have to admit that I have never really used any of them. Why? Because, when I am doing my hair in the bathroom in the morning rush while eating a piece of toast, I just don't have time to run back to my computer to find that tutorial I pinned weeks before. I LOVE having it in the bathroom next to all my pins – it's really helped me get more creative with my hair since it's right there.  It has TONS of tutorials – the girls have been eyeing those pretty Anna and Elsa-like braids 😉 Quite frankly, some of the pictures could be prettier but that's just me being picky

The instructions are well-detailed and super clear. I've tried a few looks from the book already to get my mane up during the hotter summer days, and was super happy with the results. A great buy!
You might also like: