I fear that this might be the last year I can call her little. My little girl. She's been growing and changing some much lately, my little Olivia. It feels like life is speeding up on us. A little baby born on a cold Danish night yesterday, on that didn't even fit in the newborn clothes that we had bought her. And today, this fun, loving, ever-happy little girl that spends her time smiling, laughing, making friends, dreaming and dancing. Man, I tell you, she's got some moves I don't even have!!
Last Sunday We celebrated her and every bot of wonderfulness that she is with a small but fun, color-filled party on our backyard with a few friends. A small party, people, not very American – that means more cake for each of us, and I am all about that

When I asked Olivia what cake she wanted for her birthday, "Strawberry!!!!". Yes, the same cake as last year. I gladly obliged – I mean, have you ever tried that cake?!
As usual I made a point of decorating for my girl: some giant balloons and DIY fringe garlands a la geronimo, spray painted little horses in gold to top her cake and of course, a cute little bithrday crown – mandatory in our house for all birthdays. No joke.
The day after her birthday, I asked Olivia to make some drawings for the people who gave her presents so we could send them along with a thank you card. SShe came back to me after 1/2 hour with a few extra drawings, so she could "send them up in the sky". Again, I gladly obliged

And of course, everybody who came to the party (and our families via email) filled out our traditional "When she grows up" poster – see the one when she turned 2 and when she turned 3. It is so much much to see everybody answers change with the years, as we get to know our little girl more and more. But no matter what you do when you grow up, my little Olive, mama and daddy will always love you to the moon and back. And the some.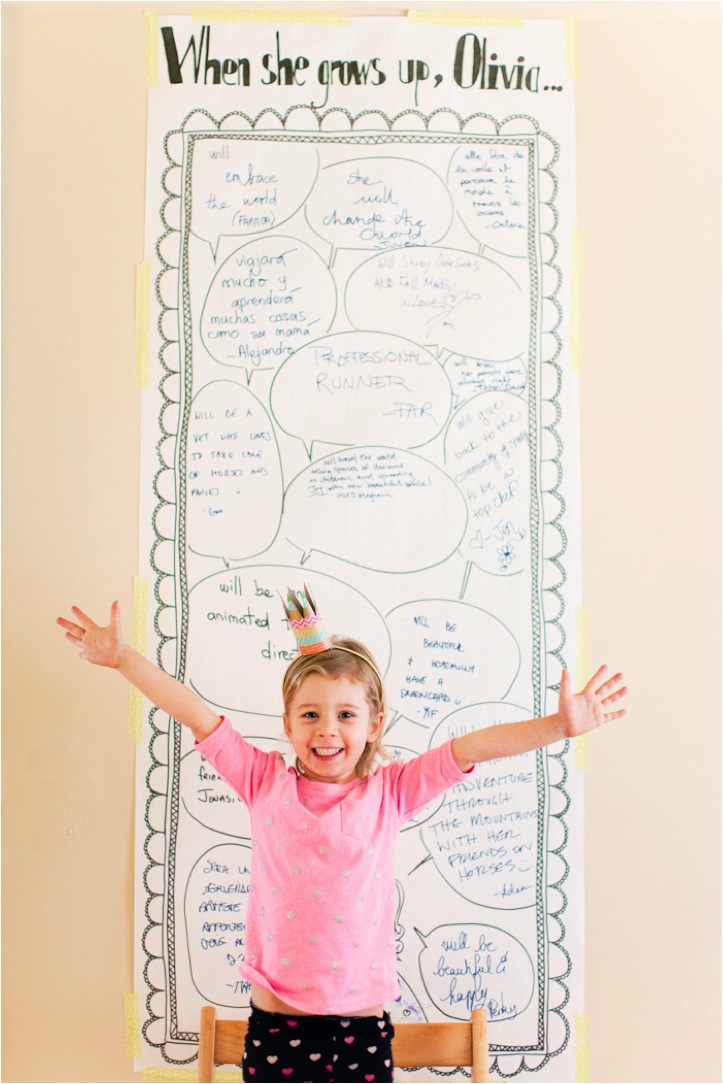 You might also like: