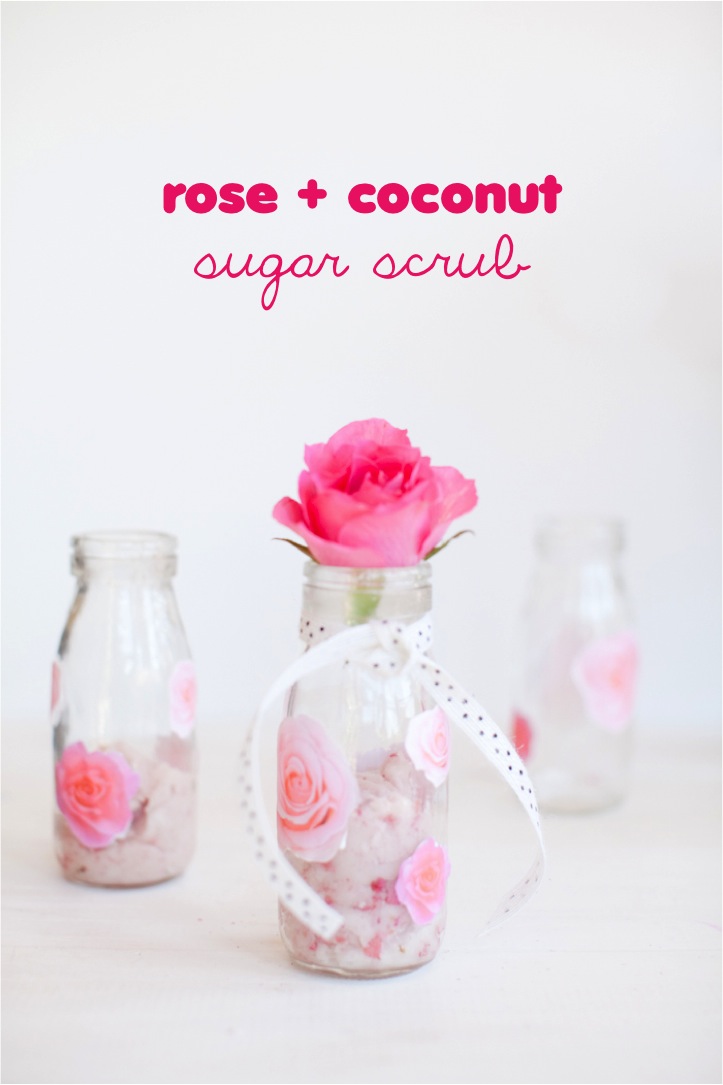 I've been obsessed with making my own sugar scrubs ever since I made that great peppermint sugar scrub last Christmas. Scrubs have become one of my favorite thing to gift to girlfriends for birthdays, as party favors etc. So cheap and easy to make and ladies love it – and I always make extra for myself while I am at it 😉
Today I wanted to share my latest sugar scrub addiction: rose + coconut!
Rosewater always brings tons of sweet memories. When I was little my grandma kept a bottle of rosewater in her bathroom. It was the prettiest deep blue bottle with a picture of pink roses on it, and she used the rosewater as her perfume. She was the kindest of women, and making anything with rosewater – like these rosewater cupcakes I made for Madeline's birthday – brings a smile to my face.
In any case, back to this scrub: it has become my favorite. While I liked the peppermint one, I find the combination of rose and coconut super relaxing. It smells SO delicious that you'll want to eat that scrubs- and technically you could, since it's made with all eatable ingredients! Find my recipe below.
What you need
yields about 12oz/350g
1 cup 1/2 of sugar – or about 300 grams
1/3 cup of virgin coconut oil, melted– or about 8 cl
3 teaspoons of rosewater (you can always add a bit more if you prefer a stronger rose smell)
the petals of one rose (about 12 petals, more or less)
What you do
Easy! Put all of the ingredients in a blender and blend together until the rose petals are broken up into smaller pieces and the sugar is all wet – you might need to use a spatula to finish mixing a bit. Transfer the scrub into a jar. If you want to decorate you jars like me, find some pictures of roses (in magazines/catalogues or just print some off the internet), cut and glue on the container with mod podge/white glue. You could also add a little gift tag, ribbon or print a label if giving to a friend.
Tip: make sure to use a container with a wide mouth (like a small mason jar for example). I made the mistake of using these milk bottles for the pictures – while the bottles look very pretty, it's was a bit too hard to get the scrub out of the bottles as it is more of a wet one.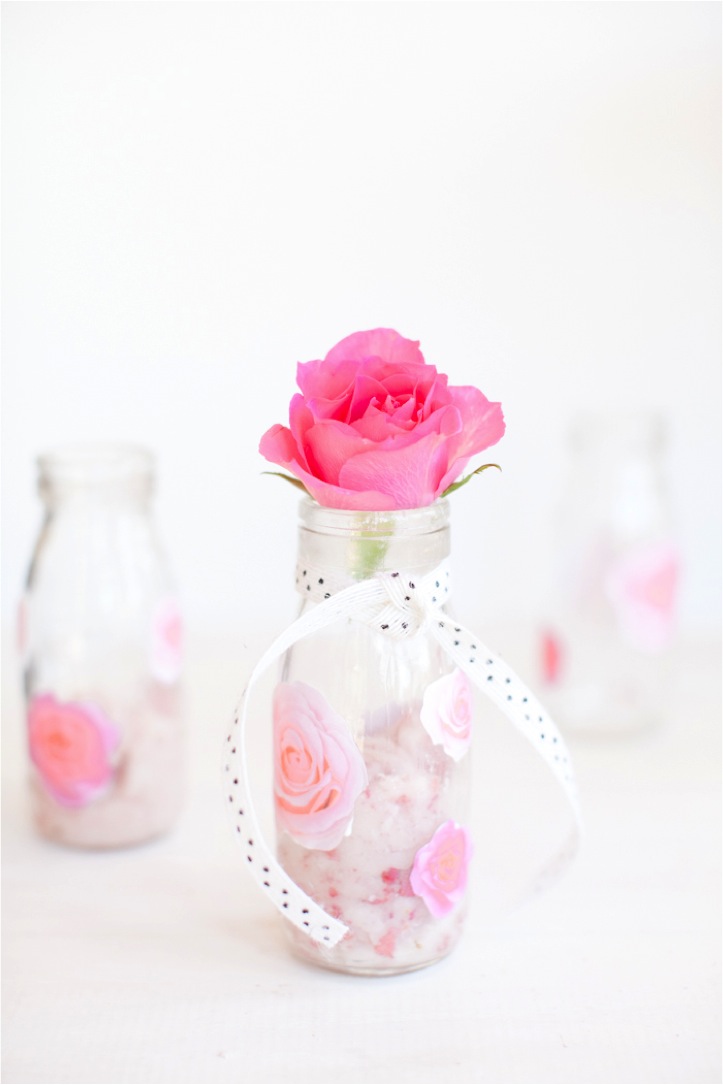 You might also like: