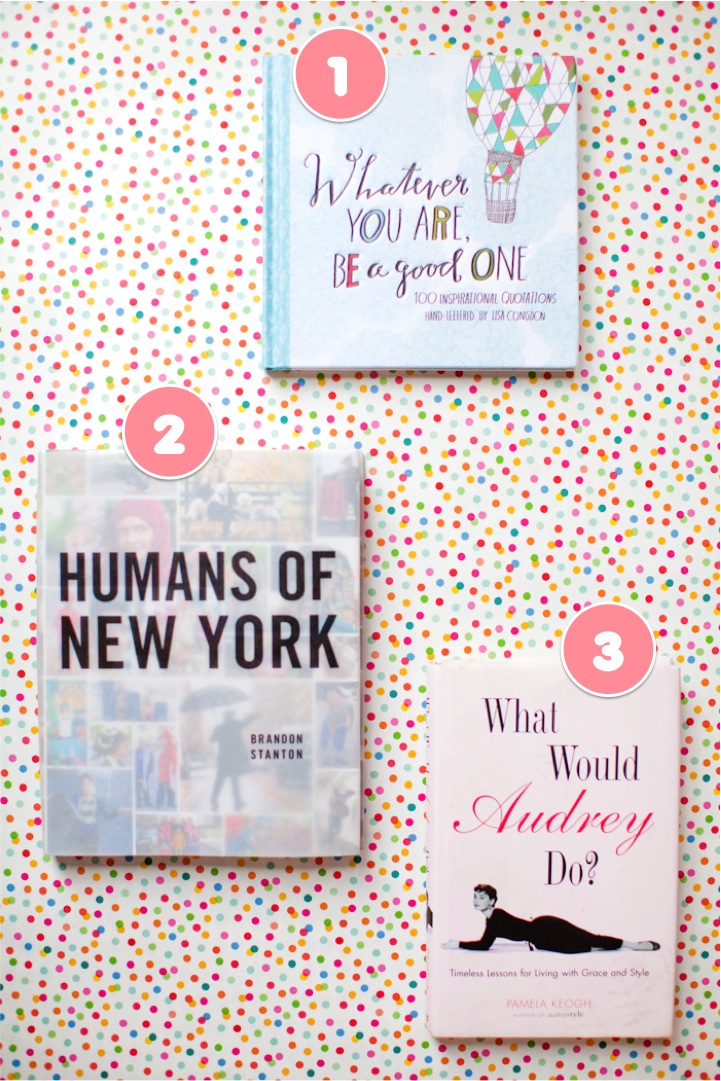 haha, because who am I really kidding?! Like I have time to read these days – taking a shower is already enough of a challenge in this house! Don't even talk to me about a hair brush….We came back from Europe a week and 1/2 ago and it's been nut-town since that. The girls don't start school for another two weeks, hubby started a new job last week and his commute went from 1/2 hour to an hour and 1/2, and our regular babysitter is away for two weeks for her sister's wedding. So it's the girls and me and myself and my tequila. Just kidding – if only, not sure how much Freia would like tequila in her milk! 😉
In any case, back to the books – my favorite books to leave on the coffee table:
1. Whatever you are, be a good one: I've always been a sucker for good quotes – and since I love Lisa's artwork I just had to get her book. When I feel like I need a break from the craziness, I sit down on the couch and grab this book – because I know I'll always find some words that will cheer me up and make me feel inspired again. Even looking at it makes me happy, I find the title of the book just perfect. These days I might have to spend a lot of my time being a mama and there isn't much room for anything else – but that quotes reminds me that I still need to be the best mama that I can be, even when I feel frustrated and tired.
2. Humans of New York: One of my very good friends gave me this book as a mama present after Freia's birth. I was already familiar with Brandon's work (I follow is facebook page and love seeing his work pop up in my feed), but seeing his photograph printed in a book is even more special. The people and their stories are so inspiring. As a photographer, I am amazed by the simplicity of Brandon's pictures and how much he manages to say through them and the few words he shares about each person. He's a wonderful storyteller – and everybody that comes to my house and picks up this book has a hard time putting it down.
3. What would Audrey do? My personal favorite. Because I am a big big BIG fan of Audrey Hepburn – why, she's got a great name don't you think? 😉 And also because this copy of the book was given to me as a wedding present my my sweet friend Alexandra, and inside the book she wrote "…she would say Oui". Well yes, Audrey and Alex, marrying my sweet hubby was one of the best decisions I ever made

That being said, the book is full of great advice and timeless lessons inspired by the life of Audrey Hepburn.
You might also like: