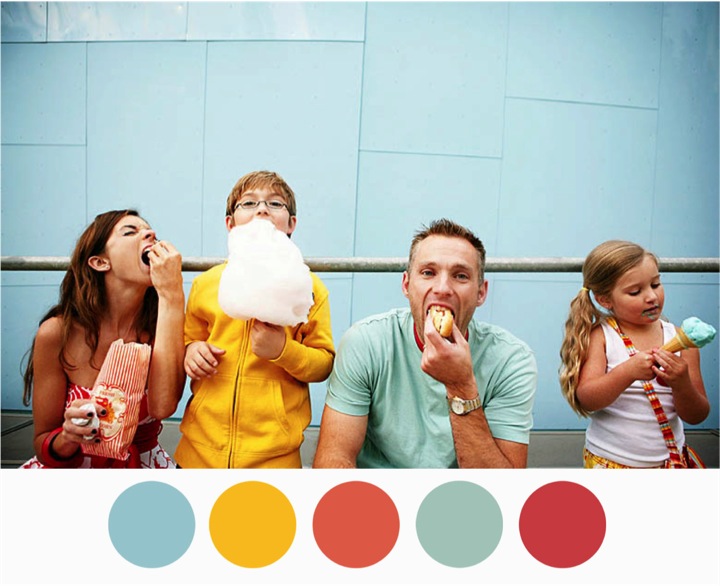 Image by Tara Whitney.
You guys, I am in such a nesting frenzy that yesterday I pulled a muscle in my lower back while cleaning and moving things around. Hurst so bad, hubby had to help me walk to bed last night. Time for this mama to take a chill pill, apparently…but not before I finish our little girl's nursery corner

I shared my nursery inspiration with you a few weeks ago, so today I thought I'd show how my moodboard is progressing. I absolutely adore the picture above by Tara Whitney that I shared a couple years ago when I started the blog. It's all about summer and not taking ourselves too seriously. And I love the colors too of course. So I used this picture to draw more inspiration for the nursery, and here is what I have now. I am still unsure how much yellow I am going to use – but tell me if you like it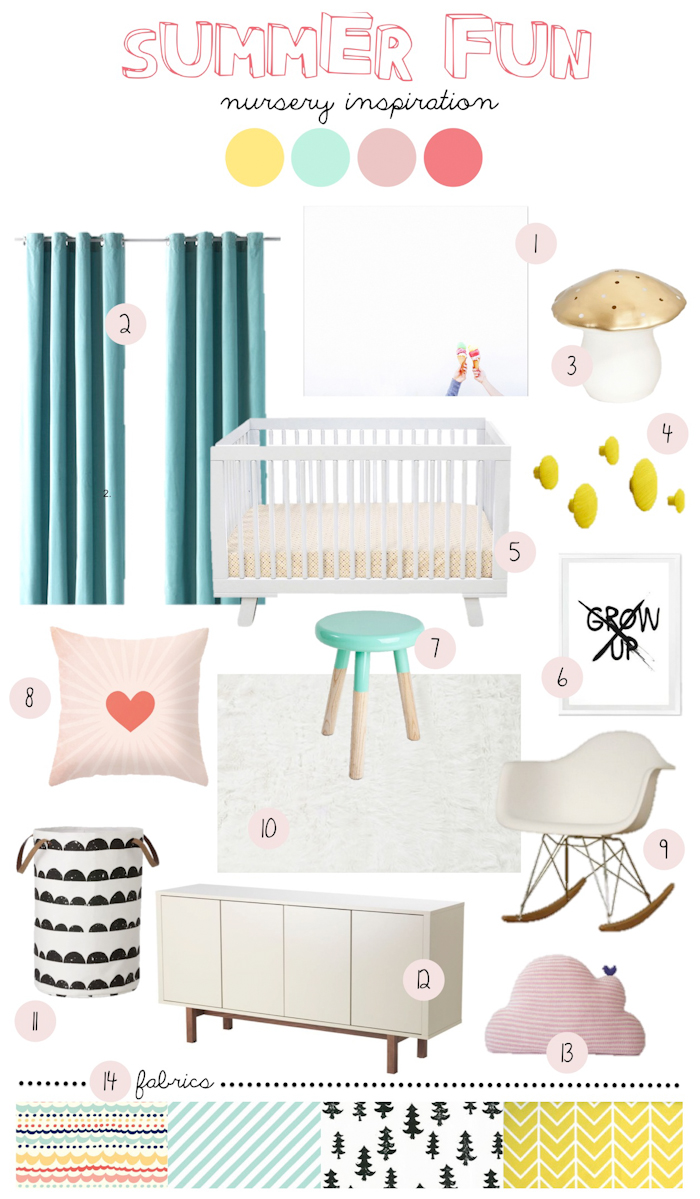 1. Max Wanger ice cream photograph: I am a big fan of Max Wanger's work, and this Ice Cream picture would be so sweet in the nursery. Love the simplicity of it.
2. Thick turquoise curtains: Yes, thick curtains, friends, because we're going to need to make this room dark for the babe when we need to – mama likes her sleep you see, and that only happens if baby is sleeping

I found this thick curtains at Ikea with a nice velvety feel, and I am pairing them with lighter white curtains when we need a bit more light in the room but still get privacy. Sanel curtains at IKEA.
3. Gold mushroom lamp: OK, so mushroom aren't exactly your typical summer vegetable – but this Egmont lamp reminds me of a walk in the woods, one of my favorite thing to do in the summer

At Pop-Line.
4. Muuto wall hooks: I've been eyeing at these fun wall hooks for a long time – they are both practical and decorative. At Smallable.
5. White modern crib: Love the look (and reasonable price) of the Babyletto Hudson crib. Modern look, clean lines, it's also made from sustainable wood and converts into a toddler bed for when she grows up. Perfect!
6. Don't grow up print: A nice reminder for her – and for us parents too

Sadly I can't find this Mini and Maximus print anywhere, I think it went out of print. Do I smell a little DIY art here?
7. Dipped stool: Stools are so fun and versatile – and I love this dipped version in mint. Out of my price range, but love the idea and the pop of color! At Crate Expectations.
8. Heart pillow: How sweet is this little pillow? And in my opinion, one can never put too many hearts in a baby nursery

By Menina Lisboa.
9. Mid-century rocking chair: As I mention in my last post, our nursery is actually just a corner of our main bedroom – so space is of the essence. This rocker looks great, it also doesn't break the bank and it's small enough that it won't take up too much space.
10. Fuzzy rug: because maybe, maybe it won't be as hard to get up for night time feedings if my feet can feel something soft under them

Thinking about DIYing this one to save up!
11. Large floor bin: cute storage is always a bin. This could hold our laundry, or maybe we'll use it for toys as she grows up. By Ferm Living.
12. White dresser: one that can also double-serve as changing station. Sadly, this won't fit into our room – but how I wish! Ikea Stockholm sideboard.
13. Cloud pillow: A little extra sweetness for this little girl

By Blabla Kids.
14. Pretty crib sheets: I am going for simplified bedding with this nursery. No bumper, instead I am spending more money on super fun crib sheets so I can change up the look! Will share more on where I get my sheets soon.
You might also like: