Last week my wee girl turned two – long gone my baby Maddie! She's turning into such a beautiful, funny, smart little girl…what, biased at all, me? She's my little girl, of course she's perfect, duh

Can't help it, I am a proud mama.
We  had a mini-celebration on Wednesday, the day of her birthday, and then had a little party at home with a few friends the following Sunday. We are starting to have our little routine down now for birthdays. New family traditions are slowly falling into place and it feels so good. The girls now know that I always decorate the house the evening right before their birthdays – they look forward to it. Oh the squeals of joy when they woke up last Wednesday and saw the balloons up in the air & the polka dots on the walls

Madeline had been talking about guitars for months, so finally I broke down and found this adorable one – oh you should have seen her face when she unwrapped it. She didn't let go of it ALL day. She even napped with it, made my heart melt. My sweet little girl is a bit of a rocker, turns out

The day of her birthday I made vanilla cupcakes with rosewater frosting – or should I say that I made rosewater frosting with vanilla cupcakes, because quite frankly the frosting is all we ever need in cupcakes, right?! And for the party I made a cake with a similar combination, vanilla and rosewater, and it also had a mixture of peaches and cream in the middle. Yes, I am slightly obsessed with anything with rosewater.
For the big cake I used the cake topper I made a couple weeks ago (see tutorial here), I used a simple bloom for the cupcakes, and I also made this sweet little flower crown that that little Scandinavian girl could wear in her hair. In this house it is simply not allowed to have a birthday without wearing a crown or a hat or something pretty in your hair. And you don't want to test a French person, you know what we did to our kings when they pissed us off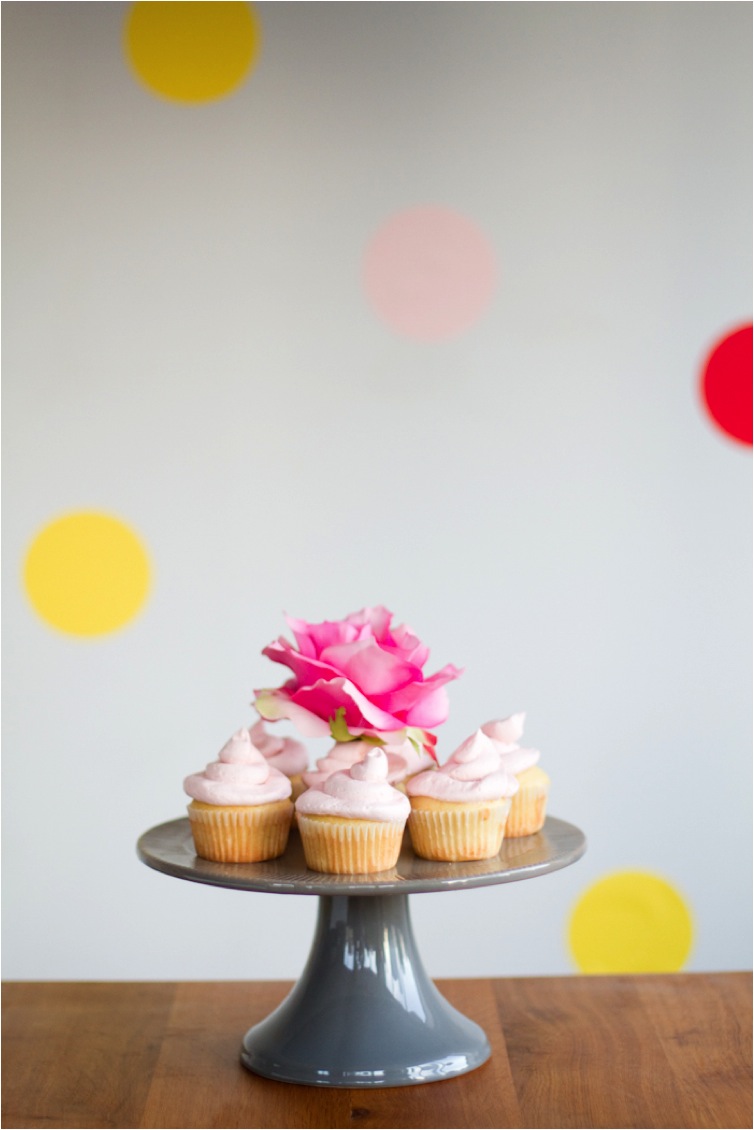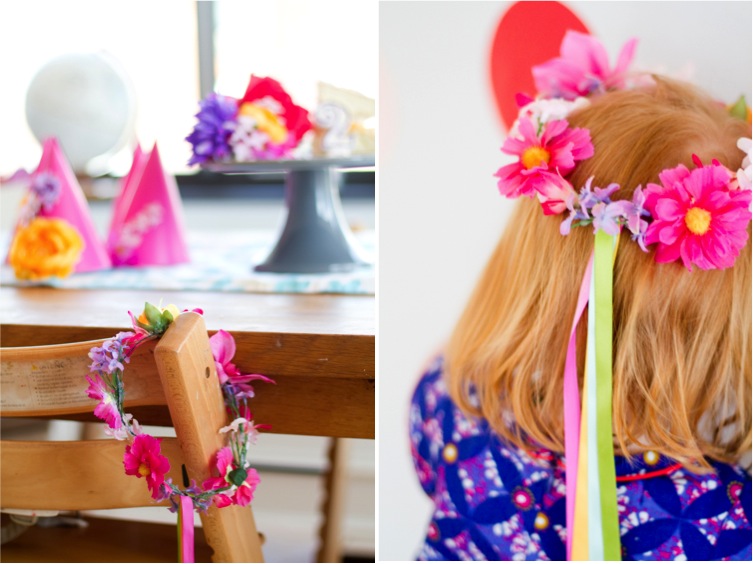 In Manhattan you'll find that a lot of families go all out for their kids birthday parties – as in, ALL OUT. They'll organize an event a the kid's museum or rent an entire playroom with a crew to entertain the kids. While these are always fun, they also cost a fortune. Personally, I think that simply having people at our home, decorated for the occasion, with a homemade cake and loads of friends is just the best way to celebrate my girls' birthdays. The party was chill and fun – food, cake, balloons and a little bit of music for the kids. I know that the stuff I make might make this party look fancy and all, but really it's a bunch of balloons, hot glue and time, is all.
As far as party favors go, I put together these little DIY bug glitter jars that each child could make at home with their parents. I included some silly, colorful bugs, a little bag of large glitter, a little tube of glycerin and some strong glue to seal the lid. In France we don't really do party favors, and I personally think that most often the favors we get finish up as junk in the home….so I thought at least, with something like this, the kids will get to craft with their parents – even if they end up throwing the jar away, the experience will always be there.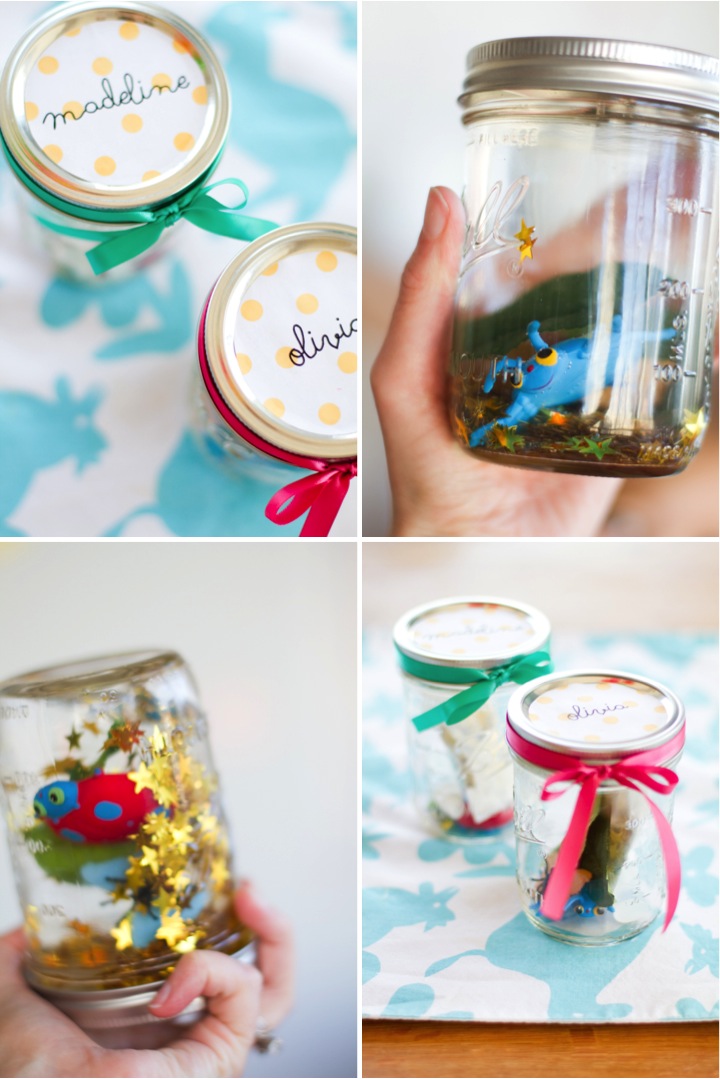 And of course, just like last year, we asked our guests, as well as friends and family that couldn't make it to the party to tell us what they wish for our little girl's future and their predictions for what she might become. There is a million dollar prize for the person who guesses right

I love this tradition and I think my girls will cherish these posters when they are big enough to understand.
Happy Friday, friends – have a great weekend!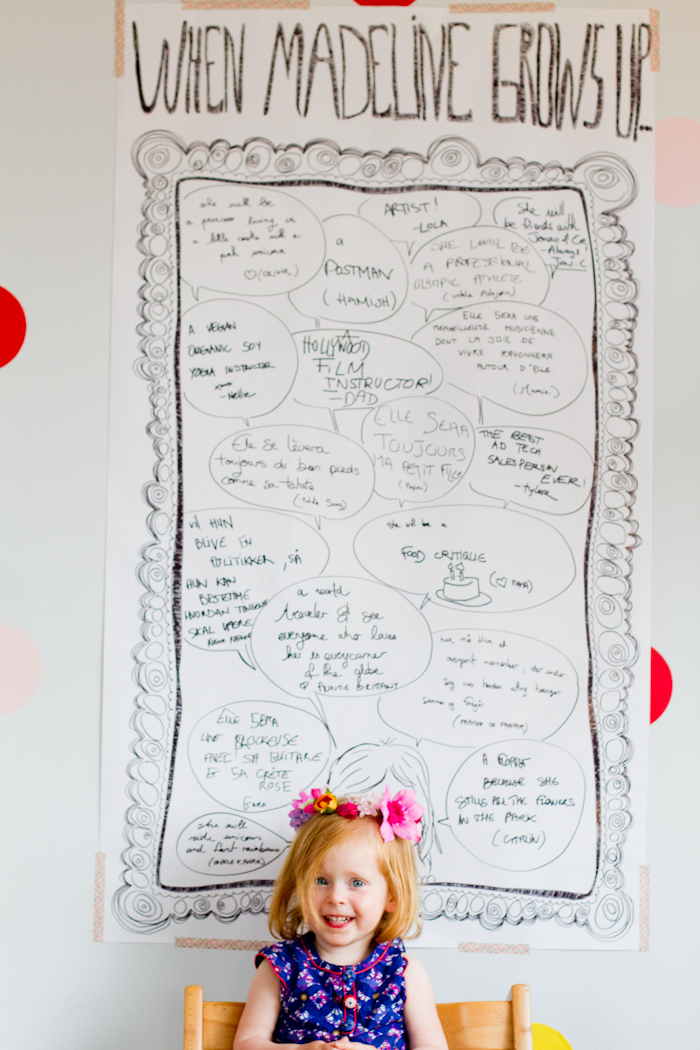 You might also like: