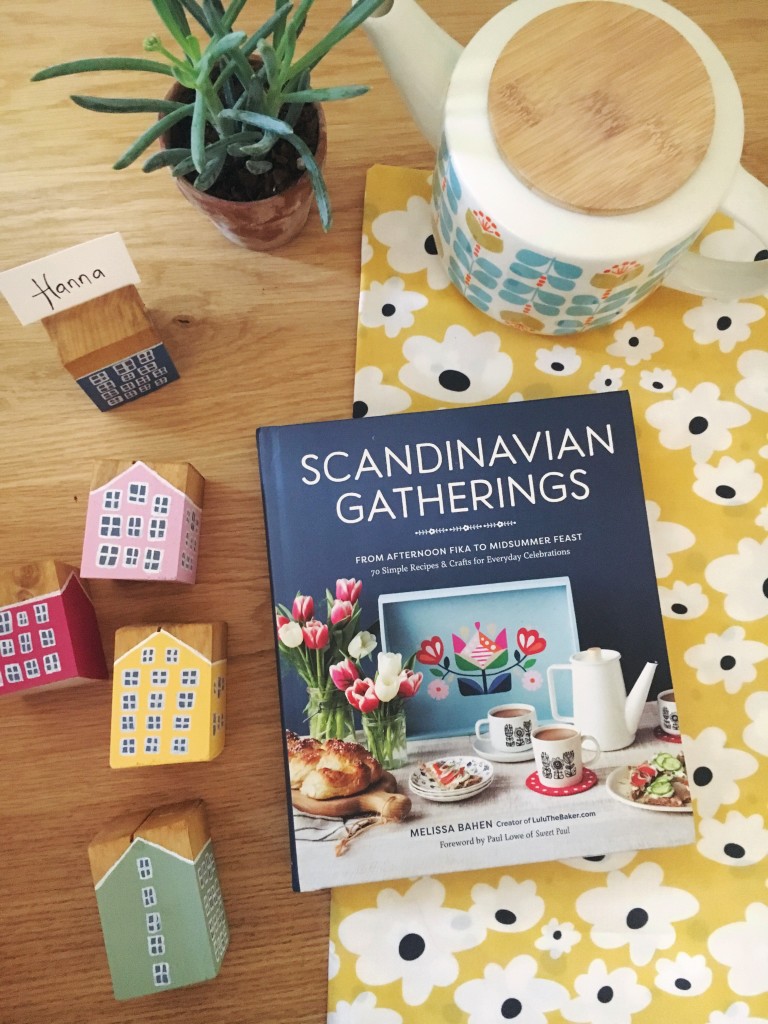 Put your party hats on! We are celebrating the release of my friend Melissa's new book called Scandinavian Gathering with not one but two fun surprises: 1) an exclusive DIY extract from the book, and 2) an Instagram giveaway so you can win a copy of the book here.
When Melissa asked me a few months ago if I could help her review and promote the book, of course I said yes – she is my friend, and it's a book about Scandinavia so really, it was a not brainer! If you've been a reader for a while, you've got to know by now that I am NUTS about anything Scandinavian. What I didn't expect though when I told her I would help, is to love the book THIS MUCH! I have pretty hight standards when it comes to books, and just found myself drooling all over every single of the 70 recipes and crafts. Every page took me back our vacations visiting my husband's family in Denmark.
One of my favorite projects in the book is the one I am sharing with you today: a DIY Danish townhouse place card holders. Every time we go to Denmark, hubby and I make a point of spending a day together in Copenhagen (best city!!!) and we aways visit the old port of Nyhavn. The colors of the houses in Nyhavn are just amazing – see here in my IG feed!- and so I just had to make a few of these place holders. They are so fun for little dinner celebrations, and they look awesome on our shelves whenever we are not using them.
Hope you have fun with this project! And don't forget to enter the giveaway on my Instagram account here for your chance to win your own copy of Scandinavian Gatherings.PS: I changed the DIY a bit when I did my townhouses because I didn't have terracota-colored paint – so just ended up staining the roof part. But I love seeing the wood plain as is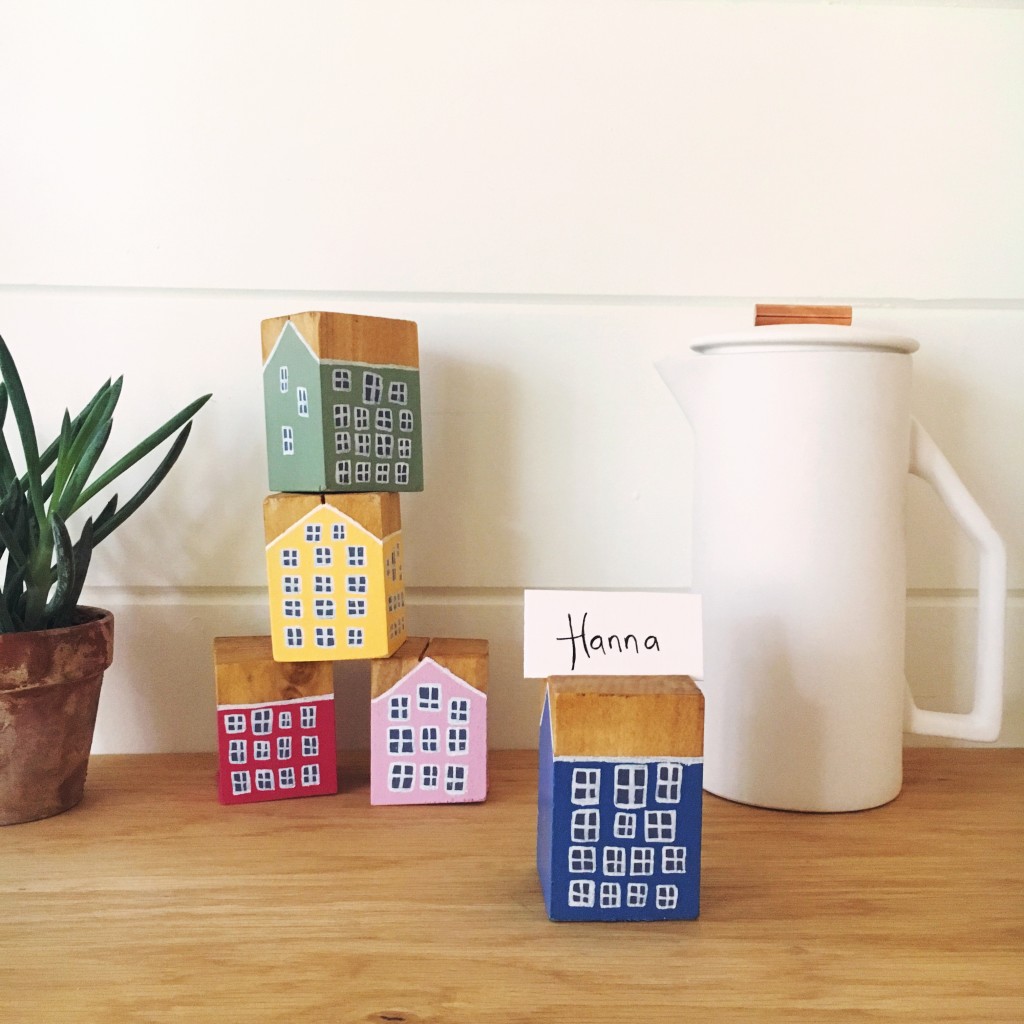 *(c)2016 By Melissa Bahen. All rights reserved. Excerpted from Scandinavian Gatherings; From Afternoon Fika to Midsummer Feast 70 SIMPLE RECIPES & CRAFTS FOR EVERYDAY CELEBRATIONS: 70 Simple Recipes and Crafts for Everyday Celebrations by permission of Sasquatch Books.
Danish Townhouse Place Card Holders
Nyhavn, or "New Harbor" in Danish, is a waterfront area in Copenhagen that is famous for its colorful buildings. Yellow, orange, blue, red, and pink, the white-trimmed houses are one of the most famous sights in Denmark—just ask any postcard! These adorable little townhouse card holders are so versatile. They can hold place cards at a breakfast gathering, menu cards at a dinner party, and even photos, postcards, and keepsakes.
MATERIALS & TOOLS:
1 (2-by-2-inch) piece of wood
Small handsaw or jigsaw Miter box (optional) Sandpaper
Sponge brush
Craft paint in white, red, dark gray, terra-cotta, pastel pink, pastel blue, pastel yellow, and pale orange
Painter's tape
Soft-bristled paintbrush, about 1⁄4 inch wide
White fine-tipped oil-based paint marker
At the hardware store, have them cut your 2-by-2-inch piece of wood into 6-inch sections.
Use the handsaw to cut each section of wood in half. There's no real need to measure here, because the goal is to get blocks of slightly different heights—just eyeball it! Try to make your cuts as straight as possible; if you have one, a miter box will help. The ends that were cut at the hardware store will be perfectly straight; make those ends the bottoms of the houses, and the cuts you make can be the tops.
Make a straight cut about 1⁄4 inch deep across the square face of each block that will be the roof. This will be the slot for place cards.
Sand all of the cut edges of each block with the sandpaper until they are smooth. Tuck the sandpaper down into the card slot and sand both sides of that lightly as well.
Using a sponge brush, paint each block, starting with the color for the main part of the house (white, orange, red, yellow, pink, or light blue). You don't need to paint the top or bottom of the block, just the four sides. Paint as many coats as needed, allowing each coat to dry before adding another.
Next, tape off the roof line using the painter's tape. Some roofs can run side to side (with the peak on the front of the house) and some can run the opposite direction (with the peaks on the sides of the house). Mix it up for some variety! Paint the roofs in either dark gray or terra-cotta. Make sure to paint the top of each block as well. Paint as many coats as needed. As soon as you are done painting, remove the tape and allow the roofs to dry.
Use the soft-bristled brush to paint a few dark-gray windows on the front of the house. The windows don't need to look like perfect little rectangles; using a single stroke of the brush for each window is ne. Don't worry about a door, or windows on the sides or back of the house. Let the paint dry completely.
Using the white paint marker, draw a line between the house and the roof to represent the white trim work common on Nyhavn houses. Draw white trim around the windows too, and draw a cross on each window to create windowpanes.
9. Allow the paint to dry completely. If the slot for the cards has paint stuck in it, gently pop your handsaw back into the space to dislodge any paint and to reopen the slot.
You might also like: