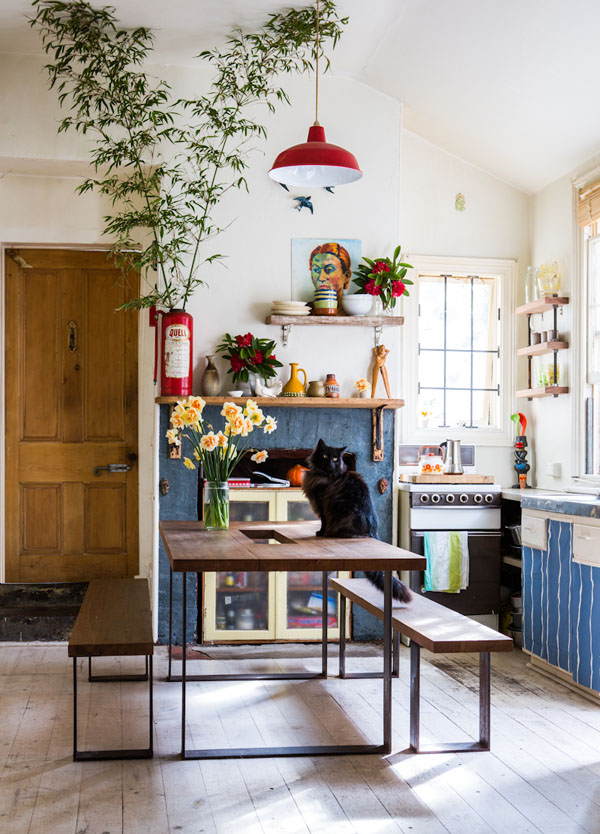 Source
Part three of the renovation of my parents' little French farm – which is still underway! Last week I shared a status update to show you where we're at, and today I wanted to show you a bit more about where we are going – the inspiration that's driving all of this. My parents are driving the remodeling work – my dad worked in construction his entire life, he used to own a building company that made that worked on big/commercial projects – factories, schools etc- so he has all sorts of building superpowers.
But  when it comes to the whole decorating/interior design stuff, it doesn't come so natural to them so they asked me to step in. And same thing with the cost of this project – since that house will be for my brother and I but it will still belong to my parents, we decided together that they would cover the cost of doing the big remodeling costs (concrete, new wall, sheetrock, electricity etc) – my dad is doing a lot of that work himself – and that my  brother and I would cover the finishes (tiles, hardwood floor, paints, furniture, etc).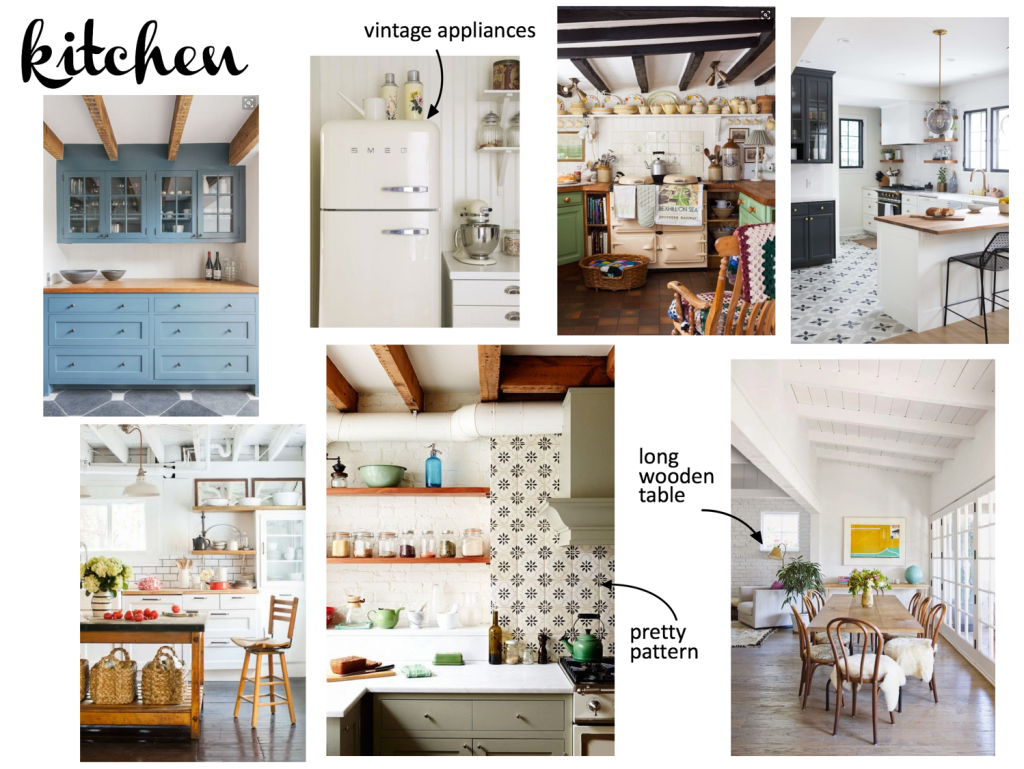 I am really excited about the kitchen/dining area in the house. It has this beautiful, old focal fireplace, and we want to give that area some of it's rustic feel – but yet keep it fresh and light. My brother and I picked a super fun vintage looking tile at the local shop, and we'll have that tile all over the kitchen/dining area. I think it will make quite a statement! My mom and I have our eyes set on doing a simple, rustic type of kitchen in a light blue (similar to the top left picture in the board), and she's working with the local lumber place to have that crafted. We plan on adding more touches of blue here and there – to make amore seamless connection between the outside (blue door) and inside.
My dad was crazy about this old wood stove, and he couldn't wait so he already installed that in the room. Right now the fridge they have their is super tiny, so we have to replace that, and we'll probably go for something with a vintage feel like a Smeg. We'll have a long farmhouse table that can sit everybody but the meals, some fun little shelves here and there to display old bowls and vases. It's going to be such a fun room!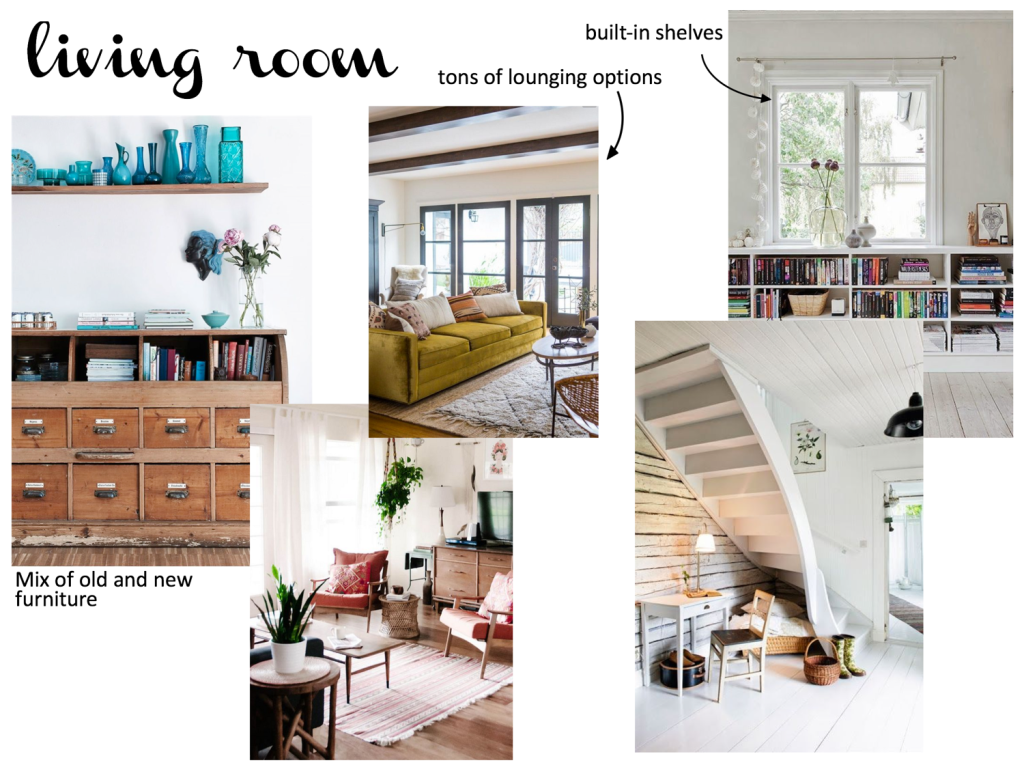 The living room is directly connected to the kitchen/dining area, but we didn't want to carry the tiles there are we thought it would 1) be too much of that pattern, and 2) we wanted to do something warmer for little feet, a cosy flooring. So we'll be putting hardwood there. It's going to have this beautiful natural tone and complement the room so well! We're still trying to figure out the whole furniture arrangement of the room, but have a good idea – except for that one tricky corner at the very end of the room. That corner is going to stay there as is until we get the rest of the room ready, and then we'll decide what the best use for it is. My guess would be more casual seating (couch?), but we'll see. The room as lots of wood because of the beams, so we'll try to break that up with some rugs, cosy furniture, some build-ins that we'll paint white. And of course touches of color here and there 😉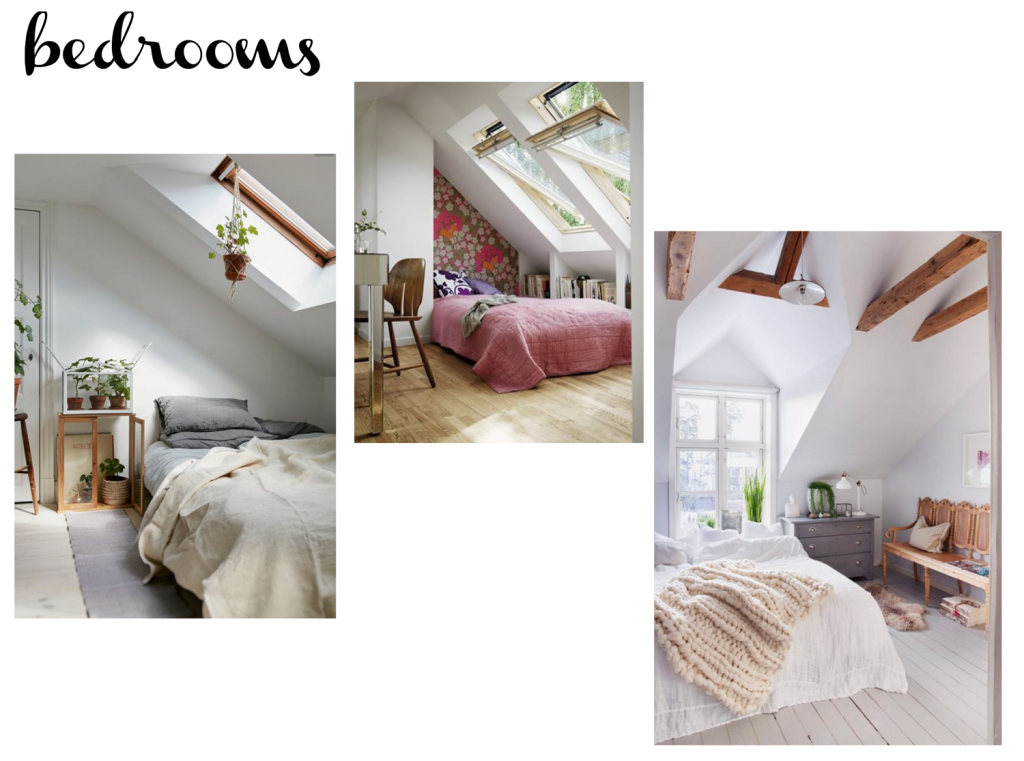 The upstairs bedroom aren't too big, but the ceiling is super high so it makes the bedroom feel a lot bigger than they really are. We're going to keep them very simple. Simple linen on the beds, old dressers etc. I want to use some of the beams to hang plants from, little things like that. Not sure how  much colors these rooms will have yet. My parents picked the hardwood floor for upstairs and installed it before I knew it, so it won't match the hardwood floor we'll have downstairs, but that's ok. The one they picked is a light grey color (you can see it here), and it is nice and keeps the rooms looking simple and fresh.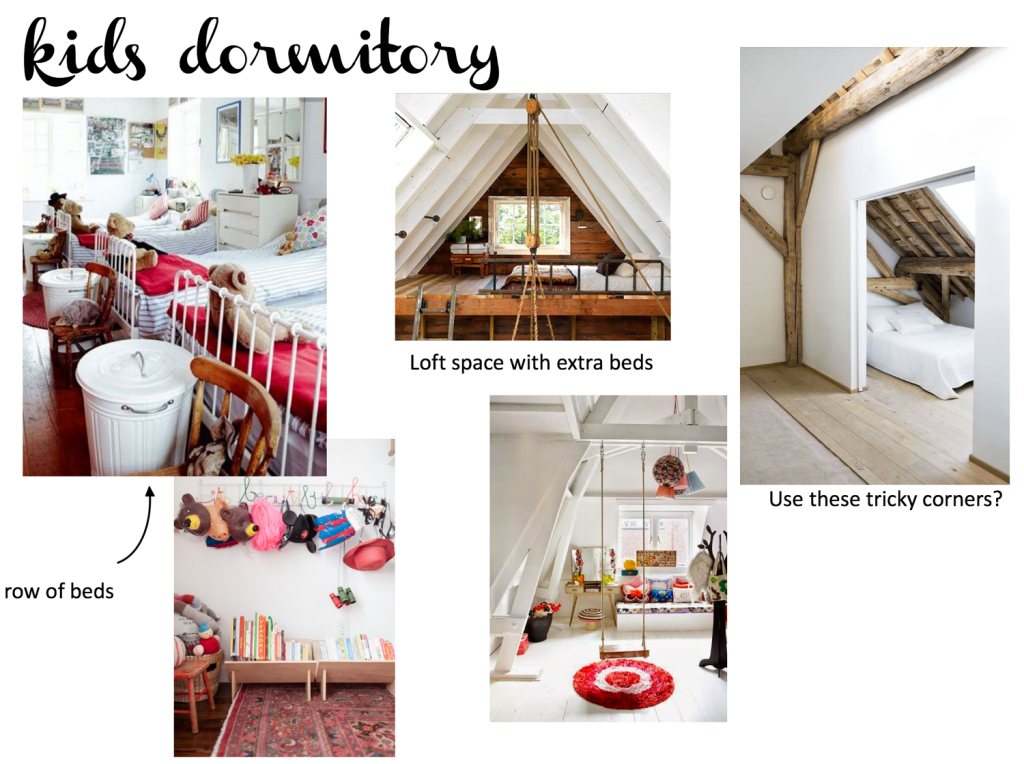 The dormitory is this super fun room I can't wait to get started on! that's where we're going to pill up all the cousins when they meet up for vacation

The room is fairly big (and again, with high ceilings), so we'll line up beds dormitory style, and we're also planning on adding a loft space to make good use of that high ceiling. That space can be used to add beds if needed, or simply as reading/play space. I'd REALLY love to add a swing from of of the beams, but let's see if I can make that happen! We'll add some fun color in this room. I want to use metal trunks in bright colors for storage, anything that will make this room functional but still fun. Oh, and I am planning an sneaking in some of new patterns I am working on in this room 😉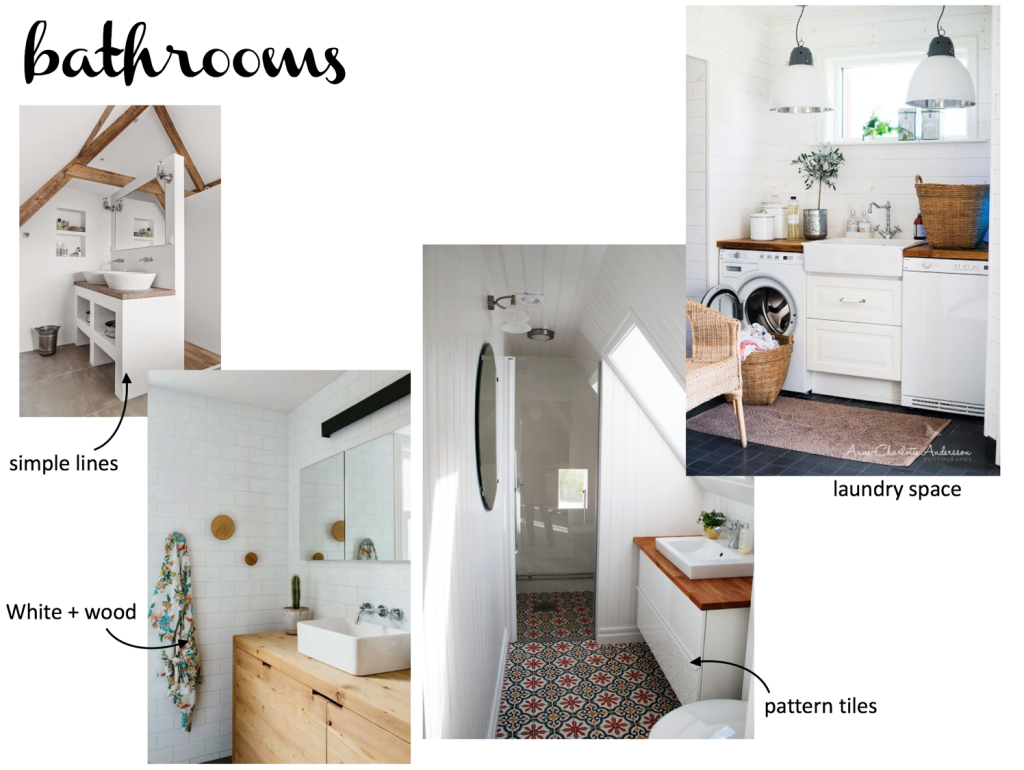 We are keeping the bathroom pretty simple. Originally I would have love to do a patterned tile on the floor in one of the bathroom, but again, my parents moved forward with the bathrooms faster than I planned, and they picked a dark grey tiles to put on the floor for both bathroom. But really, it's a lovely tile, very simple, and they added white cabinetry that doesn't have any doors with wood countertop. Very simple

The upstairs bathroom is bigger and has natural light (thank you skylight!), and the downstairs bathroom is much smaller/no natural light but we're hoping to still find a way to make it feel like it's not a cave 😛 So I said we're keeping things simple in the bathrooms,  but OF COURSE we'll be putting some fun patterns in the tiling of the showers, because, you know, these bathrooms do need a little personality 😉 Just like for the kitchen tile, my brother and I went to the local shop and picked one type of tile for the downstairs shower, and another for the upstairs shower. I think it will look great! In the downstairs shower, my dad is keeping a little corner where we can add a washing machine, and we're trying to make that corner very clean and simple too.
Here is the picture of all three tiles we picked for the house, can you guess which one goes where?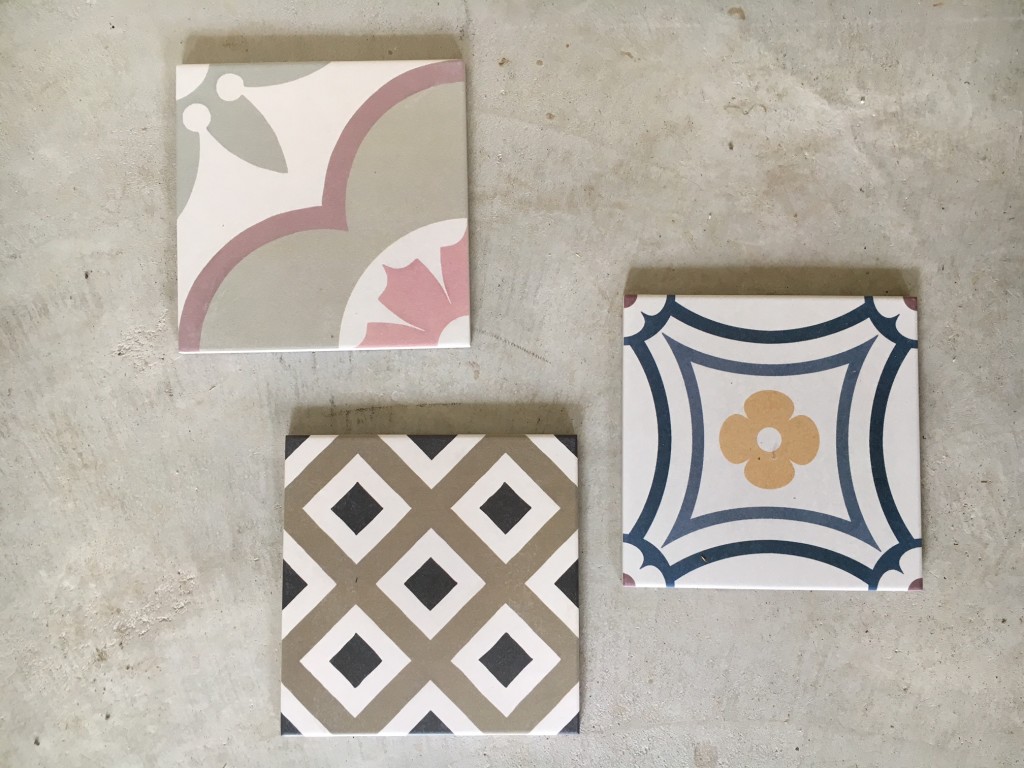 I know that in my last status update it still looks like we're a long way from decorating (especially the downstairs), but really now that the bigger work is done, it's going to move quite fast – and I can't wait to start adding all of the little house that are going to make this little French farm a cosy little place

You might also like: